"Ghana is cocoa, cocoa is Ghana"
"Ghana is cocoa, cocoa is Ghana"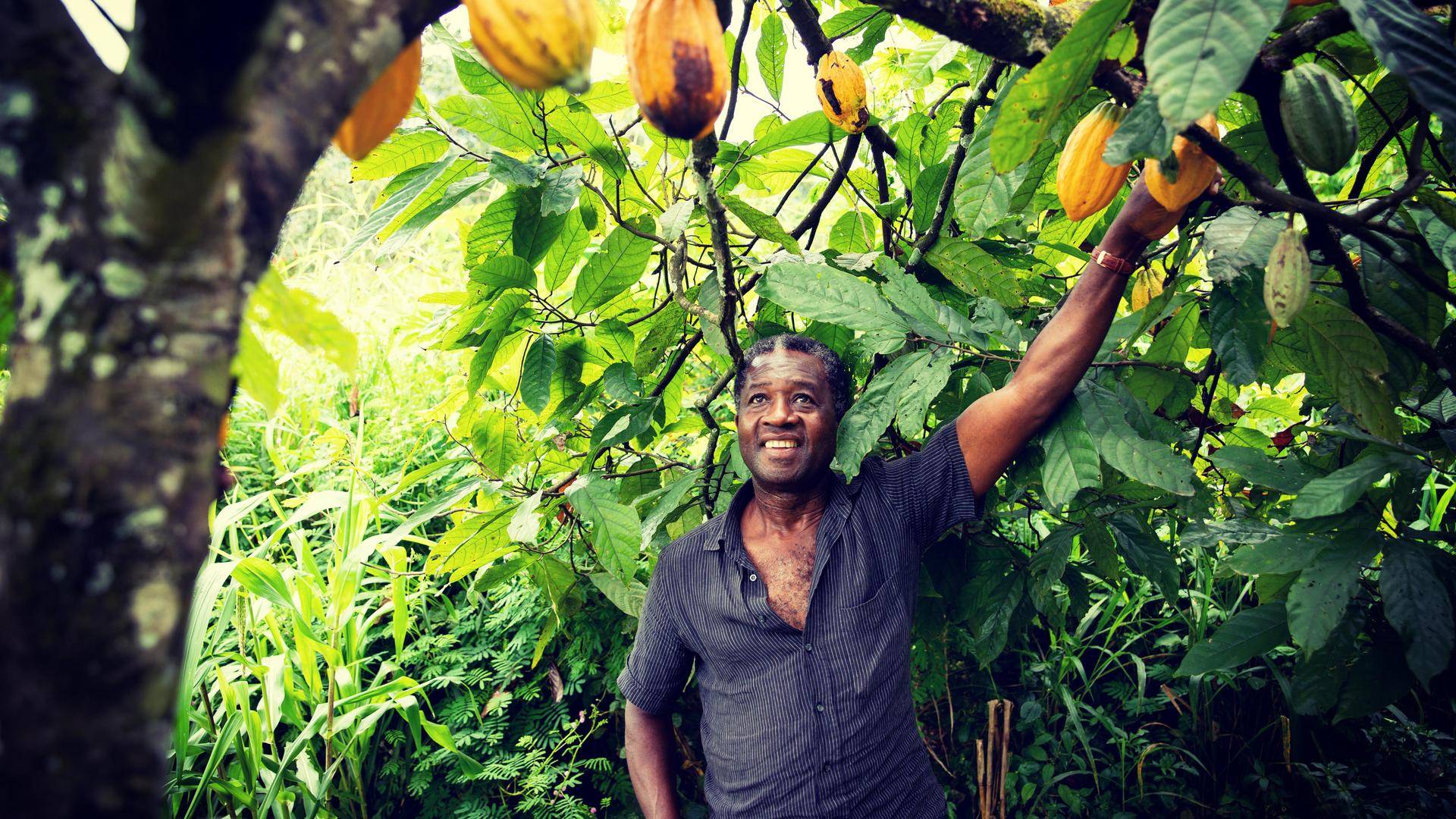 Matteo Guedia/iStock
The OPEC Fund is contributing US$50 million to a pre-export facility for Ghana's cocoa crop for the 2021/22 season. This marks the fifth contribution to the Ghana Cocoa Board (COCOBOD), as the OPEC Fund joins a consortium of 28 banks to buy some 950,000 tonnes of the country's main and light cocoa crop for up to US$1.5 billion. The investment supports economic, environmental and social development and the reasons are clear and compelling.
Across Africa, investment in agriculture is seen as humanity's best hope of achieving at least two UN Global Goals: SDG 1 – End Poverty, and SDG 2 – Zero Hunger. For Ghana in particular, agriculture remains an overwhelming priority, as it employs around 45 percent of the labor force (more than any other sector), and contributes some 15 percent of GDP.
When it comes to cocoa, however, this is clearly more than a simple crop posting big numbers. Cocoa is iconic for Ghana, not just in terms of economics but also for its national identity, social history – even its climate future. As the saying goes: "Ghana is cocoa, cocoa is Ghana".
Throughout the country, cocoa is mainly produced in family-run, mediumsized plantations, extending on average 2-3 hectares, above all in the west of Ghana. As many as 800,000 people work directly in the plantation of cocoa, but nowadays many more are involved across the commercial, industrial and service sectors.
The Ghana Cocoa Board (COCOBOD) is the main player in Ghana's cocoa industry, performing various critical functions including quality control, provision of seeds, and the marketing of cocoa beans and related products. It also creates employment in its own right via its "rehabilitation programs" – i.e. cutting down and replacing diseased and overaged cocoa trees – programs which now account for almost 40,000 jobs.
Weathering global storms
Ghana entered the COVID-19 pandemic having successfully completed an IMF program and set up a financial sector regulatory framework. The pandemic, however, caused significant disruptions. A partial lockdown in April 2020, including extensive border closures, led to higher food prices and a damaging slow-down in growth and exports. Changes in the supply chain – from distribution delays to retail shutdowns – hit the cocoa industry hard. Climate change is another factor that increasingly impacts cocoa farming.
Under normal conditions, cocoa production in Ghana is considered environmentally friendly, as beans grow without watering and need little additional pesticides or herbicides. However, more frequent droughts and rising temperatures are already affecting West Africa and may even turn large swathes of the region to savanna by 2050, according to a report based on data from the UN Intergovernmental Panel on Climate Change.
As part of its climate action portfolio, the United Nations Development Programme (UNDP) has worked with partners to train more than 35,000 farmers across Ghana to grow 'shade trees' over their plantations, which in turn protect cocoa plants from both heat and water stresses. This practice has the added benefit of increasing cocoa yields in the short term and overall sustainability in the long term.
Ama Konadu, who has been farming cocoa for the past 20 years in New Apaso, a village in the south of Ghana, says: "At first when we cut trees for farming, we were not replanting and most of the cocoa trees didn't do well especially when it got to the dry season. We were also just using chemicals anyhow for spraying and all these were affecting our yields badly… [However, since replanting shade trees, my] yields have doubled from eight bags to 16 from my eight acre-farm. I might say I am financially independent, as I don't have to ask my husband for everything."
UNDP is helping farmers to help themselves by promoting simple, effective and sustainable practices. "Besides buffering cocoa plants, shade trees also enhance soil fertility due to leaf shedding and pruning residues. These enrich the soil in organic matter and recycle nutrients and reduce soil erosion," says Praise Nutakor, Head of Communications and Partnerships at UNDP Ghana. "It is important to continue to support cocoa farmers to adopt environmentally sustainable practices for improved livelihoods and to restore degraded landscapes."
Working with partners worldwide
By continuing to support the cocoa industry in Ghana, the OPEC Fund is playing a part in safeguarding jobs all over the country, supporting an iconic industry as it emerges from the multiple challenges of COVID-19, and investing in a crop that can be farmed sustainably now and in the future.
For additional expert perspectives, we approached Michael Ekow Amoah, Deputy Director of the Research, Monitoring and Evaluation Department at COCOBOD, as well as Harris Andoh, a research scientist at the Science and Technology Policy Research Institute in Accra, one of 13 centers that make up Ghana's Council for Scientific and Industrial Research.
OPEC Fund Quarterly: Why is cocoa important for Ghana's economy?
Michael Ekow Amoah: Cocoa contributes an average of 3.5 percent of GDP and employs about 17 percent of the working population. Cocoa also plays an important role in socio-economic development, opening up the rural economy for integration into the national economy and enhancing trade.
Another aspect where cocoa plays an important role is foreign exchange earnings and stabilization of the local currency. It accounts for an average of 30 percent of our total export earnings and is the only commodity for which we have 100 percent retention of foreign exchange.
The other element is the contribution of cocoa to the educational sector. Before the advent of free secondary school education, the government gave scholarships to the children of cocoa farmers, and this helped many people who would later become doctors and engineers. So it's not surprising that we say "Ghana is cocoa, cocoa is Ghana".
OFQ: What is COCOBOD and what is it trying to achieve?
MEA: Back in the 1930s, when Ghana started selling and exporting cocoa in commercial quantities, we had many European merchants who were buying directly from our cocoa farmers for export. By 1937, the farmers reported that the price being paid to them was not reasonable, and didn't even meet their costs, so they decided not to sell their cocoa. A committee was set up and recommended the establishment of a marketing board in 1940. That was reconstituted in 1984 as the Ghana Cocoa Board (COCOBOD) with the mission to promote, facilitate and encourage the production, marketing and processing of cocoa, coffee and shea nut. In other words, we support farmers to produce, and we regulate the cocoa sector to ensure that all stakeholders are able to achieve their objectives.
OFQ: What is the biggest problem currently facing cocoa farmers in Ghana?
MEA: The challenge that we cannot run away from is climate change. For Ghana, this means that farmers have great difficulty in planning their activities: some plant too early before the rains, some plant too late after the rains. It is very difficult to ensure survival of the cocoa seedlings and difficult to get the best out of the land that they are cultivating. Pod wilting and premature ripening have become rampant.
OFQ: What measures are needed to make farming sustainable? How is COCOBOD helping?
MEA: We are tackling this from all three pillars of sustainability. In terms of the economy we are looking at improving the productivity of the cocoa farmer. We are implementing productivity enhancement programs with the aim of increasing productivity from about 600 kg per hectare to 1000 kg per hectare by 2026/27.
When it comes to the environment, we have worked extensively with stakeholders to ensure that cocoa farming does not pose a risk to the environment. We are working with civil society organizations and the Forestry Commission to ensure that farmers adopt sustainable farming practices and are responsible towards the environment.
The other aspect is social. Working with our partners, we are educating our cocoa farmers not to use child labor and not to violate human rights. We carry out awareness raising programs aimed at cocoa farmers, so that they know the full implications of child labor.
OFQ: Are young people interested in cocoa farming? Is COCOBOD working with young people and women specifically?
MEA: Today in Ghana the average age of a cocoa farmer is 55, which is not good for the future. COCOBOD has implemented a number of programs and policies to attract the youth. First of all, we have to make cocoa farming lucrative in order to attract young men and women. We have recently launched a "Cocoa Farmers Pension Scheme" as a means of attracting the youth. Secondly, we are encouraging young people to form a Young Farmers Association and give them help to realize their vision. Thirdly, we have set up a gender desk and research department, along with implementing measures to ensure gender equality and youth inclusion.
OFQ: Can you give an overview of the financing facilities you have secured? How does this support the cocoa industry?
MEA: Prior to this facility, farmers were not being paid promptly. Interest rates in Ghana were so high that there was no incentive for the license-buying companies to pay the farmers on time. So their welfare was affected, and they could not invest in sustainable activities. This facility ensures that farmers are paid on time and decently. That and stabilizing the price of our local currency in Ghana is the most important role that this facility is playing.
OPEC Fund Quarterly: How important is cocoa to Ghana's economy?
Harris Andoh: Largely, Ghana's economy depends on agriculture and the production of raw materials for export. In 2021, cocoa was forecast to contribute 2.25 billion Ghanaian Cedis – equivalent to around US$390 million – to our GDP. Ghana is the second-largest producer of cocoa in the world (after Côte d'Ivoire) with a market share of about 20 percent. Cocoa contributes significantly to the country's total foreign exchange earnings, second only to mineral exports. While the cocoa sector's overall contribution to GDP is about 3.5 percent, it makes up about a quarter of total export receipts, while also providing about two-thirds of cocoa farmers' incomes.
OFQ: What is the biggest difficulty in cocoa farming?
HA: One critical issue is land tenure. Most cocoa farmers do not own the land they work on since they are migrant farmers. This does not ensure proper land use practices and adequate benefit sharing amongst stakeholders. Furthermore, the issue of adequate and environmentally sustainable pesticides for pest control is also a challenge. Lastly, the price of cocoa is a threat to the longterm sustainability of cocoa farming in Ghana. In the early 2000s when prices of palm nuts went higher than cocoa, most farmers reverted to planning for palm treees instead of cocoa.