Ghana gains momentum
Work on major transport infrastructure kicks-off in West African country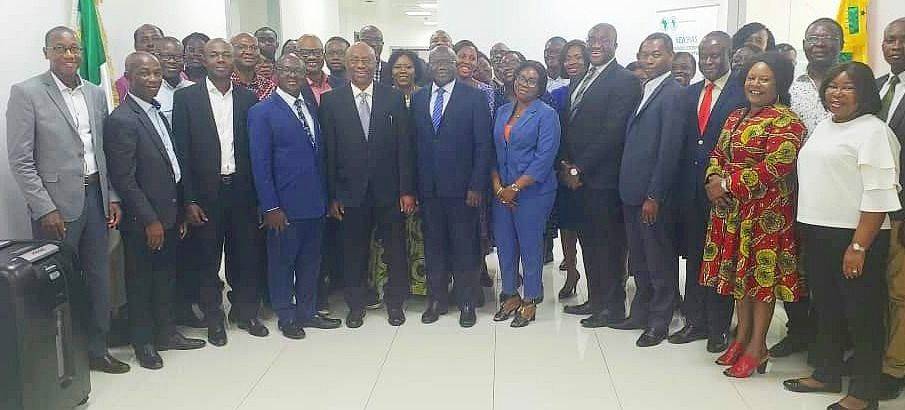 OPEC Fund's Country Officer Paul Oluwabunmi (fifth from right) with project stakeholders of the Eastern Corridor Development Program.
As published in the 02/2020 issue of the OPEC Fund Quarterly.
The OPEC Fund's Country Officer Paul Oluwabunmi recently enjoyed one of the high-points of a development professional's job – attending the launch of a project he helped to bring to life.
As the images show, Oluwabunmi joined community leaders, government officials and finance partners to attend the 'technical launch' of work on the Eastern Corridor Road Development Program in Ghana – a project jointly funded by the OPEC Fund and the African Development Bank (AfDB), as well as the government of Ghana.
The project includes the construction of rail, water and road transport infrastructure and is prioritized under the government's development plans. When completed, the project will improve the access of residents within the 'zone of influence' to markets, social and health services and employment opportunities. It will drive poverty alleviation and trade along Ghana's Eastern Corridor and more than 200,000 people are expected to benefit directly, the majority of whom currently live beneath the poverty line. About 100 young people and women will also have the opportunity to train as artisans, carpenters and auto-mechanics during the implementation phase.
This project reaffirms our commitment to development in Ghana," said Oluwabunmi. "We have been development partners since 1976, and this most recent project is part of a wider initiative that is also supported by financing from the European Union, the World Bank and the government of Brazil. Working in partnership for the Sustainable Development Goals is one of the OPEC Fund's major strengths, and this project exemplifies what can be achieved when development actors join forces."
The total length of the Eastern Corridor is 92.45 km. The OPEC Fund is financing phase one of the project, which comprises the construction of two road sections (Dufor Adidome to Asikuma Junction and Asutuare to Aveyime) totaling 63.1 km. As part of the larger project, the Japan International Cooperation Agency (JICA) will finance the construction of a bridge across the Volta River.
While on mission, Oluwabunmi met with the Acting Country Manager for AfDB in Ghana Dr Sebastian Okeke who thanked the OPEC Fund for co-financing the crucial program with his organization.