ESG: The key to resilient development
ESG: The key to resilient development
The OPEC Fund Quarterly talks to IsDB Group President Dr Bandar M H Hajjar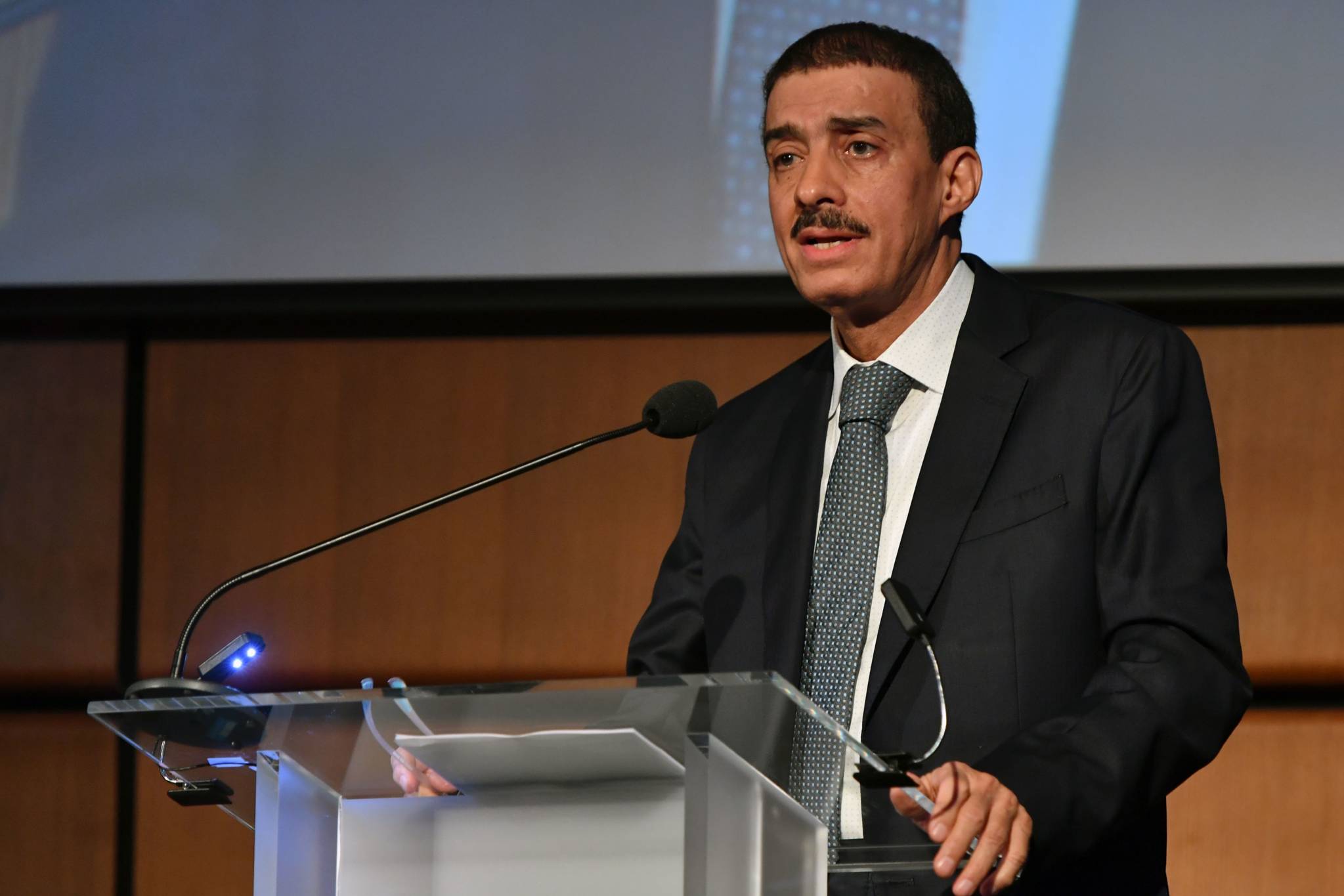 Islamic Development Bank (IsDB) Group President Dr Bandar M H Hajjar shares his organization's take on environmental, social and governance (ESG) issues, explains the importance of the IsDB's green bonds (Sukuk) and outlines how COVID-19 represents an unanticipated opportunity for rethinking and forging a more equitable, resilient and sustainable path to meet global development goals.
As published in the OPEC Fund Quarterly 2020 4 edition.
OPEC Fund Quarterly: How does the IsDB approach environmental, social and governance (ESG)-related challenges and opportunities?
Dr Bandar M H Hajjar: As a development Bank, ESG is at the heart of what we do and IsDB is committed to ESG best practices in the manner we do business and operate in our member countries. In fact, at its core, Islamic finance is enshrined in the basic tenets of Shariah and has the principles of sustainability, fairness and equality. Shariah-compliant investments encompass all investments that are good for the community and do not cause harm. Because Islam promotes social trust, cooperation and solidarity, Islamic finance products are well suited to ESG impact.
These products' characteristics include being asset-backed, ethical, subject to good governance and an equitable sharing of risks. They are in line with the ESG factors that are taken into account increasingly by financial institutions to ensure responsible investment.
In concrete terms, the Bank's Board of Executive Directors (BED) approved several policies and strategies to support the Bank's ESG mainstreaming efforts and overall sustainability agenda. Specifically, the Bank developed a climate change policy, gender and youth policies, fragility and resilience policies and environmental and social safeguards policy. Moreover, it has developed a detailed climate policy implementation framework to incorporate and mainstream ESG in various interventions st srategic partnerships of the Bank with member countries. The Bank also adheres strictly to the 'do no harm' principle that protects both the natural environment and takes into account the social considerations in the overall design of its investments in member countries.
We consistently adhere to the applicable ESG standards in the industry we operate in (i.e. the multilateral development bank (MDB) / international financial institution communities). The Bank currently applies the joint MDB climate change reporting methodology and standard for its annual climate investments, as well as reporting to the Organisation for Economic Co-operation and Development (OECD). The Bank reported its climate finance contribution for 2017, 2018 and 2019 using applicable reporting standards and methodology established within the joint MDB framework. In addition, the Bank annually reports its environment ad social investment contributions to the OECD using the OECD standards for reporting. The Bank has adopted the joint MDB Paris Alignment principles that include setting up a robust reporting framework and standards for Paris-Aligned, Sustainable Development Goals (SDGs)-supported and non-Paris Aligned investments.
OFQ: This means that ESG has become an integral part of the daily activity of the bank?
BMHH: That is correct. For example since January 2019, all IsDB operations go through climate risk screening. We have dedicated functions at the Bank fully involved in appraisal and design of all projects to ensure that they meet the highest environmental and social standards and that they include environmental and social management plans, when needed. Moreover, these functions ensure incorporating social and environmental indicators where relevant, in addition to climate mitigation and adaptation components when possible. In 2019 alone, I would say that not only was 25 percent of the Bank's finance considered as green climate finance (US$466 million) but even all the remaining amount may be considered climate resilient, and has taken environmental and social considerations into account with alignment to relevant SDGs.
We also have some dedicated flagship programs. Let me give you some examples: The Transform Fund, established by the BED in July 2017, is a special Science, Technology & Innovations (IsDB-STI) Endowment Fund, with a target size of US$500 million. Its overall objective is supporting the 57 IsDB member countries spanning four continents in finding practical solutions to key development challenges through the power of innovation. The fund supports innovators, start-ups, small and medium-sized enterprises (SMEs), government, non-governmental organizations and academic entities in IsDB member and non-member countries with initial funding and growth capital. This is to develop their innovative ideas into practical solutions, and then expand the commercial reach of innovative products and services in IsDB member countries.
The fund focuses on accelerating progress toward achieving the targeted six SDGs (SDGs 2, 3, 4, 6, 7 and 9), on food security, healthier lives, inclusive and equitable education, sustainable management of water and sanitation, access to affordable and clean energy, and sustainable industrialization across the developing world. All these goals comprise direct and indirect environmental concerns. SDG 6 and 7 are clearly marked for environmental significance, which is also addressed by some aspects of SDGs 2, 3 and 4, such as sustainable food production (SDG 2, target 4), reducing environmental hazards such as air, water and soil pollution and contamination (SDG 3, target 9) and promoting education skills for sustainable development (SDG 4, target 7). SDG 9 aims to guide the vision of a sustainable, resilient and resource efficient industrial framework by striking a balance between innovation and environmental concerns. Since launch, the Transform Fund has steadily invested in innovative projects working within the peripheries set by these SDGs, enabling ambitious ideas with clear potential to contribute to the environment. As of 2020, IsDB Engage has powered 65 projects worth US$10 million – an investment made well to uphold the environmental concerns in developing countries. Moreover a US$7 million investment in the pipeline is soonto be released to support current and upcoming projects.
As another example, IsDB and the International Federation of Red Cross and Red Crescent National Societies (IFRC) have set themselves the ambitious objective of contributing to the reduction of cholera-related deaths by 90 percent in the most affected Organization of Islamic Cooperation (OIC) states, over the next 10 years. This objective contributes not only to SDG 6 (clean water and sanitation) but also SDG 3 good health and wellbeing) and SDG 13 (climate action). To achieve this vision, IsDB and IFRC are creating a multi-million dollar fund (the One WASH Fund) to combat cholera and other diarrheal diseases as part of the Global One WASH Initiative, targeting 40 cholera hotspots globally. Specifically, the One WASH Fund will finance One WASH Programs in 29 OIC member states where it aims to impact the lives of five million people by strengthening and integrating the delivery of water, sanitation, and hygiene (WASH) with health services, building on proven methodologies practiced by the IFRC at the grass roots level. In addition to direct positive impacts on health, the initiative will contribute to the protection of surface and groundwater resources by promoting the use of environmentally sound sanitation facilities for human waste disposal. It will also support water conservation (prevention of wasteful water use practices and losses) and enhance the basic knowledge, skills and behaviors of rural communities, as well as social and cultural activities concerning health, lifestyles and environmental awareness.
In September 2019, UNICEF and IsDB launched an innovative fund called the Global Muslim Philanthropy Fund for Children (GMPFC). This opens new opportunities for Muslim philanthropy to reach the 89 million children currently in need of humanitarian support and helps to achieve the SDGs. The fund will enable the partners to provide many more of these children with access to safe and clean water, nutrition, education, health and protection. GMPFC is the first fund focused on Muslim giving launched by a United Nations organization together with an MDB. Its unique design allows multiple forms of Muslim philanthropy, including obligatory giving such as Zakat, and voluntary giving such as Sadaqah donations and Waqf endowments, to contribute to emergency response and development programs.
OFQ: More generally, how can the development community better address ESG and communicate about it – where should the focus be?
BMHH: More than at any other time, the development community is positioned to better address ESG. The global community has worked hard to establish workable frameworks including the SDGs, the Paris Agreement and other development-focused initiatives that provide the bedrock upon which the development community can drive ESG objectives and goals. That said, it is important to remember that a US$2.5 trillion annual financing gap stands in the way of the SDGs, which has now only been further exacerbated by the coronavirus pandemic. The global community must take this moment – with this impending deadline – to reassess the right financing tools that can help us achieve these goals. The need for governments, financial institutions and the private sector to focus on social development has never been of greater importance. Therefore, to better address ESG issues, development stakeholders should endeavor to commit to: ESG strategies with explicit strategic priorities, policy commitments and targets; stakeholder coordination through increased partnerships on ESG issues; participation and inclusiveness involving different groups such as private sectors and civil society organizations; and increased emphasis on ESG capacity development, tools, results, transparency and reporting.
OFQ: What are the main ESG-related challenges and opportunities of investing in developing countries?
BMHH: The opportunities offered by ESG in developing countries are quite significant and supporting ESG is the only way to build truly sustainable development in these countries. ESG offers opportunity to develop robust and resilient investments, resource efficiency, and inclusiveness for all groups (including minority and vulnerable groups) in the development process. It also allows the Bank to increase its environment-friendly and socially responsible investments in developing countries. Notwithstanding the opportunities, there are challenges faced in addressing ESG in developing countries including inadequate awareness/education at different levels, decision-maker focus on short-term/immediate development needs, rather than long-term development goals, limited financing for ESG, as well as inadequate data and lack of standardization in ESG reporting.
OFQ: How does an event such as the current pandemic affect ESG-credentials and capabilities? Will we see ESG gains lost as countries / companies shift their focus?
BMHH: The COVID-19 pandemic offers an unanticipated opportunity for rethinking and forging a more equitable, resilient and sustainable path to meet global development goals. The pandemic has revealed the gaps in the resilience of vital systems including health, transport, food, and energy systems as well as other valuable social and economic infrastructure. By mainstreaming ESG effectively in COVID-19 recovery efforts and interventions, options are offered for a green, low carbon, resilient and sustainable recovery. This would help address development needs along with challenges such as climate change, which has the potential to create an even larger systemic environmental, social and economic crisis and failures in the future. In the development community, there is an increasing emphasis on the importance of supporting a green COVID-19 recovery. MDBs have agreed that beyond the short-term emergency response, we will focus on interventions that 'build back better' by placing sustainability at the heart of any recovery efforts and focus on increasing longterm resilience. This includes reinforcing a shift toward low-emissions, inclusive and socially responsible pathways that create jobs, robust economies, human wellbeing and a healthy planet. At the IsDB, we continue to ensure that all our development co-operation activities and programing adequately consider and prioritize ESG issues to drive sustainability through our investments.
OFQ: How important are green bonds to ESG, and what have you been able to achieve since issuing?
BMHH: IsDB green Sukuk are important for the Bank's ESG corporate objectives and beneficial in many ways. Namely, meeting SDGs 6, 7, 9, 11 and 13, among others. IsDB is a pioneer of the Sukuk market, issuing the first-ever AAA-rated Green Sukuk at our Sukuk Summit in Luxembourg in November 2019. The proceeds of the issuance, worth €1 billion, are exclusively allocated to projects for renewable energy, clean transportation, energy efficiency, pollution prevention and control, environmentally sustainable management of natural living resources and land use, and sustainable water and sanitation projects across our 57 member countries. These green issuances help drive the Bank's agenda to support more low carbon, climate resilient, socially responsible projects, as well as having a direct impact on the Bank's position as an institution of choice for green investors. What's more, they offer the opportunity to demonstrate the beneficial impact that IsDB investments have on the larger community in which we operate, while being profitable for direct stakeholders. They have also helped reflect our focus on development results, including environmental and social elements, especially for external stakeholders. OFQ: How important is ESG to the future of international development?
BMHH: ESG has an important role to drive the global development agenda and remains important as an enabler for current and future development activities. It offers an opportunity to address development through a multidimensional lens and minimizes the risk of development gains being eroded by environmental and social-related disruptions. ESG is an integral part of any sustainable development and offers the opportunity to increase global and collective ambition and realize the SDGs. That said, the COVID-19 pandemic has presented a global crisis that is forcing us to confront new challenges, in a rapidly changing environment. The pandemic has led to unprecedented impact for all our member countries – not just economically, but on a social, health and infrastructure level too. As a result, we must continue to find innovative solutions in the face of the pandemic in the way we embody ESG. For example, in June 2020, the IsDB launched the first sustainability bonds to raise US$1.5 billion from a wide range of investors to finance social projects in affected countries. These were thefirst Sukuk of their kind related to the pandemic in the global capital market. The proceeds of these Sustainability Sukuk will be used in social projects that improve healthcare facilities, equipment and critical staffing in member countries to mitigate the effects of COVID-19, as well as to support SMEs and promote employment as countries recover from the effects of the coronavirus. We believe that focusing on healthcare (SDG 3) and job creation (SDG 8) should be key for countries in the aftermath of the pandemic.
Essentially, in this global context of working toward the SDGs and COVID-19 recovery, we believe that Islamic finance will prove the notion that ethical investments and attractive financial returns are not mutually exclusive.
About the IsDB
The Islamic Development Bank (IsDB) is a multilateral development bank that promotes social and economic development in member countries and Muslim communities worldwide. It brings together 57 member countries across four continents. Headquartered in Jeddah, Saudi Arabia, the IsDB Group has Regional Hubs in Bangladesh, Egypt, Indonesia, Kazakhstan, Morocco, Nigeria, Senegal, Suriname, Turkey, Uganda, and United Arab Emirates in addition to a Center of Excellence in Malaysia.