Eliminating neglected tropical diseases: the story so far
Eliminating neglected tropical diseases: the story so far
In May, OFID signed a US$1 million grant agreement with the World Health Organization (WHO) for an initiative aimed at eliminating neglected tropical diseases (NTDs) in seven African countries.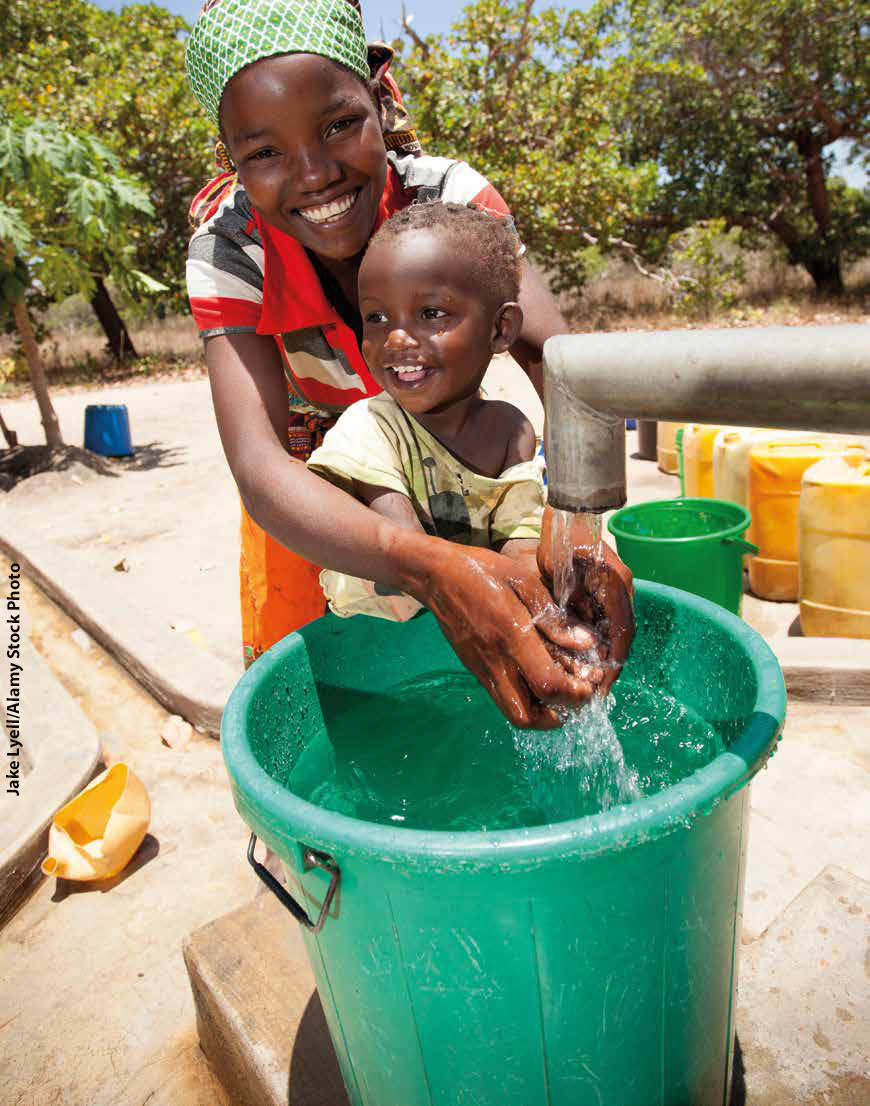 Photo: Jake Lyell / Alamy stock photo
This latest agreement underlines a partnership that began nearly four decades ago when OFID extended a US$2 million grant to WHO in support of its Onchocerciasis Control Program (OCP) – one of the earliest containment initiatives targeting river blindness.
The most recent agreement was signed by WHO Regional Director for Africa Dr Matshidiso Moeti and OFID Director-General Suleiman J Al-Herbish. The OFID Quarterly's Deputy Editor Anna Ilaria-Mayrhofer spoke to Dr Moeti about WHO's Expanded Special Project for Elimination of Neglected Tropical Diseases (ESPEN), the challenges of NTD eradication and WHO's relationship with OFID.
WHO has long been involved in NTD eradication efforts, starting with the aforementioned OCP and later the African Program for Onchocerciasis Control (APOC) – all phases of which receive OFID support (see below). The latest grant is helping fund ESPEN – WHO's Expanded Special Project for Elimination of Neglected Tropical Diseases.
Why neglected?
While rarely fatal, NTDs have devastating consequences on millions of lives – physically, mentally and socially. They can cause permanent disfigurement, disability and unrelenting discomfort; they decrease mobility and render victims unable to work, go to school or harvest crops. And they can impede progress and development and impoverish households.
NTDs are, however, preventable and treatable. But there are many challenges involved, particularly in tackling diseases deemed 'neglected.' Dr Moeti explains why many members of the global community are unaware of their existence.
These are diseases primarily found in rural, low-income populations – people hidden away from the day-to-day view of the media – and are largely out from the reach of health services. And there is a lot of stigmatization. We've seen this with leprosy – the person is hidden by their families and communities – there is a lot of shame and neglect.
"This is in contrast with diseases that have garnered much more international attention like HIV and malaria. During malaria outbreaks one sees dramatic coverage of people ill and dying – and malaria can kill someone in a very short space of time. Although HIV/AIDS takes longer to develop, it also affects developed countries and attracts more international attention.
OCP and APOC
"The world has also seen the dramatic picture of HIV/AIDS in Africa – millions of people, especially young people – have been struck down with this very painful, and in its later stages, highly visible illness. For example, in my home country Botswana, cemeteries were filled with people in their late teens and twenties who perished from AIDS – it looked more like the result of war.
"ESPEN is a great development because strategies are being devised to spur progress in the most under­privileged, underserved and neglected countries," says Dr Moeti. "This focus has been heightened in this era of the United Nations Sustainable Development Goals (SDGs). This brings not only health benefits to the targeted countries but also helps promote justice and fairness."
Launched in 1974, OCP was a collaboration between WHO, the World Bank, the United Nations Development Programme and the Food and Agriculture Organization. With operations in 11 African countries covering over 1.2 million km2, OCP protected an estimated 30 million people from blindness over its nearly 30-year lifespan. Initially focusing on vector control through insecticide-spraying over black-fly breeding sites, the program expanded in 1987 to include mass distribution of donated anti-parasitic drugs.
OCP countries: Benin, Burkina Faso, Côte d'Ivoire, Ghana, Guinea Bissau, Guinea, Mali, Niger, Senegal, Sierra Leone and Togo. Ten out of these 11 countries were successful in eliminating onchocerciasis as a public health problem.
ESPEN has four overarching objectives for controlling and eliminating NTDs that are treatable by preventative therapy (see below). The program is flexible and adapts to the changing needs and priorities of beneficiary countries.
The journey to elimination
Reducing or eliminating NTDs is a massive, multi-faceted undertaking. One highly effective, prevention-driven component is Mass Drug Ad­ministration (MDA). This involves the consistent and broad-reaching distribution of drugs, donated by various pharmaceutical companies, and has prevented illness among millions living in endemic countries.
Dr. Moeti talks about MDA: "Preventative chemotherapy has been a very successful intervention. What's even more promising is that some of the same medicines can prevent other NTDs. For example, ivermectin, used for treating river blindness, can also treat lymphatic filariasis and soil-transmitted helminths. So the same campaign can address several diseases, which is very cost effective."
She explains how data mapping and tracking are also instrumental to monitor the endemic countries' progress. "ESPEN has established a data portal where countries can send their data at the sub-national, district and local level. This provides a very precise mapping of the disease pattern that can guide us where efforts need to be focused. This data enables us to more strategically focus our efforts and drive a country faster and more efficiently towards their elimination goals.
"We are also linking up with water and sanitation sectors of endemic countries – not only to improve hygiene conditions but also for vector control to reduce breeding sites for some of the causative organisms that are spreading diseases."
Before a country can be official­ly declared 'free' of a particular disease, it is required to undergo a documentation process that culminates in a formal declaration – a large milestone. At this point the country can halt MDA and direct the funds to other sectors. So while there's a long road ahead, there is now a high level of ambition and strong dynamics on an international level to achieve this – especially after the London Declaration was made in 2013.
The strength of partnerships
"Partnerships are absolutely vital and enable WHO to carry out its work. We've always had a strong coalition of partners – this includes, of course, OFID. Our relationship with OFID is not just valuable in terms of financial contribution; when other development finance institutions (DFIs), policy-makers, governments – even national leaders – see such a well-established organization as OFID engaging in programs like ESPEN, it imparts trust and encourages others to join the global effort."
The path to SDG 3
United Nations Sustainable Develop­ment Goal 3 (SDG 3) focuses on 'Good health and wellbeing.' One of its targets – SDG 3.3 – calls on the international community to: "By 2030, end the epidemics of AIDS, tuberculosis, malaria and neglected tropical diseases and combat hepatitis, waterborne disease and other communicable diseases." While NTD-related mortality and morbidity rates are on the decline in some areas – is this target realistic?
Dr. Moeti thinks so.
"It's an ambitious goal. I strongly believe in being driven by ambition. If you aren't reaching for really high targets and goals you won't succeed. This drives us to be creative, learn lessons, find ways of doing things better. I am optimistic that with this type of determination within the international community, along with solid partnerships and resources – this elimination target can be met."
Five neglected tropical diseases (NTDs)
Schistosomiasis is caused by a blood fluke that de­velops in certain species of freshwater snails. The imma­ture parasite is (eventually) free-swimming and enters its host by penetrating the skin; this commonly occurs while people are swimming or bathing in lakes, irrigation canals and other water sources. After penetrating the host's skin, the parasite develops further in the urinary tract or intestinal region (depending on the species). In the long term, schistosomiasis can lead to liver and kidney damage, as well as bladder cancer.
Onchocerciasis (river blindness) is transmitted by a species of blackfly that lives near swift-moving rivers and streams. After maturing in its host, the parasite produces microfilariae that migrate to the subcutaneous region of the skin (forming nodules that cause a severe allergic reaction). The microfilariae also settle in parts of the eye, causing scarring and irreversible blindness if left untreated. Adult worms can live up to 15 years in an infected individual.
Lymphatic filariasis (elephantiasis) is spread by a certain species of mosquito. The transmitted microfilariae damage various regions of the lymphatic system. This results in painful thickening of the skin and severe swelling of the lower regions of the body and sometimes the arms. While the microfilariae can be killed, some of the effects of the disease are permanent.
Trachoma, a leading cause of blindness in the devel­oping world, is an easily-spread bacterial infection predominantly found in regions with poor water and sanitation. The bacteria (Chlamydia trachomatis) targets the underside of the eyelid, causing thickening that often turns the eyelashes inward. This leads to scarring and blindness unless corrected surgically.
Soil-transmitted helminths, a collective term for various parasitic worms, is commonly found in areas with poor sanitation. Transmitted via faeces , the microfilariae infect the host by penetrating the skin (such as when the host is walking barefoot) or via ingestion from consuming fruit or vegetables grown in contaminated soil. Hand to mouth transmission is particularly common among children when playing in the dirt. Those affected experience diarrhea or dysentery, impaired absorption of nutrients and malnutrition, leading to impaired growth and development.
MDA successes
According to the WHO report Crossing the Billion, 44 countries in Africa are endemic for one or more NTDs, and 17 are endemic for all five. Thanks to donated medicines and strong political commitment in the targeted countries, 11 reached their goal of 75 percent coverage in 2015 against soil-transmitted helminths and schistosomiasis in school-age children. Last year, Togo eliminated lymphatic filariasis as a public health problem – the first sub-Saharan African country to do so.
The London Declaration
In January 2012, a coalition of philanthropic organizations, donor countries, governments of NTD endemic countries and pharmaceutical companies signed the London Declaration, committing to control, eliminate or eradicate 10 NTDs by January 2020. Pharmaceutical companies have pledged more than US$17.8 billion in drug donations, providing an unparalleled opportunity to achieve the 2020 NTD goals and fulfill related commitments to progress on NTDs and Universal Health Coverage (UHC) under the UN Sustainable Development Goals (SDGs) and the 2015 G7 Leaders' Declaration.
Source: WHO brochure ESPEN: for an Africa free of NTDs.
ESPEN – spurring progress in the most under-privileged countries
Launched in 2016, ESPEN is a public-private partnership between the WHO Regional Office for Africa, Member States and NTD partners. It focuses on the disease onchocerciasis, in addition to schistosomiasis (bilharzia), trachoma, lymphatic filariasis and soil-transmitted helminths. The countries targeted are Cameroon, Central African Republic, Comoros, Democratic Republic of Congo, Eritrea, Republic of Congo and Somalia.
ESPEN accomplishments to date
WHO certified Togo as the first sub-Saharan Africa country to eliminate lymphatic filariasis as a public health problem.
30 million people reached through direct op­eration support to Mass Drug Administration in 15 countries.
19 countries have been trained to stop treat­ment in selected areas after elimination of lymphatic filariasis has been reached.
41 countries are sharing data and maps.
The program is flexible and adapts to the changing needs and priorities of beneficiary countries.
Source: WHO
APOC – the African Program for Onchocerciasis Control – followed in 1995 and implemented community-directed treatment. APOC targeted other endemic countries and achieved remarkable results: by the end of 2012 more than 100.8 million people were receiving regular treatment.
APOC countries: Angola, Burundi, Cameroon, Central African Republic, Chad, Congo, Democratic Republic of Congo, Ethiopia, Equatorial Guinea, Gabon, Kenya, Liberia, Malawi, Mozambique, Nigeria, Rwanda, Sudan, Tanzania and Uganda.
Source: WHO