El Salvador: Promising a square meal for all
El Salvador: Promising a square meal for all
Despite its many vulnerabilities, the Central American nation of El Salvador is determined to fight rural poverty and hunger. OFID is standing shoulder to shoulder with the government and its development partners to help make this dream a reality.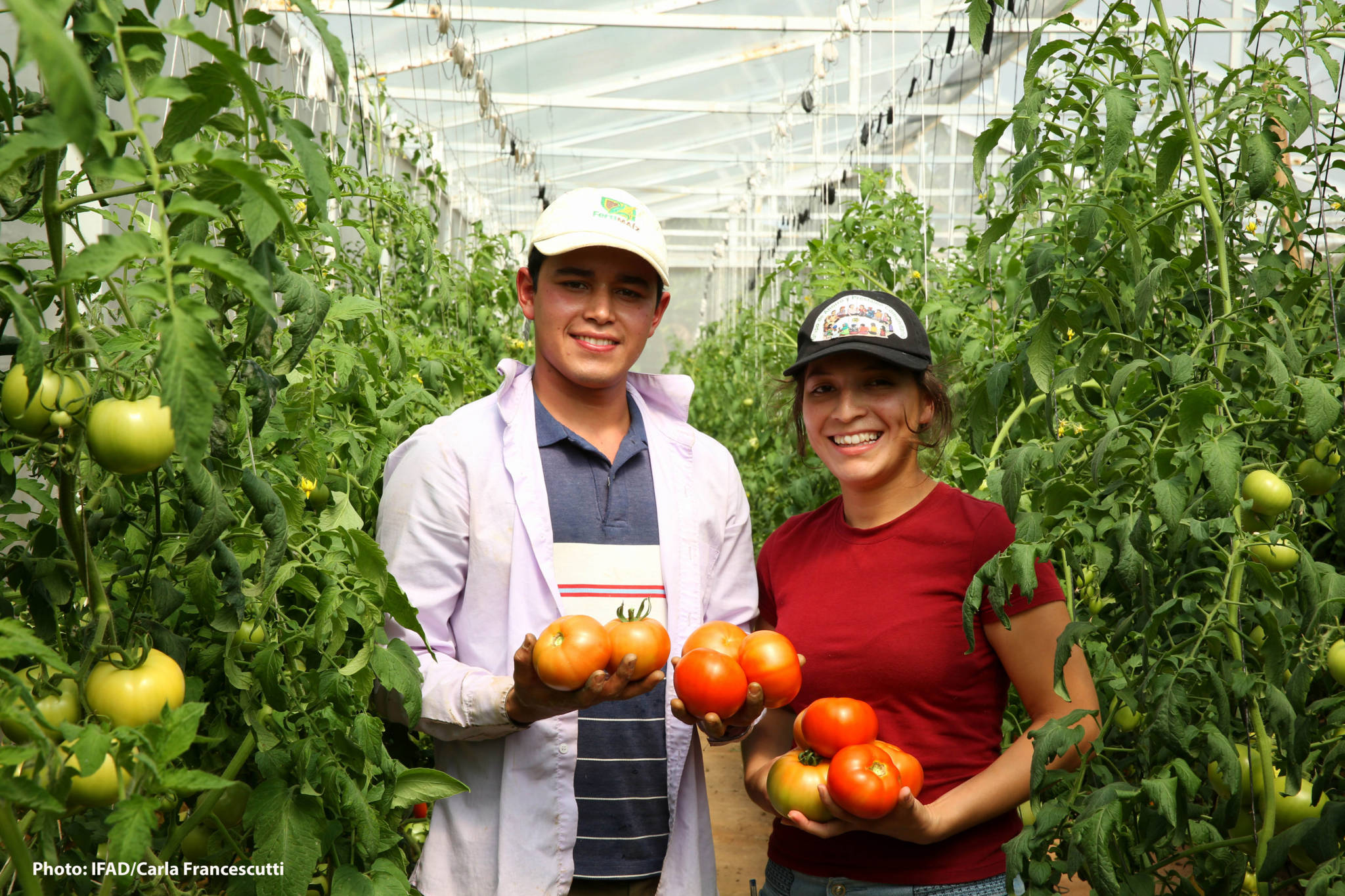 Photo: IFAD / Carla Francescutti
After being absent from El Salvador for more than 25 years, OFID recently joined IFAD and the Ministry of Agri­culture and Livestock to co-finance the project 'Rural Dawn,' a wide-reaching initiative that seeks to bolster food security and improve living conditions among the rural poor. It aims to achieve its goals by engaging small-scale farmers in the supply chain of key crops such as coffee, pulses, vegetables and fruits.
In recent years, the Salvadoran government has implemented several plans to tackle rural poverty, all with two main lines of action in common: foster food production to guarantee minimum nutritional levels across the country, and prioritize rural development in the most deprived regions.
The latest indicators provided by the UN Food and Agriculture Organization (FAO) esti­mate that 13.5 percent of the population of El Salvador suffers from malnutrition, while over 19 percent of children below the age of five suffer from chronic malnutrition.
The most recent national development plan—for the period 2015–2019—was launched under the motto "El Salvador: productive, educated and safe." It gives special importance to increasing productivity in the agriculture sector, providing support to family farming and strengthening cooperatives.
According to Rómulo Martínez, OFID country officer for El Salvador, OFID's contribution to "Rural Dawn" has focused on crucial activities that will help guarantee food production in what are relatively adverse climate conditions. "Besides irrigation and agricultural equipment, key investments financed by OFID include the acquisition of soil protection crops and the re­forestation of degraded land to improve harvesting," he told the Quarterly.
An uphill struggle
For years, El Salvador, the smallest and most densely populated country of the American continent, has been in the spotlight for unwel­come reasons. Its 12 year-long civil war claimed more than 75,000 lives and triggered a massive exodus of Salvadorans to the USA and other neighboring nations.
Even now, with the war behind it, the country continues to face severe social problems, including a high crime rate and a hugely unequal distribution of wealth. Out of a total population of just over six million, the joint fortune of 160 Salvadorian millionaires was estimated at US$21bn in 2015, which is equivalent to 87 percent of the national GDP.
The same year, remittances sent by some 2.7million Salvadorans living abroad contributed to 17 percent of GDP, compared to a share of just over 11 percent provided by the agriculture sector.
Nature is not a friend either, with hazards such as earthquakes, volcanic activity, droughts and floods constantly holding back progress. This vulnerability, which is aggravated by environmental degradation, has led the Intergovernmental Panel on Climate Change to predict a rise in temperature that will reduce the country's yields of main crops by 30 percent in 2050.
According to the same source, the agriculture sector is dominated by large-scale commer­cial farmers who own almost three-quarters of the arable land. Smallholders, while vastly larger in number, share the remaining, signifi­cantly smaller portion, which leaves little scope for a fair and competitive market. With such constraints on productivity, poverty is especially severe among the rural population, which comprises 37 percent of the total.
This is the situation that El Salvador is working to turn around through initiatives like 'Rural Dawn.' By consolidating micro and small businesses in eight of the country's fourteen departments, the project is delivering substan­tial benefits to rural communities. For the more than 40,000 agricultural families that are benefiting from the project, the hope to have a de­cent meal on a regular basis is slowly but surely becoming a reality.
Operations in El Salvador