DG delivers keynote speech at UN Youth Event
DG delivers keynote speech at UN Youth Event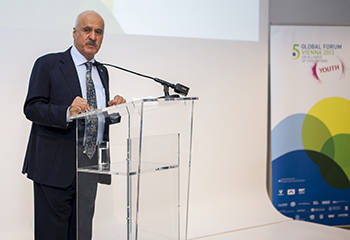 Promoting Responsible Leadership in Diversity and Dialogue
On February 26, 2013, OFID Director-General Mr. Suleiman J. Al-Herbish delivered a keynote speech at the Youth Event that preceded the 5th Global Forum of the United Nations Alliance of Civilizations (UNAOC) holding in Vienna, Austria. Attending the event was a group of youth from 94 countries across the globe, who gathered to discuss topics of the 5th Global Forum and draft recommendations for future priorities of UNAOC's work. The Director-General spoke of some of the the fundamental aspects of poverty and proposed three youth-related recommendations that they could bring to the Global Forum.
After briefing the audience about OFID and highlighted some of the institution's poverty reduction strategies that included financing of physical infrastructure and supporting human capacity-building.
Mr Al-Herbish also talked about OFID's Energy for the Poor Initiative created in the "firm conviction in the centrality of energy services to the sustainable development framework." He underlined the fact that "Energy affects all aspects of development: access to water and food, agricultural productivity, education, health, mobility, and every other sector."
The Director-General outlined some of his recommendations to the Forum, which included the need for better education and knowledge sharing; the "inclusion of cultural diversity in the global sustainable development agenda;"and the "inclusion of universal access to modern energy services by the year 2030 in the Sustainable Development Goals."
OFID supported this event with a grant that enabled young individuals from developing countries to attend this session of the Global Forum.
Read Director-General's speech in full.