Climate adaptation
Funding our green marathon to net zero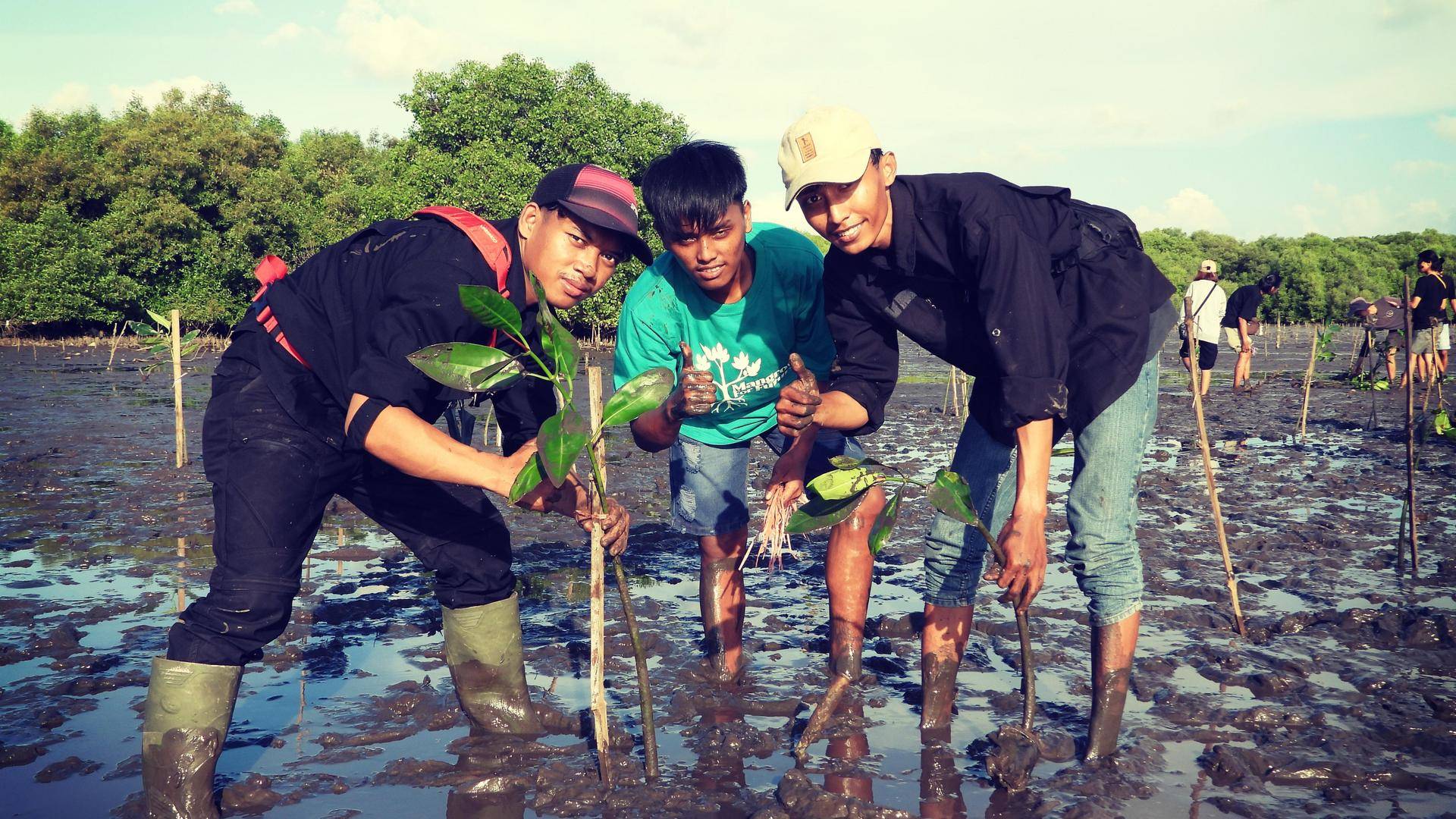 Photo: Sam maulidna/Shutterstock
Leaders are now firmly focused on "net zero" – the point at which we stop feeding the vast amounts of greenhouse gases in the atmosphere and start to stabilize the climate. By slashing and offsetting emissions, more than 130 countries are targeting net zero by 2050, although major emitters like China and Russia have given themselves until 2060, while India is pitching for 2070.
Without climate financing there is no sustainable route to net zero. A route that funds renewables like wind and solar, while "creating value" in the words of UN special envoy Mark Carney. Value via new technologies, but also "nature-based solutions" like mangroves, as well as financial innovations like green bonds.
Nature-based solutions
The COP26 climate conference in Glasgow in November 2021 ended with a commitment to upscaling investments in adaptation. Since then we have seen a greater focus on adaptation – including "nature-based solutions", which are investments in natural capital as a way to build defenses against climate change. Nature-based solutions include large-scale investments in rehabilitating mangrove forests as defenses against storm surges and sea level rise. But there are two further co-benefits.
First, mangroves are very good carbon sinks, which absorb even more CO2 than terrestrial-based forests. Second, these investments also provide livelihood benefits to local communities, particularly in developing countries. Mangrove forests, for instance, are surprisingly innovative nature-based solutions attracting large amounts of climate adaptation funding to complement mitigation funding that traditionally goes to renewable energy and green building schemes.
It illustrates a fundamental shift: Most people think of climate financing going to mitigation infrastructure like solar panels and wind turbines. But the new focus is on adaptation of existing ecosystems, i.e. investing in expanding or rehabilitating mangroves, which are not only massive carbon sinks but also provide livelihood opportunities in developing countries.
MIKKO OLLIKAINEN, Head of the Adaptation Fund in Washington DC, USA
Mikko Ollikainen has 20 years of experience in climate change and other global environmental issues. Before taking office in 2017, he served as lead adaptation expert since 2009, playing a key role in building the Adaptation Fund's portfolio of projects. Prior to that, Mikko worked as a technical specialist with the World Bank on nature-based climate change mitigation and forest conservation projects in Africa and Indonesia.
OPEC Fund Quarterly: How does climate finance work in the real world?
Mikko Ollikainen: We are focused on making human activity more resilient to the increasing impacts of climate change – sectors such as agriculture and food production. They are now being affected by changes in the water cycle, meaning it either rains too little or too much or too unpredictably. Hence the need for adaptation. Another big sector for us is disaster risk reduction, including early warning systems.
OFQ: What do you prioritize with developing countries?
MO: We are based under the United Nations Framework Convention on Climate Change (UNFCCC), where countries have their own strategies in how to address climate change. Because of the extreme variation in climate impacts felt in different places, as well as basic economic and social systems, everything needs to be tailored to local adaptation needs, which makes for a diverse portfolio. Our projects – usually grant-based and very local – support vulnerable communities in developing countries. The type of financing we provide is particularly suited for funding challenges in communities that cannot usually apply for commercial loans.
OFQ: What opportunities are there for scaling-up?
MO: Work on adaptation has a shorter history than mitigation and our projects have been the first of their kind in many regions. We fund up to US$10 million per project in individual countries and up to US$14 million for regional projects, but the needs for climate adaptation are much larger, so we've already managed to scale-up many projects with – for example – the largest player, the Green Climate Fund. But although funding available for adaptation is increasing quite rapidly, it's not keeping pace with needs – so the gap is growing. Therefore, we are also targeting efficiency gains: sharing all we know on what works (or not) with anyone designing new interventions.
OFQ: Do you work with the private sector in climate adaptation?
MO: Working with the private sector on adaptation is more difficult than on mitigation because we are trying to make existing systems like agriculture and food production more resilient to climate impacts. The business case is often more complicated than in renewable energy, where you have a clear product that is fossil-free energy. That said, we do have parallel financing with the private sector, particularly in areas where there is higher economic interest, such as how climate change may impact coastal livelihoods and tourism in the Caribbean, Indian Ocean and African Atlantic coast.
OFQ: How do you encourage South-South cooperation and empower developing countries?
MO: Climate funds usually channel their financing through international, multilateral intermediaries like UN organizations, but we changed that model and set up a system to help developing country agencies get accredited in their own right: i.e. go through a rigorous process of checking fiduciary and risk management standards. We now have 34 accredited country agencies, through which we channel funding. Under this system, developing country organizations are responsible for identifying, deciding and implementing projects and then reporting on results. It has been a positive experience, as it makes them climate action champions among their peers in their own regions – and now other funds have started replicating that model. That work has turbocharged South-South learning, so we now have a community of practice learning from one another on how to take full ownership of adaptation in their countries. The ultimate goal is to make ourselves obsolete: to reach a point where countries can take care of their own climate and development challenges.
OFQ: Is your organization taking full advantage of innovation?
MO: We actively support innovation in climate adaptation and we have opened a few different funding windows for countries outside of our typical allocations for each country. The goal is to find more efficient and effective ways of doing adaptation, while adding to our growing base of proven scalable models. The private sector is an area where we are especially looking into partnerships because the funds available worldwide are nowhere near the needs. We also have a relatively new funding window called the Adaptation Fund Climate Innovation Accelerator, which offers small grants to, among others, the private sector, local governments, youth and community groups.
PUJA SAWHNEY Associate Director of Habitat for Humanity in Bangkok, Thailand
Puja Sawhney has been Associate Director at Habitat for Humanity International since May 2021. Prior to that she worked for several years at the Institute for Global Environmental Strategies, including as Senior Programme Specialist and as Coordinator of the Regional Hub of the Asia-Pacific Adaptation Network. Puja has also worked for the Asian Development Bank and for the International Human Dimensions Programme on Global Environmental Change, which was formerly hosted by the United Nations University.
OPEC Fund Quarterly: What is the state-of- the-art in climate financing? What opportunities are there to scale-up worldwide?
Puja Sawhney: It is a complex issue, but two major sectors are agro-forestry and agriculture because there is so much at stake right now in terms of the food supply. Climate finance is especially needed across the Global South in major agricultural countries such as India, Viet Nam and other agrarian-based economies. But given our interconnections and the global nature of climate change, it also applies to the developed world, too: from Australia to Europe to the USA.
OFQ: What are the most exciting and promising innovations in climate finance?
PS: Ever since COP21 in Paris 2015 there has been an urgent search for innovative solutions. Over time that translated into the Green Bonds scheme as an innovative solution, with work led by development banks such as the World Bank and the Asian Development Bank (ADB). But there is still a lot of uncertainty – which represents an extra hurdle for the private sector in particular. Here it is important to qualify what we mean by the private sector: it's not one entity but constitutes countless companies of all sizes from micro-firms to multinationals. Involving the private sector is therefore a question of dis-aggregation, risk management and expectation management; and on all these fronts the details still need to be worked out.
OFQ: What are the low-hanging fruits in terms of climate financing across the public and private sectors?
PS: Low-hanging fruits include financial disbursements from entities like the Green Climate Fund, which is paying out large amounts for climate adaptation. Under the UN, we have the UNFCCC process which is playing a vital role. To that we can add various development banks like the ADB. A decade ago, they were focusing much more on mitigation but the adaptation portfolio has increased substantially over the last five years. Same goes for the World Bank.
For the private sector, there's a need to build capacity and understanding on how they can contribute. Just mentioning Corporate Social Responsibility is not enough. Environment, Social and Governance frameworks go a step further, but are still not enough. Partly we need to speak the language of the private sector, including profit margins over the coming years and decades. But we also need companies to understand the bigger picture, build in-house knowledge and really buy in to the 2030 Agenda.
From another angle, green accounting involves countries spending money under national budgets on the environment, such as cleaning up rivers and (re)planting forests. But as in the private sector, there is a lack of knowledge relating to good practice and long-term planning. Although countries have now submitted their second Nationally Determined Contributions to the UNFCCC, a lot remains to be done to achieve the targets included in them.
So yes, there is low-hanging fruit on many levels, but there is also great uncertainty about scenario planning, burden sharing and returns on investments.