Big help for Africa's smallholder farmers
Big help for Africa's smallholder farmers
Founded in 2014, Hello Tractor connects tractor owners and smallholder farmers in sub-Saharan Africa through a digital tractor sharing mobile app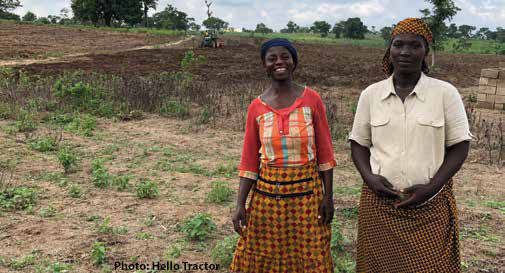 Social enterprise Hello Tractor is helping cut farming costs in sub-Saharan Africa by 40 percent.
It's helping to cut farming costs by up to 40 percent in some instances and is planning to enter new markets such as Kenya, Mozambique, Tanzania and Bangladesh. The social enterprise's founder Jehiel Oliver (below) answers our questions.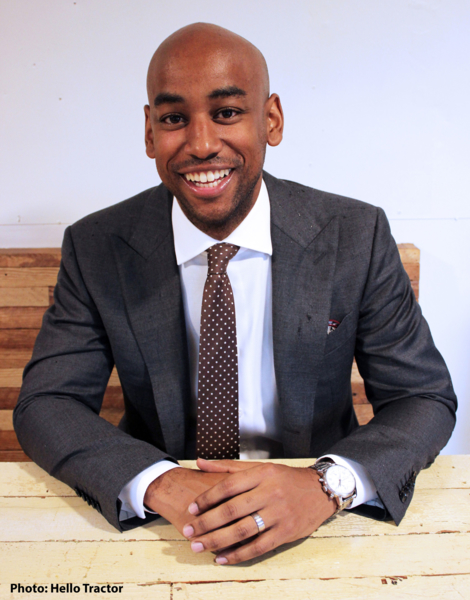 How does Hello Tractor work?
We are the first technology offering designed specifically for the compact tractor (sub-100hp) segment – a market that is growing at close to two million new tractors a year. Most buyers of compact tractors purchase these machines as a business opportunity, earning income by providing a tractor service for hire. Our fleet management solutions provide insights to de-risk and improve service delivery, making sure tractor owner enjoy success while delivering market-led, sustainable services to smallholder farmers. We have reached over 250,000 smallholder farmers in Africa and are helping them cut costs by about 40 percent on land preparation activities.
Do you see yourselves as social innovators – or were you simply filling a gap in the market?
The idea of Hello Tractor came about because of my experience working in global finance and agriculture. I could see first-hand the challenges that smallholder farmers face in accessing machinery to cultivate their land. Tractors and other farm equipment are expensive and financing is almost non-existent. I realized being able to access a tractor is as good as owning a tractor. This was the rationale. Hello Tractor uses technology to proffer a solution to the challenge of global food security through a unique approach. This puts us at the forefront of social innovation. We're proud of our technology offering, which has not only helped us capture 75 percent of the new tractors sold into the Nigerian market, but it's also allowed us to scale our business into new markets such as Kenya, Mozambique and Tanzania, as well as Bangladesh.
How important is innovation when it comes to development?
The development of any economy is dependent on investments in infrastructural facilities as well as technologies for advancement. The lack of innovation and infrastructure often slows down productivity, which, in turn, leads to a decline in growth. I would say that more attention needs to be given to these areas as it's the only way to ensure sustainable growth within an economy.
Does Hello Tractor rely on existing mobile technology infrastructure?
Hello Tractor's technology has been supported from the get go by Kinvey 'Mobile Backend as a Service' or (mBaaS) infrastructure – a service that makes it easy for developers to set up, use, and operate a 'cloud back-end' for their mobile apps (see bit.ly/back-endtech). We have also invested in AWS (Amazon Web Services – scalable cloud computing services) as a backup infrastructure to ensure that we never run into issues relating to data loss. Our IoT [internet of things] technology uses robust monitoring devices to store data in the cloud, which is then pushed to our android mobile app designed to give more farm-aware information than an SMS-based app.
What are the biggest challenges to running a business like yours (a social enterprise)?
The ability to strike a balance between accomplishing the social mission behind establishing the company and running a sustainable business. It's easy to get caught up in the drive to become profitable, especially as the list of investors grows, so that one could end up losing sight of the company's intended mission. To avoid getting tangled in this web, social entrepreneurs need to form the habit of always keeping things in perspective. Getting to that point where one is able to properly balance social mission with profitability can be tough. But it's definitely achievable.
What kind of partnerships have you developed along the way and how important has this support been?
Hello Tractor has established partnerships across both the public and private sector – something that has enabled us to scale across markets. We have partnered with organizations such as USAID, Aeris, the International Maize and Wheat Improvement Center as well as the World Bank, which has been key in providing strategic support to fuel our growth. In addition, we recently established a public private- partnership with John Deere and the Nigerian Federal Ministry of Agriculture and Rural Development to deploy 10,000 tractors in Nigeria over the next five years. Hello Tractor will serve as an implementation partner, providing tractor monitoring, security and valuation support. It is estimated these tractors will bring nine million hectares of land into production, creating 37 million metric tons of additional food and over two million direct and indirect jobs.
As published in the Jan 2019 issue of the OFID Quarterly