Bangladesh: Developing governance and infrastructure in urban slums
Bangladesh: Developing governance and infrastructure in urban slums
Together with the Asian Development Bank, OFID is supporting pro-poor development for urban communities in Bangladesh.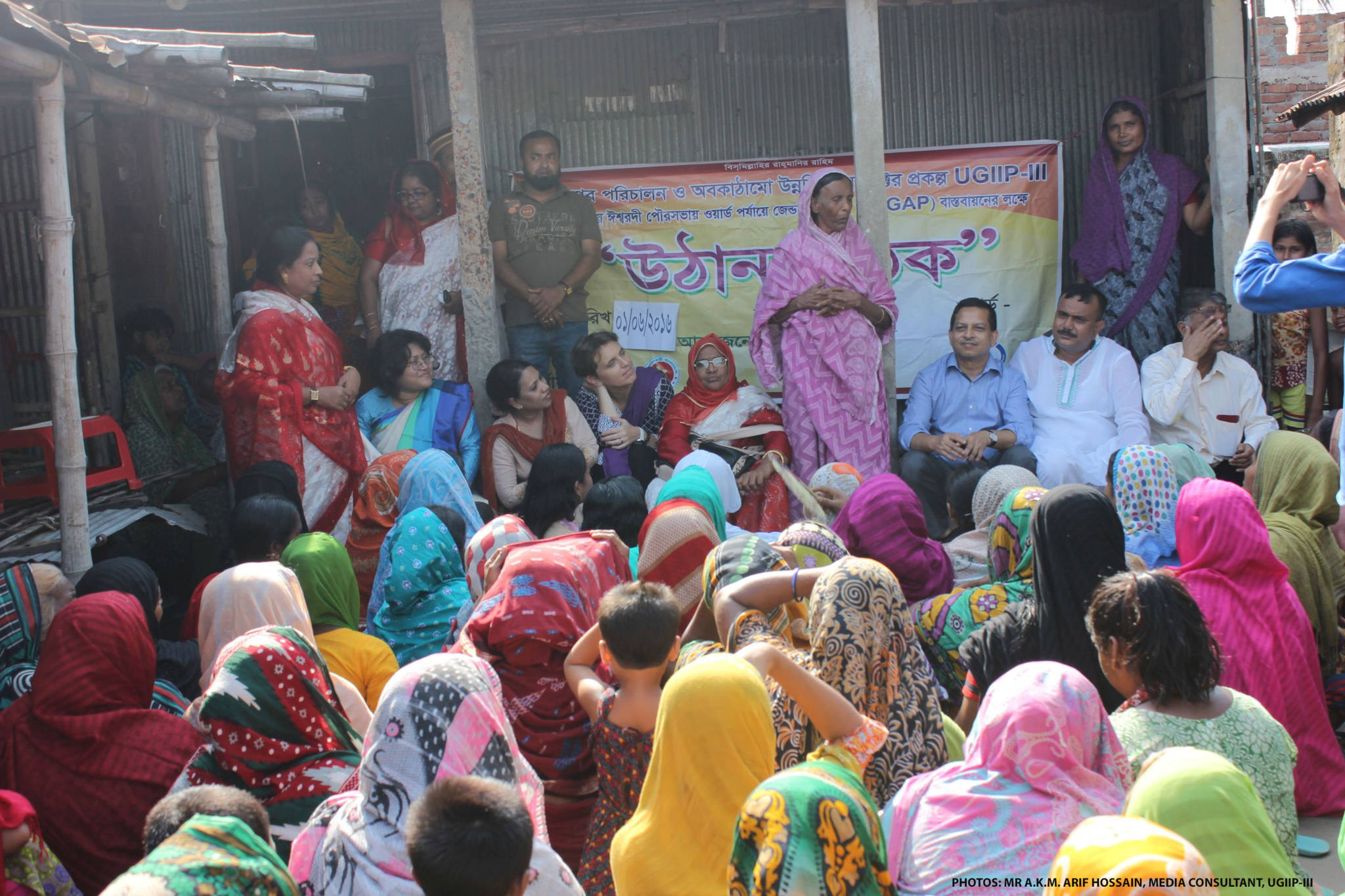 Photo: Mr A.K.M. Arif Hossain, Media Consultant, UGIIP III
In 2015, urban dwellers accounted for 34 percent of the total population of Bangladesh, which is expected to increase to about 110 million by 2035. After the two major cities, Dhaka and Chittagong, smaller secondary towns, also known as pourashavas, are host to 40 percent of the country's urban population.
The rapid speed of urbanization in Bangladesh has led to unplanned and uncontrolled growth. This has resulted in a lack of access to basic services including transportation, and water and sanitation facilities. With a view to developing urban centers in a sustainable way, the government has prioritised a multifaceted approach to poverty reduction. This approach emphasizes that local governance must be developed simultaneously with urban infrastructure.
In 2014, OFID extended a US$40m loan for the third phase of the Urban Governance and Infrastructure Improvement Project (UGIIP-3). This phase of the project, co-financed together with the Asian Development Bank, aims to improve governance and infrastructure in 36 selected pourashavas. The project, which runs until 2020, aims to tackle urban poverty in an integrated and holistic way. Beyond improving infrastructure, UGIIP-3 first ensures that good governance practices are instituted within the municipalities. With enhanced capacity to implement, manage and maintain basic urban services, sustainable growth is ensured at the local level.
"UGIIP-3 is the latest initiative to improve urban development through governance and capacity building," Shafiqul Islam Akand, UGIIP's project director told the Quarterly. "The project has enabled the municipalities to establish strong linkages among their citizens for delivering improved services."
A key component of UGIIP-3 encourages the formation of community based organizations in order to involve citizens, especially women, in the decision-making process. These organizations are responsible for preparing development plans that are pro-poor and gender responsive and that develop capacity. By increasing the representation and participation of the poor and marginalized, the aim is to make decision-making more transparent and encourage citizens to take ownership of their communities.
The project is being implemented in three phases, where funds are allocated based on the performance of the pourashavas in six main areas: i) citizen awareness and participation, ii) women's participation, iii) integration of the urban poor, iv) urban planning, v) financial accountability and sustainability, and vi) administrative urban transparency. Structuring the assistance in this way promotes responsiveness and accountability on the part of the municipalities.
"We have found performance-based infrastructure allocations to be very effective and a successful model in Bangladesh for urban local government," said Akand. "Our approach is being replicated not only in Bangladesh by other development partners like the World Bank and the Japanese International Cooperation Agency, but also in other South Asian countries including India, Sri Lanka and Nepal."
The project focuses on key infrastructure such as roads, drainage, water supply and sanitation, solid waste management and other municipal facilities, including kitchen markets, bus/truck terminals, community centers, slaughterhouses, street lighting, river bank improvement and landing stations, among others.
UGIIP-3 aims for these improved facilities to be directly managed and maintained by the trained beneficiaries. By building capacity in this way before the infrastructure is developed, the project ensures that planning is tailored to the needs and capacity of the pourashavas. UGIIP-3 offers a model for the develop­ment of urban areas. The municipalities impact­ed by the project are supported in a structured way from planning and governance to structural development. This increased awareness and capacity developed promotes the self-reliance of the citizens and the pourashavas to manage and maintain their local areas.