April 7 marks World Health Day
April 7 marks World Health Day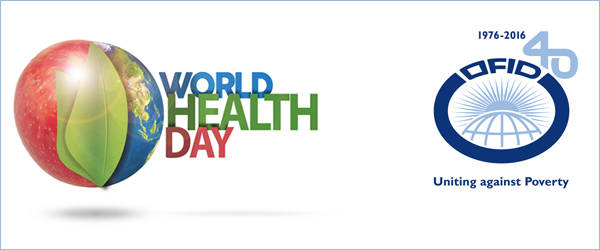 April 7 marks World Health Day, which is celebrated every year to mark the anniversary of the founding of the World Health Organization (WHO) in 1948. WHO's theme for 2016 is "Beat Diabetes: Scale up prevention, strengthen care and enhance surveillance." In 2012, diabetes was the direct cause of 1.5 million deaths. More than 80% of diabetes deaths occur in low- and middle-income countries.
Since 1976, OFID has provided nearly US$790m to help improve health standards and living conditions for millions of people in developing countries around the world. Among the many activities funded are infrastructure provision, capacity building and support to primary healthcare programs. Since 2002, OFID has been an active partner in the global fight against HIV/AIDS, but this focus is gradually shifting to incorporate other preventable diseases, including TB, malaria and waterborne illnesses. Also targeted are non-communicable diseases such as cancer, diabetes and heart disease.
In 2016, at the 154th session of its Governing Board, OFID approved grants in support of projects aimed at preventing avoidable blindess in Niger, improving healthcare services for disabled and special needs children in Palestine and providing rehabilitation services to injured Palestinians. See press release.
In 2015, OFID committed US$38.8m for a diverse range of healthcare initiatives.
The largest single transaction was a US$20m equity participation in a multiregional health fund, the Abraaj Growth Markets Health Fund, which seeks to increase the access, affordability and quality of healthcare products and services in low- and middle-income countries.
From the remaining funds, US$15m was approved through the public sector for a hospital construction project in Ziyang City, China, while US$3.8m was delivered in grant financing for a total of seven projects, including support to vulnerable HIV/AIDS populations and to fighting preventable diseases such as tuberculosis, malaria, water borne diseases as well as non-communicable diseases, which affect disproportionately poor developing countries.
Also drawn from the grant allocation was the US$100,000 OFID Annual Award for Development, which went to Egypt's Children's Cancer Hospital.