"Africa Cannot Carry The Burden Alone"
"Africa Cannot Carry The Burden Alone"
Kigali event attracts well over a thousand delegates – and a strong OPEC Fund delegation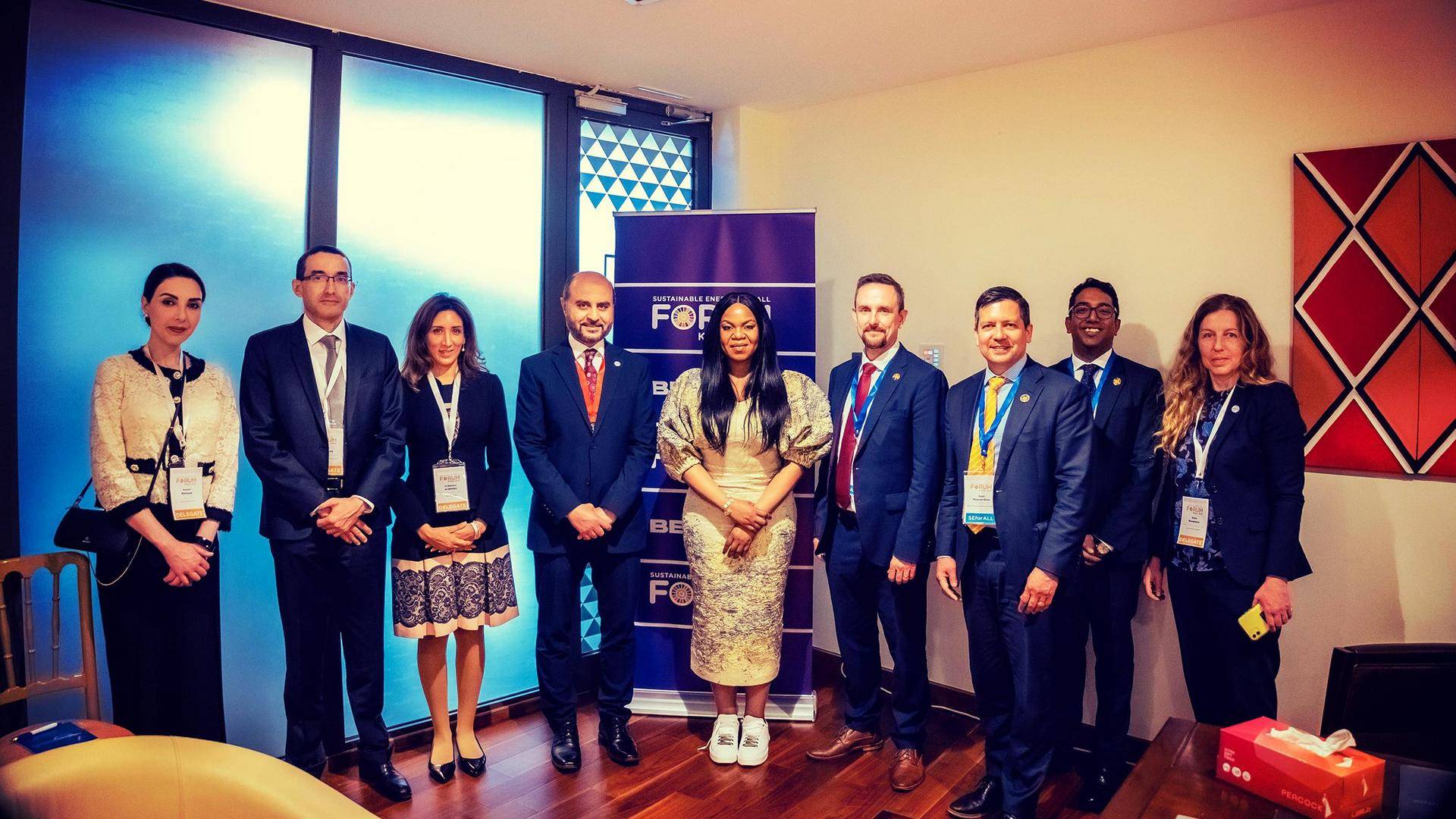 Photo: SEforALL
Joining a global effort to kick-start progress on SDG 7 – Affordable and Clean Energy, OPEC Fund Director- General Dr. Abdulhamid Alkhalifa led a delegation of the Fund to the Sustainable Energy for All (SEforALL) Forum in Kigali, Rwanda in May 2022.
The OPEC Fund came in full force: hosting panel sessions, presenting a new trust fund and delivering interviews to global media. Under the banner Driving Bold Action for a People- Centred Energy Transition, the Forum gathered well over a thousand delegates in person with almost three thousand following online. Opening the event, Rwandan President Paul Kagame made a dramatic appeal for global solidarity: "By integrating sustainable energy in pandemic recovery plans, we can accelerate the transition to clean power. But the transition must be just and equitable. This means it should align with Africa's development priorities and aspirations to ensure no one is left behind. At the same time, there needs to be increased financing to developing countries to support climate adaptation in line with international agreements. Africa cannot carry the burden alone, especially given that its emissions did not create the climate emergency."
Later on the first day, Dr. Alkhalifa opened the OPEC Fund session on Scaling Finance: Equitable Transitions and Clean Cooking, saying: "Our focus on clean cooking is becoming ever more urgent because of the slow progress to date in ensuring universal access by 2030. Clean cooking remains largely underfunded and fragmented.
"Given its multiple beneficial impacts – on health by cutting indoor air pollution; on climate by cutting carbon emissions; and on the environment by avoiding deforestation – improving access to clean cooking will contribute significantly not only to SDG 7 – Affordable and Clean Energy but also SDGs focusing on climate, gender and health."
This session built on an event hosted by the OPEC Fund in collaboration with SEforALL in March 2022 at the OPEC Fund's Headquarters in Vienna. On that occasion, the partners agreed on the urgent need to raise ambitions for universal access to clean cooking, while joining broader efforts on the twin challenges of energy access and climate change. The March event concluded that innovative financing solutions and partnership mechanisms are key to achieving these objectives. In order to succeed it is necessary to scale-up finance for public and private sector investments in clean cooking and climate adaptation and resilience.
Dr. Alkhalifa later spoke on a panel and gave closing remarks at the session entitled Clean Cooking Must be a Global Right. "We are excited to support SEforALL and this significant meeting of stakeholders, who are all working towards the common goal of achieving SDG 7," he said. "The OPEC Fund is committed to addressing the twin challenges of energy access and climate action, helping to ensure that no one is left behind."
Delegates from the OPEC Fund also presented the new Energy Access and Transition Trust Fund for clean cooking solutions, showcasing Madagascar as a pilot project.
The presentation explored the clean cooking and reforestation program in the country, which aims by 2030 to provide clean cooking to more than half of the island's population, saving more than 8.5 million tons of wood and rehabilitating some 500,000 hectares of forest – making a total impact equivalent to US$2.4 billion.
The session demonstrated how integrated energy access planning, greater coordination among actors and innovative finance mechanisms have the potential to unlock greater investment opportunities, while making a tangible difference to vulnerable households and ecosystems. Maximizing visibility across Africa On the sidelines of the forum, Dr. Alkhalifa also gave an interview to CNBC Africa, a business news TV channel based in South Africa, where he emphasized the OPEC Fund's near-50 years of global development achievements as well as the focus on scaling-up finance, innovation and partnerships.
Dr. Alkhalifa said: "We are working on many issues, but the most important is universal access to energy and a just energy transition. Unfortunately, the world is far behind our targets for clean cooking with 2.6 billion people still using biomass or wood for cooking. If we do not do things differently, we will not be able to accomplish our 2030 targets.
"There is a need to tackle several issues and the most important is to enhance and upscale financing. Our new trust fund will target access to energy and transition, as well as focusing on clean cooking. In addition to financing, what we also need is innovation. We have to invest in solutions that ensure universal access to clean energy and to make sure that we are using the most efficient and financially viable approaches."
Pursuing partnerships and synergies Progress on the 2030 Agenda depends on the international community working together. SEforALL CEO Damilola Ogunbiyi said: "It is really encouraging to see so many people here who truly care about SDG 7 and want to work together because they know we have to collaborate if we want to succeed."
During a bilateral meeting on the sidelines of the forum, Dr. Alkhalifa signed a US$18 million loan agreement with the government of Rwanda (see page 38) for the Nyacyonga–Mukoto road project, to be co-financed by the Arab Bank for Economic Development in Africa. The route, currently a 36km gravel road, connects two major national paved roads from the northern part of the capital Kigali to the northern provinces and will promote trade and economic livelihoods through enhanced connectivity and regional integration.
Weighing Up Achievements
The 2022 SEforALL Forum was a chance to put affordable and clean energy on the policy agenda – and delegations did not disappoint. Almost US$350 million in new funding announcements were made by several organizations, channeled to the clean energy transition in 10 developing countries; to scaling up a resultsbased financing facility; and to helping communities in Africa, South Asia and the Indo-Pacific regions combat the climate crisis.
The OPEC Fund was honored to join its fellow sponsors the World Bank, Bloomberg Philanthropies and Rockefeller Foundation in welcoming more than 1,300 stakeholders onsite, including 300 youth delegates, plus a further 2,800 who followed online. Beyond the co-sponsorship of the event and the US$18 million loan to Rwanda, the forum was a chance to raise the OPEC Fund's visibility among global peers and media, while presenting the new energy transition trust fund.
The OPEC Fund has always been proud to "share the burden" – and is now looking forward to the next steps on the clean cooking agenda.
About Rwanda
Rwanda is a landlocked and densely populated country in East Africa. Regional integration and international trade are key to support economic activity and sustainable economic growth. To date, the OPEC Fund has provided around US$285 million in financing for over 30 projects supporting key sectors in Rwanda.
Clean Cooking For Madagascar
Madagascar was selected to host the pilot project of the OPEC Fund's Energy Access and Transition Trust Fund because of the urgency and magnitude of the country's needs. Located 400 km off the coast of Mozambique, this island nation comes 184th out of 190 countries in the Global Access to Energy Ranking. Just 1.6 percent of the population has access to clean fuels, while its electrification rate is just 24 percent – 10 percent below the average for sub-Saharan Africa.
The country's problems are not, however, limited to energy poverty. The related environmental, social and health impacts are extremely high and becoming critical. Some 72 percent of charcoal and wood fuel is sourced from primary or non-renewable forests, of which 80 percent have already been lost nationwide. Meanwhile, indoor air pollution from traditional cookstoves causes 17,000 deaths every year, including a 20 percent mortality rate for children under five years of age.
The OPEC Fund is contributing US$35 million and partnering with the government of Saudi Arabia and the UN for a total project value of some US$200 million. The primary objective is to provide 3.5 million clean or improved cookstoves, which will cover 55 percent of the population.
OPEC Fund Senior Country Manager Lewnis Boudaoui visited Madagascar in May 2022 and said: "This project is unique in many respects. It is the first large development program initiated and designed by the OPEC Fund, positioning itself as a leader of major development partners such as the World Bank, IFAD, UNDP, UNIDO, UNESCO, UNCDF, WHO, SEforALL and others. The project will serve as a pilot for our Energy Access and Transition Trust Fund, and replicating this model in other countries will contribute to achieving the transformational growth the OPEC Fund promotes."