OPEC Fund supports Niger's solar energy development
OPEC Fund supports Niger's solar energy development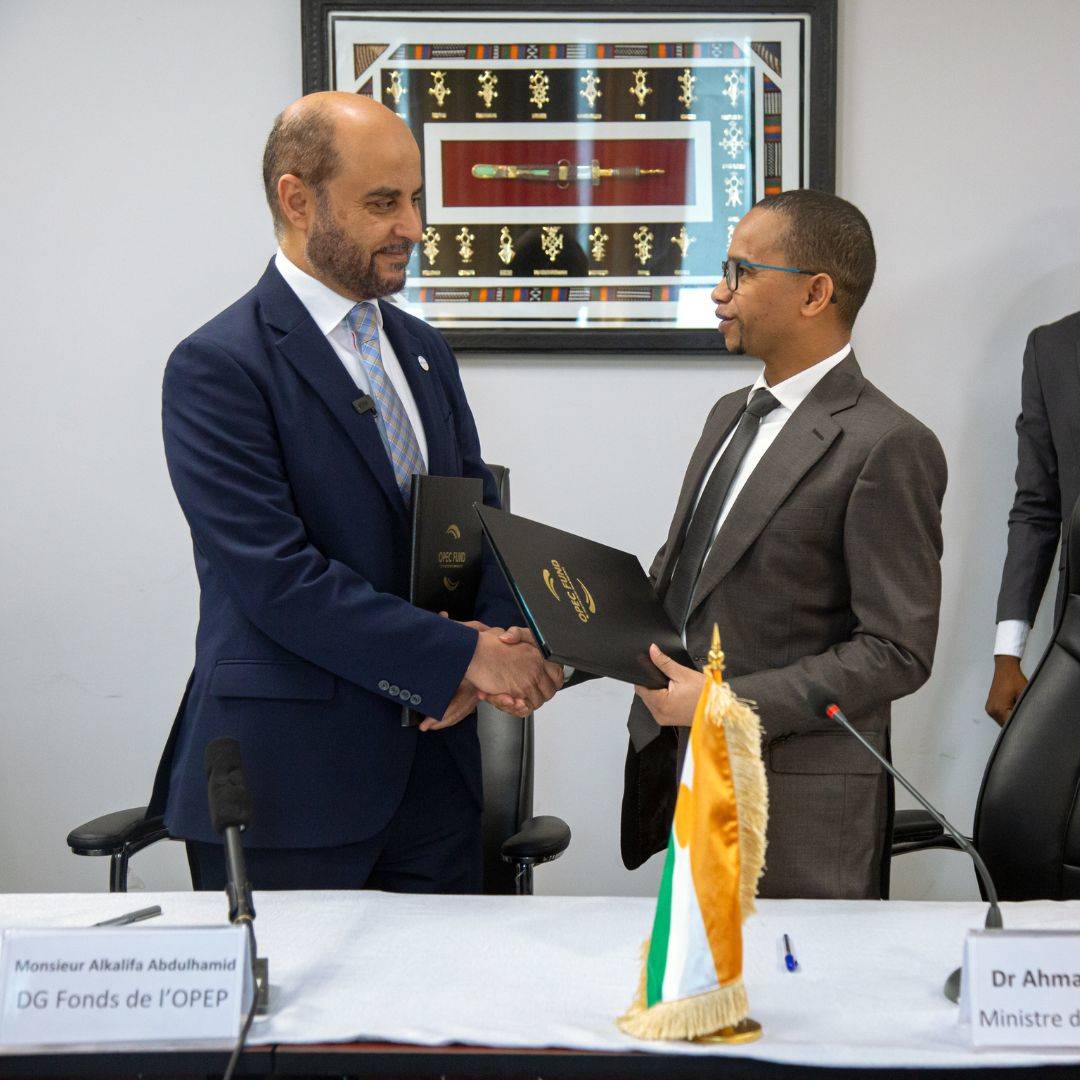 March 8, 2023: The OPEC Fund for International Development (the OPEC Fund) is providing a US$25 million loan in support of the Niger Solar Plant Development and Electricity Access Improvement Project (RANAA), which will scale up electrification and access to renewable energy in the country. The OPEC Fund is joining forces with the African Development Bank, Power Africa, the Green Climate Fund and the Government of Niger for a total financing of US$167 million.
OPEC Fund Director-General Dr. Abdulhamid Alkhalifa signed the loan agreement in Niger today with Minister of Finance Ahmat Jidoud and said:
"Our support will help Niger increase access to affordable and clean energy and improve the overall capacity of the electricity network, making a real difference in people's lives. The OPEC Fund is committed to addressing the twin challenges of energy access and climate action and helping ensure that no one is left behind."
RANAA will support the development of the energy sector through the construction of three solar plants in the Maradi, Dosso and Diffa regions. With a total generation capacity of 40 MW, they will benefit over 750,000 people living in the project area. The project also includes the extension of 2,600 km new transmission lines connecting cities in Niger's south and in the capital Niamey. The OPEC Fund's loan will finance the construction and grid integration of the 10 MW Dosso solar plant.
Only around 20 percent of the population of Niger have access to electricity; one of the lowest rates in Sub-Saharan Africa and with significant disparities between urban and rural areas and regions.
Since the start of its operations in 1976, the OPEC Fund has extended 30 public sector loans for a total amount of US$246 million to Niger, supporting agriculture, transport, education, water and health and a number of other initiatives through 33 local and regional grants.
About the OPEC Fund
The OPEC Fund for International Development (the OPEC Fund) is the only globally mandated development institution that provides financing from member countries to non-member countries exclusively. The organization works in cooperation with developing country partners and the international development community to stimulate economic growth and social progress in low- and middle-income countries around the world. The OPEC Fund was established in 1976 with a distinct purpose: to drive development, strengthen communities and empower people. Our work is people-centered, focusing on financing projects that meet essential needs, such as food, energy, infrastructure, employment (particularly relating to MSMEs), clean water and sanitation, healthcare and education. To date, the OPEC Fund has committed more than US$24 billion to development projects in over 125 countries with an estimated total project cost of US$190 billion. The OPEC Fund is rated AA+/Outlook Stable by Fitch and AA, Outlook Positive by S&P. Our vision is a world where sustainable development is a reality for all.