OPEC Fund approves US$284m for global development operations
OPEC Fund approves US$284m for global development operations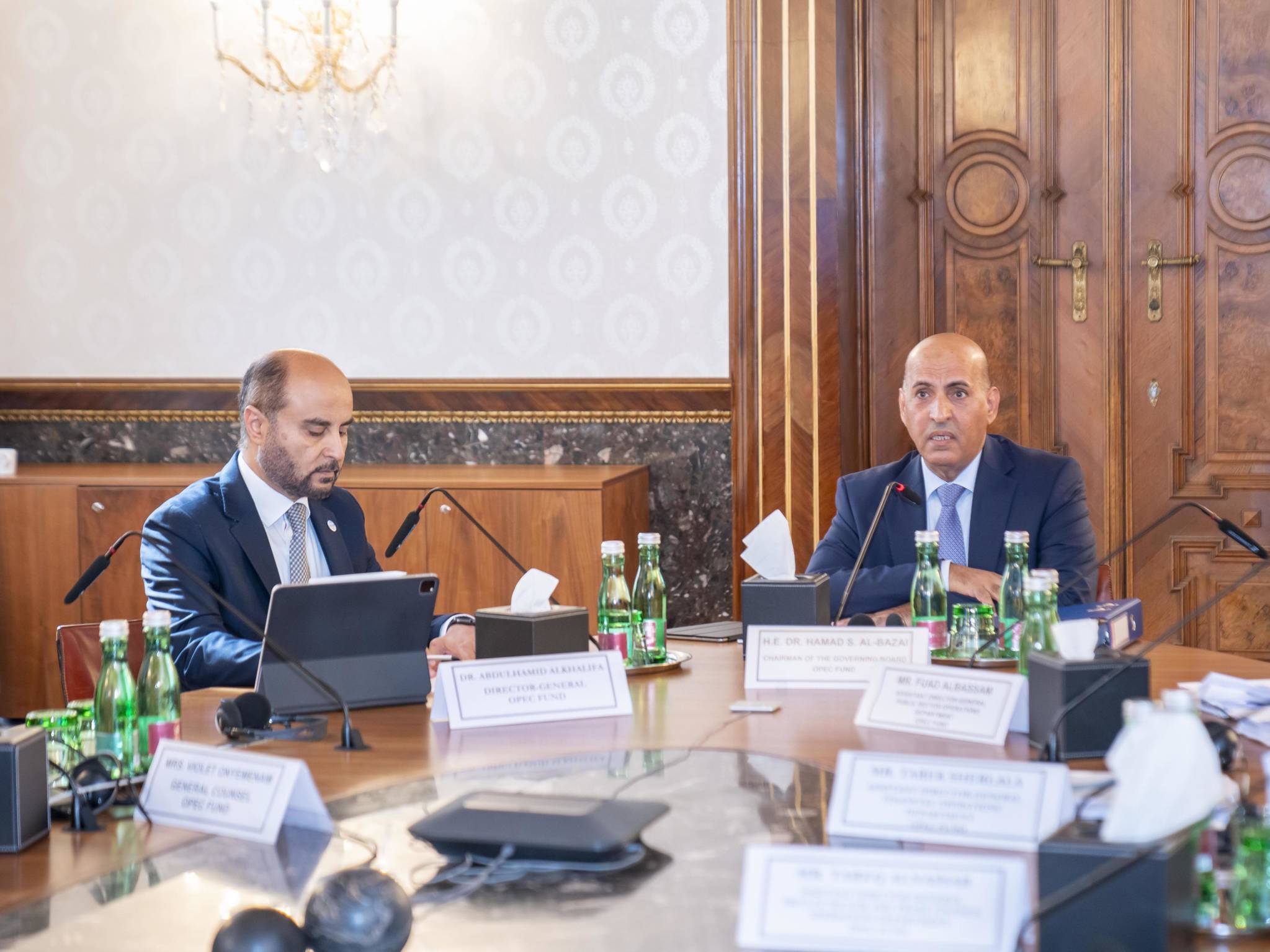 September 15, 2021: The OPEC Fund for International Development (the OPEC Fund) has approved more than US$284 million for sustainable development operations across the world at the organization's 177th Session of the Governing Board, held virtually.
OPEC Fund Director-General Abdulhamid Alkhalifa said that a majority of the approved new projects aim at supporting micro-, small- and medium-sized enterprises (MSMEs) and will help partner countries to recover from the effects of COVID-19 through job creation, access to finance and increased connectivity.
"Our funding through sovereign and non-sovereign operations confirms our commitment to respond to the changing needs in developing countries and to advance the Sustainable Development Goals. We work together with governments, development finance institutions and the private sector to deploy much needed financing to support economies in challenging times."
OPEC Fund's new financing will support the following public sector operations:
Morocco, US$100 million, Financial and Digital Inclusion Support Program:
To support the second stage of the Moroccan government's programmatic series of reforms. Developed in coordination with the World Bank, these reforms aim to mitigate the socio-economic impact of the COVID-19 pandemic, provide affordable financial services to households and micro-, small- and medium-sized enterprises (MSMEs) and expand economic opportunities within the digital economy, as well as to foster the economic inclusion of youth, women and university graduates.
Morocco, US$14.3 million, Nigeria-Morocco Gas Pipeline (NMGP) Front End Engineering Design Study (FEED) Phase II:
To support the Moroccan government's national development strategy aimed at transitioning to a low-carbon energy system, diversifying its energy mix and achieving its renewable energy commitments. The study will carry out detailed evaluations of the implementation and design process for the eventual construction of the gas pipeline, thus facilitating the final investment decision. The OPEC Fund's contribution will specifically co-finance the survey works for the North Area (Senegal - Mauritania – Morocco) of the NMGP.
Senegal, US$30 million, Louga-Keur Momar Sarr Road:
To enhance socio-economic development and unlock the agricultural potential of communities in northwest Senegal through the upgrading of a 54 km long road. On completion, the project will promote the regional movement of people and exchange of goods with neighboring Mauritania, reduce travel time and costs, and improve access to social services for around one million people.
Four private sector and trade finance operations totaling US$140 million were also approved. US$90 million will support financial institutions in Armenia, Vietnam, and El Salvador, and provide increased access to finance to small- and medium-sized enterprises (SMEs), including women-owned SMEs and businesses affected by COVID-19, as well as climate-related projects. US$50 million will support international agricultural trade in Ghana.
About the OPEC Fund
The OPEC Fund for International Development (the OPEC Fund) is the only globally mandated development institution that provides financing from member countries to non-member countries exclusively. The organization works in cooperation with developing country partners and the international development community to stimulate economic growth and social progress in low- and middle-income countries around the world. The OPEC Fund was established by the member countries of OPEC in 1976 with a distinct purpose: to drive development, strengthen communities and empower people. Our work is people-centered, focusing on financing projects that meet essential needs, such as food, energy, infrastructure, employment (particularly relating to MSMEs), clean water and sanitation, healthcare and education. To date, the OPEC Fund has committed more than US$22 billion to development projects in over 125 countries with an estimated total project cost of US$187 billion. Our vision is a world where sustainable development is a reality for all.