The OPEC Fund supports sustainable development in Suriname's health and energy sectors with two loans totaling US$32m
The OPEC Fund supports sustainable development in Suriname's health and energy sectors with two loans totaling US$32m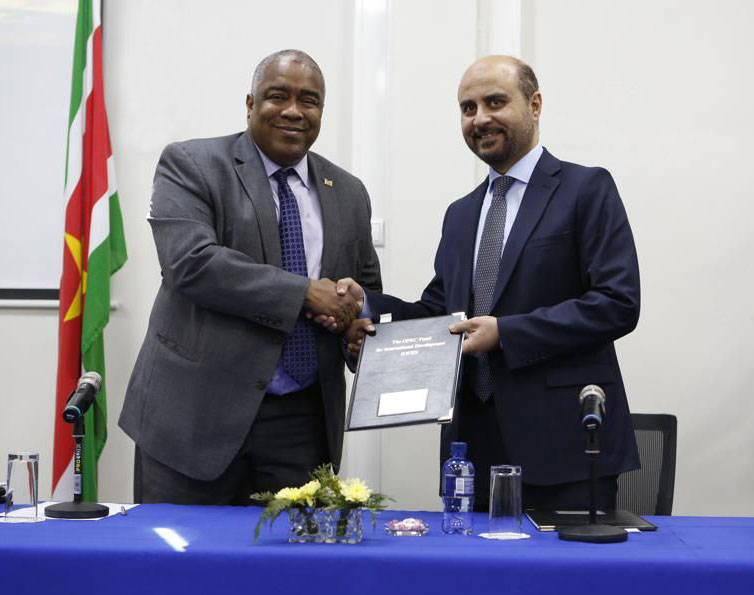 OFID Director-General Dr Abdulhamid Alkhalifa (right) and Suriname's Minister of Finance Gillmore Hoefdraad.
Vienna, Austria, October 7, 2019. The Director-General of the OPEC Fund for International Development (the OPEC Fund) Dr Abdulhamid Alkhalifa has signed two loans totaling US$32 million to support sustainable development in Suriname's health and energy sectors.
The loans will help finance: the rehabilitation and expansion of a hospital in Suriname's capital Paramaribo and primary healthcare facilities across the country serving approximately 300,000 people per year (see http://bit.ly/Suriname1); and the construction and upgrading of power plants and sub-stations, as well related facilities, expected to benefit around 320,000 people.
Dr Alkhalifa signed the loan agreements while on a high-level mission to Suriname, during which he met with Suriname's President Desiré Delano Bouterse and Vice President Michael Ashwin Adhin. The Director-General also met with a number of government ministers and officials, including Suriname's Minister of Finance Gillmore Hoefdraad, Minister of Health Antoine Elias and Minister of Public Works, Transport and Communication Vidjai Chotkan.
Commenting on the OPEC Fund's partnership with Suriname, Dr Alkhalifa said: "The Academic Hospital Paramaribo is the only facility in Suriname that provides emergency and trauma services, and intensive care, in addition to surgical procedures related to cardiology, neurology, ophthalmology and other disciplines. It is through projects like this that the OPEC Fund best exemplifies its mission of working together to deliver maximum development impact in keeping with the aspirations, values and needs of developing countries."
Finance Minister Hoefdraad said: "OFID is a true partner who was there to support Suriname during the worst days of the economic crisis. Also, when the health project was in a difficult situation, we were able through joint efforts to bring the project back on the right path. We are very proud that as a result the project is currently being implemented according to schedule."
The OPEC Fund has worked in partnership with Suriname since 2012, supporting sustainable development across the country's health, energy and transport sectors. Site visits during the recently concluded mission included those to: the Academic Hospital Paramaribo – where an opening ceremony showcased the hospital's new fourth floor – and related primary healthcare facilities; the Power Generation, Transmission and Distribution Systems Project; and the Meerzorg-Albina Corridor Rehabilitation Program – a completed transportation infrastructure project that conveys approximately 25 percent of the country's traffic flow, which the OPEC Fund supported through a loan in 2013.