The OPEC Fund signs loan agreements totaling US$85m at the 2019 World Bank Group / IMF Annual Meetings
The OPEC Fund signs loan agreements totaling US$85m at the 2019 World Bank Group / IMF Annual Meetings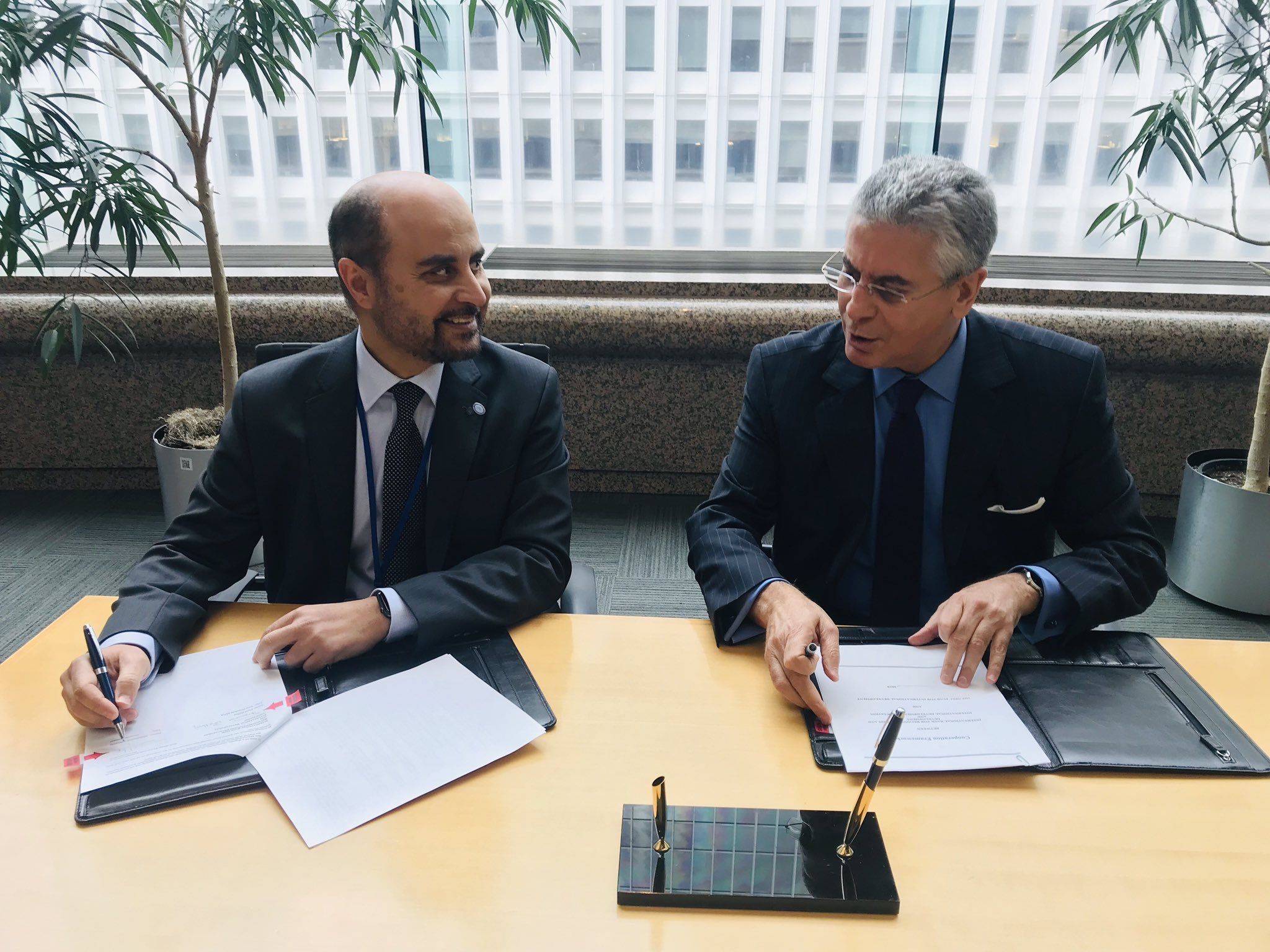 OPEC Fund Director-General Dr Abdulhamid Alkhalifa (left) signs a framework agreement with World Bank Vice-President, MENA Region, Ferid Belhaj.
Washington, DC, USA, October 20, 2019. The Director-General of the OPEC Fund for International Development (the OPEC Fund) Dr Abdulhamid Alkhalifa led a high-level delegation to the 2019 Annual Meetings of the World Bank Group / International Monetary Fund (WBG / IMF) in Washington, DC, USA.
Amid a packed schedule of meetings with senior representatives of the WBG, other development institutions, commercial banks and financial advisory firms, Dr Alkhalifa signed public sector loan agreements totaling US$85m with beneficiary countries Benin, Liberia, Senegal and Sierra Leone. This is in line with the OPEC Fund's goal of supporting developing countries – particularly low-income countries – around the globe.
In addition, the OPEC Fund signed a framework agreement with the World Bank Middle East and North Africa (MENA) to strengthen collaboration and enhance development effectiveness across common MENA beneficiary countries. The aim is to further reduce poverty, boost prosperity and promote socioeconomic progress in the region.
The public sector loan signings were as follows:
Benin (signed with the Minister of Economy and Finance, Romuald Wadagni). US$10m for Agricultural Development and Market Access Support. To boost the food security, nutrition and incomes of smallholder farmers and their families, especially women and youth, in seven administrative regions.
Liberia (signed with the Minister of Finance and Development Planning, Samuel D Tweah). US$25m to upgrade the Konia-Voinjama Road. To pave a 64 km road in northern Liberia, improving the transport of agricultural goods and increasing food security and incomes. Dr Alkhalifa also signed an agreement with the Minister that sets the framework for the commencement of private sector operations in the country.
Two loans were signed with Senegal by the Minister of Economy, Planning and Cooperation Amadou Hott:
US$10m to support the Agricultural Development and Rural Entrepreneurship Program – Phase II (PADAER II). This program will construct infrastructure for small producers to increase yields and create more jobs, with a focus on women and youth.
US$20m to support the Development of Agricultural Production Areas (PDZP/PNDL). To raise yields, reduce post-harvest losses and facilitate farmers' access to inputs by developing agricultural value chains and capacity building. Also planned is the upgrading of 550 km of rural access roads.
Sierra Leone (signed with the Minister of Finance, Jacob Jusu Saffa). US$20m for the education sector, to reconstruct and rehabilitate four public secondary schools, a teacher training college and a polytechnic to ease overcrowding and accommodate rising enrolments.