The OPEC Fund signs amended headquarters agreement with Austrian Ministry
The OPEC Fund signs amended headquarters agreement with Austrian Ministry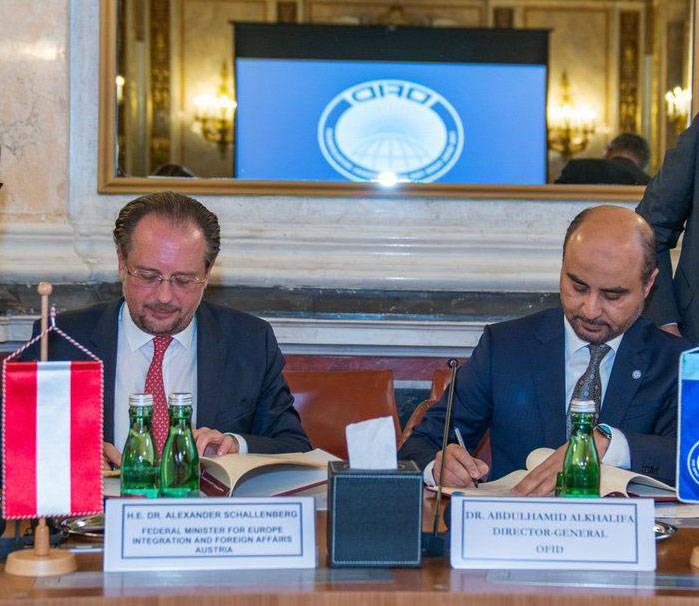 OPEC Fund Director-General Dr Alkhalifa (right) and Dr Schallenberg from Austria's foreign ministry.
Vienna, Austria, October 9, 2019. The Director-General of the OPEC Fund for International Development Dr Abdulhamid Alkhalifa and Dr Alexander Schallenberg, Federal Minister for Europe, Integration and Foreign Affairs of Austria, have signed a Protocol amending the headquarters agreement between the OPEC Fund for International Development and the Republic of Austria.
Signing this Protocol reinforces the relationship between the OPEC Fund and Austria; an already strong partnership that stretches back more than four decades.
During the signing ceremony, Dr Alkhalifa described Austria as a "gracious and supportive" host and said the OPEC Fund had strived to 'give back' to its host country and the City of Vienna through various activities and programs, with close to 50 grants extended to Austrian NGOs. Dr Alkhalifa added: "This agreement signifies the commitment of the Republic of Austria to ensuring that the OPEC Fund retains its position as an important Vienna-based organization, effectively carrying out its development mandate."
Thanking Dr Alkhalifa for the OPEC Fund's longstanding cooperation and "outstanding work," Dr Schallenberg described the institution as an asset to the City of Vienna, citing its support to local NGOs and participation in important forums such as the annual Vienna Energy Forum. Commenting on the newly-signed agreement, Dr Schallenberg said: "I am convinced that this Protocol establishes a solid basis for the ever-closer cooperation between the Austrian government and the OPEC Fund in the years to come."
The Protocol updates OFID's Headquarters Agreement, signed in 1981, by including new provisions and privileges granted to other Vienna-based international organizations.