OFID and UNDP strengthen partnership to improve the use of data for development in the Arab region
OFID and UNDP strengthen partnership to improve the use of data for development in the Arab region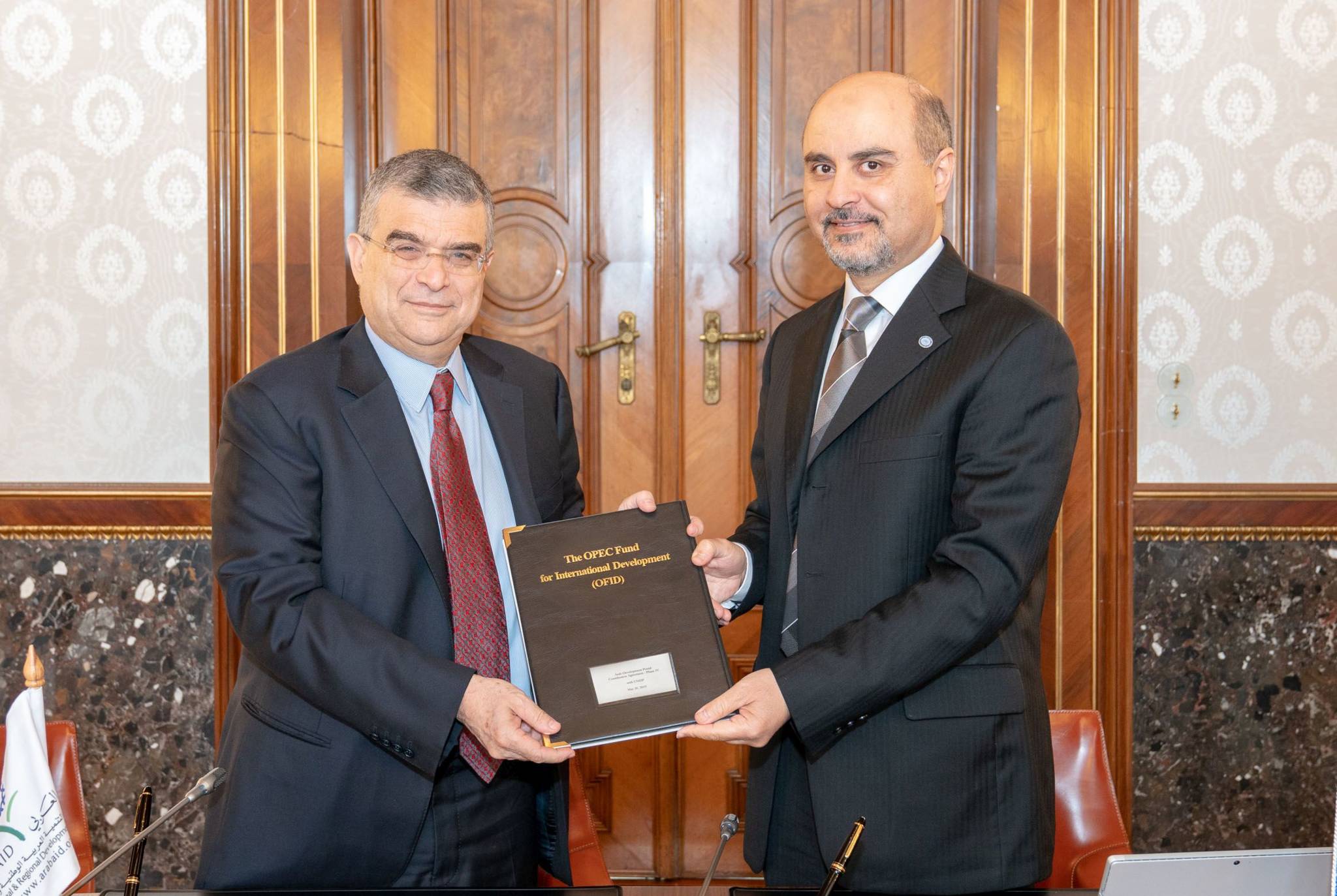 OFID Director-General Dr Abdulhamid Alkhalifa (right) and Mourad Wahba, UNDP Acting Associate Administrator and Regional Director for Arab States.
Vienna, May 20, 2019. The OPEC Fund for International Development (OFID) and the United Nations Development Programme (UNDP) signed today in Vienna a new three-year partnership agreement in support of the Arab Development Portal (ADP) – an online multi-source and bilingual (Arabic and English) platform that offers high quality knowledge and data to improve the scope, depth, reliability, availability and use of development information to advance progress in the Arab region. The ADP was initiated by the Coordination Group (CG) comprised of Arab National and Regional Development Institutions (CG), the Islamic Development Bank and OFID, in 2006.
"The ADP represents an important resource, not only for the Arab region, but for the global development community as a whole. OFID is focusing on strengthening its partnerships to increase our development impact. We are delighted to formalize our support for this multi-stakeholder initiative for a further three years," stressed OFID Director-General Dr Abdulhamid Alkhalifa. "Via the ADP, we will continue to play our part in improving data for development in the Arab region – a crucial ingredient to the 2030 Agenda for Sustainable Development."
The ADP provides quality data, analyses and information management services to a diverse audience. Providing access to over 6,500 indicators from more than 140 sources covering 14 themes, the ADP is the leading platform for nationally produced data in the Arab region. Capitalizing on new open source technologies, in 2018 the ADP also launched the first regional SDGs Tracking Tool – an important asset for the global development community.
Mourad Wahba, UNDP Acting Associate Administrator and Regional Director for Arab States, said: "The ADP represents a unique multi-stakeholder partnership among the key regional development players in the Arab region. We are proud to witness its ripple effects, not only in the region, but also throughout the global development community. What began as a modest intervention in 2013 has become a global pioneer, harnessing new technologies to enhance knowledge for sustainable development. The CG has shown great leadership, commitment and forward-thinking, and UNDP is always ready to support such inspired collective action."
The ADP works closely with more than 70 partners and stakeholders from international organizations, national statistical offices, ministries, universities, research centers, civil society organizations, entrepreneurs and media institutions. The ADP pays special attention to its youth audience through two flagship initiatives: Visualize 2030 annual data camp; and the ADP 3D (data-driven debate). These initiatives encourage Arab youth, who make up one-third of the population in the Arab region, to contribute actively to social progress by leading data-driven advocacy campaigns, contributing constructively to ongoing public debates and designing innovative solutions to pressing development challenges.
For further information, please contact:
Farah Choucair
Arab Development Portal Project Manager - UNDP
Mobile: +9613918672 Email: farah.choucair@undp.org
About UNDP
UNDP partners with people at all levels of society to help build nations that can withstand crisis, and drive and sustain the kind of growth that improves the quality of life for everyone. On the ground in more than 170 countries and territories, we offer global perspective and local insight to help empower lives and build resilient nations. The Strategic Plan 2018-2021 sets out the direction for a new UNDP, optimized to help countries achieve the 2030 Agenda for Sustainable Development. In the Arab region, the Regional Bureau for Arab States (RBAS) has a presence in Amman and country offices in 16 Arab countries, with the 17th located in the occupied Palestinian territory. The breadth of expertise and country presence of UNDP make it uniquely placed to help countries with the most complex and diverse sustainable issues. It is committed to work in partnership with Governments, civil society and the private sector, as a catalyst and facilitator of support at the global, regional and national levels.
About OFID
OFID works in cooperation with developing country partners and the international donor community to stimulate economic growth and alleviate poverty in all disadvantaged regions of the world. It does this by providing financing to build essential infrastructure, strengthen social services and promote productivity, competitiveness and trade. OFID's work is people-centered, focusing on projects that meet basic needs – such as food, energy, clean water and sanitation, healthcare and education – with the aim of encouraging self-reliance and inspiring hope for the future.
About the Arab Coordination Group
The Coordination Group is a policy and operational alliance among a number of Arab national and regional development institutions, the Islamic Development Bank (IsDB) and the OPEC Fund for International Development (OFID), as well as their subsidiaries and special programs. Established in 1975, the Group currently has 10 member institutions, which, in addition to OFID, include: the Abu Dhabi Fund for Development (ADFD); the Arab Bank for Economic Development in Africa (BADEA); the Arab Gulf Programme for Development (AGFUND); the Arab Fund for Economic and Social Development (AFESD); the Arab Monetary Fund (AMF); the Kuwait Fund for Arab Economic Development (KFAED); the Islamic Development Bank (IsDB); the Qatar Development Fund; and the Saudi Fund for Development (SFD). The Coordination Group periodically holds consultative meetings with beneficiary countries to discuss their development plans with a view to enhance coordination and increase the effectiveness of development interventions. Such meetings often conclude by approving financing for projects given priority in the country plans. The CG has collectively provided over 5,000 public sector development loans to over 130 countries.