OFID signs loan agreements totaling some US$200 million with seven partner countries
OFID signs loan agreements totaling some US$200 million with seven partner countries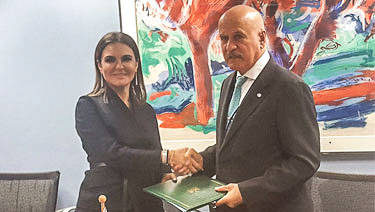 OFID Director-General Suleiman J Al-Herbish (right) with Minister of Investment and International Cooperation of EgyptSahar Nasr.
Vienna, Austria, April 23, 2018. OFID – the OPEC Fund for International Development – has signed public sector loan agreements totaling nearly US$200 million on the sidelines of the World Bank Spring Meetings held April 16-22 in Washington, DC. The agreements were signed by OFID Director-General Suleiman J Al-Herbish and ministers from the beneficiary countries.
Al-Herbish also signed a membership and subscription agreement with the Eastern and Southern African Trade and Development Bank (TDB), subscribing to the bank's Class B shares in capital stock amounting to US$20 million (see press release E16/2018).
Commenting on the newly-signed public sector loans, Al-Herbish said they illustrated OFID's continued commitment to developing countries and the United Nations 2030 Agenda for Sustainable Development. "We work in cooperation with developing country partners and the international donor community to stimulate economic growth and alleviate poverty in all disadvantaged regions of the world," he said. "Our work is people-centered, focusing on projects that meet basic needs – such as food, energy, clean water and sanitation, healthcare and education. All the projects we support aim to inspire, ultimately, self-reliance and hope for the future."
The public sector projects were as follows:
Burkina Faso. US$16.8 million. Koudougou University Expansion. To construct and equip facilities totaling nearly 29,000 m2, including dormitories to accommodate 1,500 students and new teaching, administrative and social facilities. Approximately 18,500 students are expected to benefit.
Cabo Verde. US$19.5 million. Mindelo Cruise Terminal. To help boost tourism, a vital economic sector for the country, on Sao Vincente island by constructing a cruise terminal at Porto Grande and on-shore facilities. The project is expected to create jobs and boost growth in the private sector.
China. US$35 million. Shaanxi Vocational Education. To construct a new Chang'an Campus at the Shaanxi Youth Vocational College. The project will provide a market-oriented education for around 9,000 young job-seekers annually and is expected to attract around 6,000 people each year seeking additional training.
Egypt. US$53.2 million. Rehabilitation and Irrigation / Drainage Pumping Stations Project Phase II. To replace and repair pumping stations for irrigation, thus raising agricultural production. This will, in turn, help increase incomes and food security for more than 380,000 people.
Madagascar. US$20 million. Inclusive Agriculture Transformation Program (DEFIS). To be implemented in eight high-poverty regions, the program aims to boost incomes and food security for around 1.6 million farmers via high-performing production systems adapted to climate change.
Nicaragua. US$30 million. Rural Roads Development. To reduce poverty and promote economic development in rural regions by upgrading over 37km of roads and constructing new bridges. This will enable socio-economic integration, benefiting around 100,000 people.
Zambia. US$12 million. Enhanced Smallholder Livestock Investment Program (E-SLIP). The program will target the livestock systems of smallholder producers through animal disease control, livestock production systems and program management components. It aims to benefit nearly 213,000 smallholders.
Zambia. US$12.4 million. Cancer Treatment Centers. To build two new centers at provincial hospitals in the cities of Livingstone and Ndola. The projects will also expand the existing Cancer Diseases Hospital in Lusaka and provide new medical equipment. The new/expanded facilities will support around 9,000 additional patients.