OFID signs loan agreements to boost socioeconomic development in Côte d'Ivoire and Djibouti
OFID signs loan agreements to boost socioeconomic development in Côte d'Ivoire and Djibouti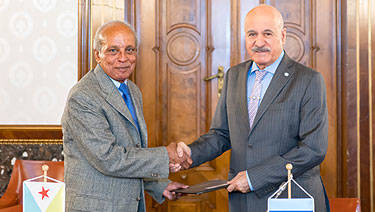 OFID Director-General Al-Herbish (right) and Fahmi Ahmed El Hag, Advisor to the President of Djibouti in charge of Investment Promotion.
Vienna, Austria, February 13, 2018. The Director-General of OFID (The OPEC Fund for International Development) Suleiman J Al-Herbish has signed loan agreements totaling US$25 million with partner countries Djibouti and Côte d'Ivoire. The loans will co-finance projects aimed at helping to reduce poverty by targeting sectors accorded high priority by the respective governments.
A US$11 million loan to Côte d'Ivoire, co-signed by the Ambassador of Côte d'Ivoire to Austria Roger A Kacou, will co-finance the Rehabilitation of Cocody Bay (Lot 3) project. OFID's sister organization BADEA (Arab Bank for Economic Development in Africa) is also funding the project, which will carry out various environmental works at Cocody Bay and the Ebrie Lagoon. Around 1.9 million inhabitants in and around the capital Abidjan will benefit from the anticipated reduction in vector-borne diseases, particularly malaria, as well as lower infant mortality rates and improved environmental conditions.
At the signature ceremony, Al-Herbish spoke of the longstanding partnership between OFID and Côte d'Ivoire, which spans more than 35 years and comprises over US$124 million in public sector lending to help strengthen the education, transport, and water and sanitation sectors, as well as providing debt relief. Other support was extended under OFID's Private Sector and Trade Finance windows and Grants program, the latter of which supported regional and national initiatives. Concluding, Al-Herbish assured the Ambassador of OFID's commitment to enhancing its cooperation with the country.
Ambassador Kacou thanked the Director-General and said: "OFID has constantly supported the development of Cote d'Ivoire with a number of projects…The development of Cocody Bay is very important for our country. The overall development plan includes the construction of a viaduct, an urban park and a marina, as well as recreational areas, sanitation facilities and commercial facilities."
A US$14 million loan to Djibouti will co-finance – along with government support – the Tadjoura Port Access Road project, which will connect the port to the Tadjoura – Balho road that links the country's northern region to the Ethiopian border. Once completed, the anticipated increase in trade levels and overall economic activity will boost socioeconomic development and create job opportunities for some 200,000 people. Co-signing the agreement was Fahmi Ahmed El Hag, Advisor to the President of Djibouti in charge of Investment Promotion.
During the loan signing, Al-Herbish referred to cooperation between OFID and Djibouti that began just two years after the institution's inception in 1976. He outlined OFID's support that includes public sector loans benefiting the country's energy, transportation, education and health sectors, funding approved under OFID's private sector facility, as well as a number of regional and national grants that have helped fund a wide range of initiatives. The Director-General told El Hag that OFID looked forward to continuing to contribute to Djibouti's development.