OFID signs Collaboration Agreement with Central American Bank for Economic Integration (CABEI)
OFID signs Collaboration Agreement with Central American Bank for Economic Integration (CABEI)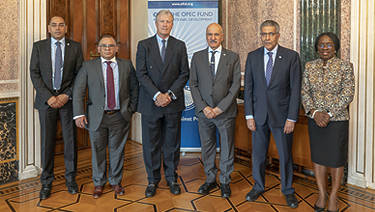 OFID Director-General Suleiman J Al-Herbish (fourth from left) signed the Collaboration Agreement with CABEI President Dr Nick Rischbieth (third from left).
Vienna, Austria, May 14, 2018. OFID – the OPEC Fund for International Development – has signed a Collaboration Agreement with the international multilateral development financial institution the Central American Bank for Economic Integration (CABEI). The agreement will guide future cooperation between the two organizations by establishing a common approach to co-financing public and private sector projects in Central America.
"Our aim is to encourage our organizations to make parallel investments in sustainable development projects in Central America," said OFID Director-General Suleiman J Al-Herbish. "Ultimately, this agreement supports OFID's commitment to the United Nations 2030 Agenda for Sustainable Development. It is directly aligned with SDG 17: Partnerships for the goals. But it will also feed into many of the other 16 goals as we finance development projects across different industry sectors."
CABEI President Dr Nick Rischbieth noted that the new agreement "ratifies a strategic alliance between CABEI and OFID and presents a framework for collaboration in order to reach the common goals of the two institutions efficiently." Dr Rischbieth added that the framework supports technical financial assistance, private and public sector projects, commercial and private capital transactions, and generally facilitates investment in CABEI partner countries.
OFID's relationship with CABEI dates back to 1979 when both institutions participated in the financing of El Cajon Hydroelectric Project in Honduras. Since then, OFID and CABEI have jointly participated as parallel lenders in a number of public sector projects in Belize, Guatemala, Honduras and Nicaragua, across different sectors such as energy, agriculture and transport.
In 2003, the partnership was expanded to the private sector when OFID approved a first loan in favor of CABEI; it was followed by a second facility in 2011. These loans supported CABEI's development-related activities in Central America. Since then, the relationship has evolved and currently, CABEI and OFID co-finance a large solar project in Honduras.