OFID's Ministerial Council gathers to set policy
OFID's Ministerial Council gathers to set policy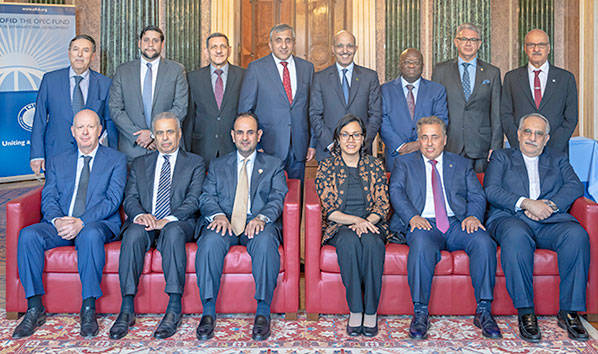 Vienna, Austria, June 25, 2018. OFID's highest policy making body, the Ministerial Council, has held its 39th Annual Session in Vienna, Austria, to review the organization's performance and set policy for the coming year.
The Council elected Indonesia to the chair, represented by HE Sri Mulyani Indrawati, Minister of Finance. She replaces the Republic of Ecuador, represented by HE Carlos Alberto de la Torre, Minister of Economy and Finance. The Islamic Republic of Iran was elected Vice-Chair, represented by HE Masoud Karbasian, Minister of Economic Affairs and Finance.
The Council also appointed Saudi Arabian national Dr Abdulhamid Alkhalifa to the position of OFID Director-General (see press release PR26). He replaces outgoing Director-General Suleiman J Al-Herbish who was appointed in November 2003 and has served three five-year terms.
The highlight of the Council's public session was the presentation of the OFID Annual Award for Development to the Bangladesh-based BRAC. The non-governmental organization will receive US$100,000 from OFID in recognition of its support for Rohingya refugees in Bangladesh (see press release PR27).
The acting incumbent Chair, HE Dr Carlos Alberto Patricio Játiva Naranjo, Ecuador's head of delegation and OFID Governor, Ambassador and Representative to the Vienna-based International Organizations, stated that environmental sustainability and the efforts required to help mitigate and adapt to climate change require "critical effort". In line with this, he said: "OFID's advocacy has been instrumental in fostering sustainable development, namely with regard to SDG 7 and energy poverty eradication. Although the progress achieved in 2017 for SDG 7 was mixed, we should all be very proud that OFID continues to exert great influence in the SDG arena."
Chairman of the OFID Governing Board HE Abdulwahab A Al-Bader gave sincere thanks to the Ministerial Council, to his colleagues in the Governing Board, as well as to the Director-General and all the staff of OFID for their outstanding efforts and commitment to the work of OFID. He also outlined some of the organization's main operations and priorities for the coming years.
In his statement to ministers, Al-Herbish, reflecting on his tenure, said: "Our efforts – along with those of our friends in the international arena – have culminated in something remarkable; something that will underpin the entire sustainable development agenda to 2030 and beyond: access to energy for all is recognized as Sustainable Development Goal 7; a stand-alone goal in the United Nations Agenda 2030 for Sustainable Development. OFID, as you can see, is now far more than a simple lending institution. Our organization has matured and now helps set the global development agenda."