OFID reaffirms commitment to Palestine
OFID reaffirms commitment to Palestine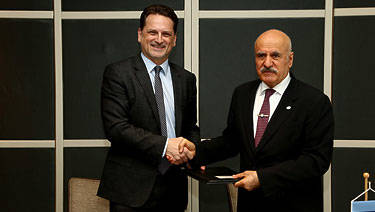 OFID Director-General Al-Herbish (right) and UNRWA Commissioner-General Pierre Krähenbühl.
April 4, 2018, Vienna, Austria. OFID Director-General Suleiman J Al-Herbish has concluded a high-level mission to Amman, Jordan, where he reaffirmed OFID's commitment to Palestine through the signing of 10 grant agreements totaling nearly US$16.4 million. The funds will support a range of projects and programs aimed at bolstering the resilience and living standards of the Palestinian people.
At the signing ceremonies, Al-Herbish reiterated OFID's longstanding commitment to supporting the Palestinian people's legitimate national aspirations and desire for sustainable development. He emphasized that OFID had maintained unwavering support and solidarity with the Palestinian people over four decades, as illustrated by hundreds of grant operations benefiting vulnerable populations and communities in both the West Bank and Gaza, in addition to Palestinian refugee camps in neighbouring countries. He also stressed the multi-faceted nature of OFID's support to Palestine through targeting a wide array of sectors, such as micro-financing, infrastructure, education, agriculture, health and energy, as well as water and sanitation, in addition to providing humanitarian aid in times of crisis.
Furthermore, Al-Herbish reaffirmed OFID's relationship with its partner implementing agencies in carrying out their mandates and important role in improving the livelihoods and prospects of the Palestinians. He commended these partnerships for their "remarkable effectiveness" and "high social impact" amid a complex socio-economic context.
The grants signed were as follows:
United Nations Relief and Works Agency for Palestine Refugees in the Near East (UNRWA).
A new administration agreement for converting the PALFund – a micro-financing scheme that has been revolving over the past thirteen years – from a trust fund into a grant amounting to US$10 million, which will become part of the regular capital of UNRWA's Microfinance Programme. This move comes in recognition of the success of the PALFund, and is expected to consolidate the Microfinance Programme's financial sustainability and growth, and subsequently its social impact.
Islamic Development Bank (IsDB). US$1.5 million. This grant, to be channeled through the IsDB and implemented by the Hebron Rehabilitation Committee, aims to improve living conditions of Palestinians in Hebron by rehabilitating 85 residential units belonging to disadvantaged families. Around 680 people will benefit from this component of the project. In addition, the project will entail restoration works at the Ibrahimi Mosque in Hebron, a site that was recognized by UNESCO in 2017 as an endangered Palestinian heritage site. Co-signatory: Adil Al Sharif, Advisor of the IDB President for Palestine Trust Funds
United Nations Development Programme Assistance to the Palestinian People (UNDP/PAPP). US$1.16 million to carry out development projects in Jerusalem and Gaza. These include: Phase II of expanding the Cancer Department at the Augusta Victoria Hospital in Jerusalem, which received OFID's support through a previous grant; establishing a center for visually impaired children in the Gaza Strip; and installing desalination units for a number of educational institutions in the Gaza Strip. Co-signatory: Roberto Valent, Special Representative of the UNDP Administrator
Jordan River Foundation – Madrasati Initiative. US$500,000 to enhance education access for Palestinian children in East Jerusalem. Activities will include renovating and refurbishing six schools (attended by around 1,200 pupils), the purchase of equipment and teaching supplies, and a professional development scheme for teachers focusing on Information and Communication Technology, as well as a student and community engagement activity component. Co-signatory: Tala Sweis, Director of Madrasati
Patients' Friends Society. US$1 million to provide nuclear imaging equipment for the Al-Ahli Hospital in Hebron, benefiting around 2,800 patients per year who will be able to access local high-quality and affordable diagnostic services. Co-signatory: Abdul-Kareem Al Zughier, Head of the Patients' Friends Society – Hebron
Welfare Association (Taawon). US$600,000 to improve and sustain health services in the Gaza Strip against acute and chronic energy shortages. The project will address power supply challenges at seven selected health facilities in Gaza via solar power systems. Approximately 450,000 patients will benefit annually. Co-signatory: Dr Tafeeda Jarbawi, Taawon Director
Edward Said National Conservatory of Music (ESNCM). US$100,000 to support academic and cultural activities geared toward encouraging creativity, innovation and the appreciation of diversity among Palestinian children, as well as safeguarding Palestinian cultural heritage and the Arabic identity of Jerusalem. Co-signatory: Suhail Khoury, ESNCM Director-General
In addition, Al-Herbish signed grant agreements with Professor Khaled Al-Karaki, President of the Jordanian Arabic Language Academy (US$50,000) to support the production of an Arabic-English dictionary of economic terms; as well as with Professor Mohammad Adnan Al-Bakheet, Director, Center for Documents and Manuscripts, University of Jordan (US$50,000) to help fund the restoration, digitization and analysis of documents from the Jerusalem Sharia Courts. The Director-General also inaugurated a laboratory at the University of Jordan that carries out manuscripts restoration works, which received funding from OFID for establishing and equipping the new facility.