OFID invests in Eastern and Southern African Trade and Development Bank
OFID invests in Eastern and Southern African Trade and Development Bank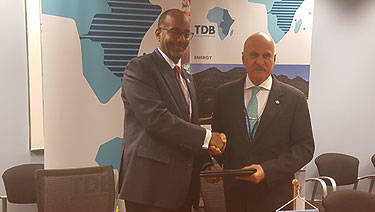 OFID Director-General Suleiman J Al-Herbish (right) and Admassu Tadesse, President and Chief Executive of TDB.
Washington, DC, USA, April 23, 2018. OFID – the OPEC Fund for International Development – signed a membership and subscription agreement with the Eastern and Southern African Trade and Development Bank (TDB), subscribing to the bank's Class B shares in capital stock amounting to US$20 million.
Suleiman J Al-Herbish, Director-General of OFID, and Admassu Tadesse, President and Chief Executive of TDB, signed the agreement on the sidelines of the IMF/World Bank 2018 Spring Meetings in Washington, DC.
Al-Herbish said: "TDB has renewed its commitment to regional socioeconomic development in Africa and so represents a good fit for OFID. In 2017 alone, OFID approved US$695.6 million for development operations in Africa and a total of 32 African countries shared this amount. We remain committed to the continent."
This investment enhances a nine year partnership with TDB, during which time OFID has approved lines of credit totaling US$130 million to the bank for the benefit of countries in East and Southern Africa.
Tadesse said: "We are delighted with the expanded partnership between OFID and TDB, which has now been elevated to a strategic level. The accession of OFID to the membership of TDB is a reflection of the increased commitment of OFID to our fast growing region and recognition of TDB as a regional development finance partner and intermediary of choice. "The deepening of our partnership will unlock more synergies as we jointly advance trade, infrastructure, agribusiness and manufacturing, toward the realization of the sustainable development goals (SDGs) in eastern and southern Africa."
About OFID: OFID is the development finance institution established by the Member States of OPEC in 1976 as a channel of aid to developing countries. OFID works in cooperation with developing country partners and the international donor community to stimulate economic growth and alleviate poverty in all disadvantaged regions of the world. It does this by providing financing to build essential infrastructure, strengthen social services delivery and promote productivity, competitiveness and trade. OFID's work is people-centered, focusing on projects that meet basic needs – such as food, energy, clean water and sanitation, healthcare and education. OFID aims to encourage self-reliance and inspire hope for the future.
About Trade and Development Bank Established in 1985, TDB is a multilateral, treaty-based financial institution. Its mission and objectives are to provide developmental capital and services in the region, through customer focused and innovative financing instruments. The Bank provides the opportunity for investors to gain exposure to fast growing economies through a highly profitable DFI with a sound balance sheet and strong growth prospects. The Bank aims to be a preferred and leading regional DFI in Eastern and Southern Africa.