2018 Vienna Energy Forum: OFID and UNIDO "decisive actors" in global effort for sustainable energy
2018 Vienna Energy Forum: OFID and UNIDO "decisive actors" in global effort for sustainable energy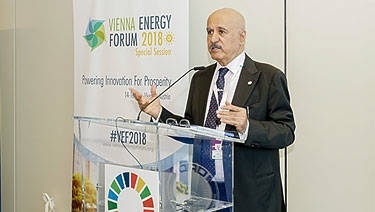 OFID Director-General Suleiman J Al-Herbish speaking at a joint OFID – UNIDO-hosted luncheon.
Vienna, Austria, May 14, 2018. OFID and the United Nations Industrial Development Organization (UNIDO) have consistently proven themselves "decisive actors in the global effort to ensure access to clean, affordable and sustainable energy," said LI Yong, Director-General of UNIDO.
Speaking at this year's Special Session of the 2018 Vienna Energy Forum at the United Nations Office at Vienna (UNOV), Yong commended OFID's nexus approach to energy poverty and talked of the long and productive relationship between the two organizations. He said their work had particularly focused on energy access in the world's developing and least developed countries.
OFID Director-General Suleiman J Al-Herbish, speaking at a joint OFID – UNIDO-hosted luncheon, explained how his organization's partnership with UNIDO was important for all of the United Nations Sustainable Development Goals (SDGs) – not simply SDG 7 on affordable and clean energy – since all 17 goals are interrelated and dynamic: "You cannot address one and forget about the others."
Al-Herbish also noted that 2018 marks the 10th anniversary of OFID's Energy for the Poor initiative, which is funded through a revolving endowment of US$1 billion; a sum pledged by the institution's Ministerial Council in its June 2012 Declaration on Energy Poverty. OFID is committed to using all resources at its disposal and pursuing all viable solutions in a bid to make modern energy universally available.
The Vienna Energy Forum (VEF) gathers leaders from governments, civil society, international organizations and the private sector in an aim to drive the energy-development agenda. Participants debate key issues and opportunities surrounding sustainable energy for development, reflect on how to strengthen and advance SDG 7 and its nexus with other development goals, and provide action-oriented objectives across sectors.