OFID signs US$21.8m Dam Vac Bridge loan agreement on mission in Vietnam
OFID signs US$21.8m Dam Vac Bridge loan agreement on mission in Vietnam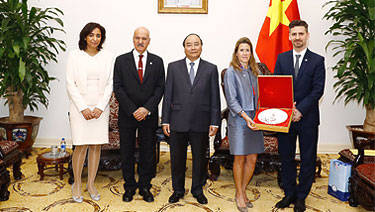 OFID Director-General Suleiman J Al-Herbish (second from left) and delegation with Prime Minister Nguyen Xuan Phuc.
Hanoi, Vietnam, May 24, 2017. A delegation headed by OFID Director-General Suleiman J Al-Herbish has concluded its high-level mission to Hanoi, Vietnam. During the visit, which took place from May 21 to May 24, Al-Herbish met with Vietnamese officials including Prime Minister Nguyen Xuan Phuc and Minister of Finance Dinh Tien Dung.
The delegation was in Hanoi to sign the US$21.8m Dam Vac Bridge project loan agreement. This project aims to improve connectivity and accessibility between the northern urban and southern rural regions of Vinh Phuc province.
During his meeting with the Prime Minister, Al-Herbish praised Vietnam on the tremendous progress it has made in the last decade. "Next year we will celebrate 40 years of partnership with Vietnam," he said. "I look forward to continuing our work together to develop infrastructure in the country. This project is of a special nature. It is a bridge, and indeed OFID is a bridge: between South and South, and between our member countries and Vietnam."
In turn, the Prime Minister thanked OFID for its close cooperation: "We have enjoyed OFID's concessional loans, including for the Dam Vac Bridge project signed this week. We look forward to further cooperation and assistance."
Minister of Finance Dinh Tien Dung welcomed the delegation at a loan signing ceremony held at the Ministry of Finance in Hanoi. "Vietnam has focused its efforts on developing infrastructure in rural areas; especially transport infrastructure," he said. "We are pleased today to continue this valued partnership with OFID which is in line with our efforts to achieve aid and sustainable development. Vietnam has become a middle income country in the past decade, yet many rural regions, provinces and localities that are home to 70 percent of the population endure high poverty levels."
Al-Herbish responded by affirming OFID's continued support to the Socialist Republic of Vietnam. "Together we have financed projects that have targeted rural development—38 percent have supported the transportation sector and 29 percent have gone toward agriculture projects," he said. Al-Herbish explained this was in line with OFID's Corporate Plan, which aims to improve transportation infrastructure and revive agriculture as a means of eliminating poverty. The Corporate Plan anticipates that 70 percent of OFID's activities in the coming decade will be geared toward the energy–water–food nexus, with transportation as an additional enabling sector.
OFID has been a close partner of Vietnam since 1978 and has extended 21 public sector loans totaling US$284m supporting education, health, rural development and transportation projects. In 2016, OFID committed US$45m in support of the Da Nang City Transport project that aims to improve connectivity for Vietnam's third largest city.