OFID signs first-ever trade finance loan to Costa Rican bank
OFID signs first-ever trade finance loan to Costa Rican bank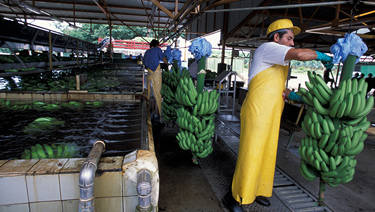 Bananas are an important source of export revenue for Costa Rica. Danita Delimont/Alamy Stock Photo
Vienna, Austria, April 12, 2017. The OPEC Fund for International Development (OFID) has signed a US$15m loan agreement with Scotiabank de Costa Rica S.A (SCB). The transaction represents OFID's first-ever trade finance loan to the country and was signed by OFID Director-General Suleiman J Al-Herbish and SCB's President of the Board of Directors Sergio Cruz.
The funds will help Scotiabank address the demand for short-term financing across all sectors of the Costa Rican economy, which will in turn help boost employment generation. The sub-loans will support the working capital needs of enterprises dedicated to international trade activities.
"We are pleased to work hand-in-hand with Scotiabank, one of the largest private banks in the country," said OFID's Head, Private Sector and Trade Operations, Tareq Alnassar. "Although OFID approved two public sector loans to Costa Rica in 1977 and 1981, this is the first trade finance agreement. So after more than three decades, we are happy to re-establish our presence in the country with the firm aim of supporting its development. This agreement will enable OFID to channel resources to the financial sector in line with SDG8, to promote inclusive and sustainable economic growth, employment and decent work for all."
Ignacio Vargas, SCB Treasury Manager, spoke about the benefits of the agreement: "This transaction has been obtained on terms and interest rates that will allow SCB to expand the availability of resources to meet the needs of its client portfolio. Our customers are our priority and through these agreements with recognized entities such as OFID, we achieve greater benefits for them."
International trade represents an important driver of Costa Rica's economy. While traditional agricultural exports of bananas, coffee, sugar and beef are still the backbone of commodity exports, in recent years a variety of industrial and specialized agricultural products have broadened export trade. High value-added goods and services, including microchips, have further bolstered exports.