OFID signs Development Finance Institutions Corporate Governance Development Framework
OFID signs Development Finance Institutions Corporate Governance Development Framework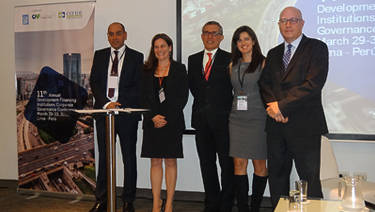 From left: Tareq Alnassar, Head of OFID's Private Sector and Trade Finance Operations; Rebeca Sanchez de Tagle, Corporate Governance Senior Specialist, FMO; Pedro Grados, President, COFIDE;Luiscela Moreno, OFID Private Sector Operations Officer; Manuel Malaret, Corporate Director/Productive and Financial Sectors, CAF.
Vienna, Austria, March 31, 2017. In a move to further its efforts to promote sustainable economic development in its beneficiary countries, OFID—the OPEC Fund for International Development—has signed up to the Development Finance Institutions Corporate Governance Development Framework.
The framework was signed by Tareq Alnassar, Head of OFID's Private Sector and Trade Finance Operations, at the 11th Annual Development Finance Institutions (DFI) Corporate Governance Conference Meeting in Lima, Peru.
By signing the framework agreement, OFID becomes a member of the DFI Corporate Governance Group. First adopted in 2011, the group now comprises 35 members including OFID. The group meets annually to share experiences, foster cooperation and enhance the implementation of best practice corporate governance in partner companies.
Said Alnassar: "OFID is pleased to strengthen cooperation with its development partners by adopting this framework. Sound corporate governance practices boost efficiency, improve access to capital and enhance private sector development. We aim to increase the additionality of our financing by supporting the implementation of this framework among our beneficiary companies."
The Framework provides member DFIs a common approach for evaluating and improving corporate governance and practices in some of the world's most challenging markets. It is the result of extensive collaboration among group members, incorporating and aligning best practices of various international finance institutions.
Through the framework, signatories also aim to raise awareness, both at the private and public sector levels, of the importance of good governance to sustainable economic development.
OFID's Director-General Suleiman J. Al-Herbish commented: "OFID is committed to help the world meet the Sustainable Development Goals, the last of which advocates the need for strengthened partnerships to improve implementation and effectiveness of development finance. Signing the framework unites us with the other members of the Corporate Governance Group to reach this goal."
By signing the framework, OFID undertakes to integrate corporate governance in its private sector operations and to adopt the common methodology. The organization also agrees to ensure internal responsibility for implementation of the framework. This includes training for staff, collaboration with other signatories and contribution to case studies and progress reports.