OFID's Ministerial Council gathers to set policy
OFID's Ministerial Council gathers to set policy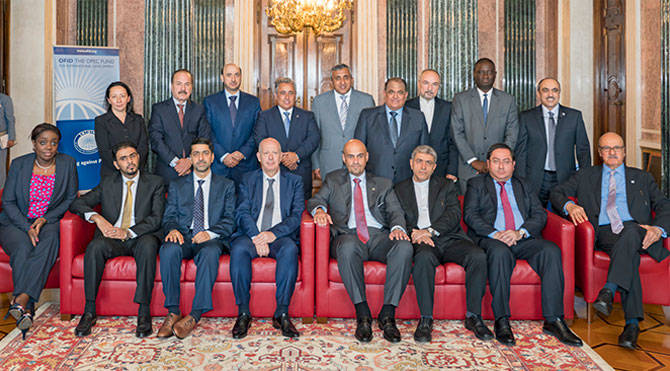 Vienna, Austria, July 6, 2017. OFID's highest policy making body, the Ministerial Council, held its 38th annual session in Vienna, Austria, today to review the organization's performance and set policy for the coming year. The Council elected to the chair the Republic of Ecuador, represented by HE Carlos Alberto de la Torre, Minister of Economy and Finance. He replaces the People's Democratic Republic of Algeria, represented by HE Abderrahmane Raouia, Minister of Finance.
Welcoming fellow ministers, outgoing Chairman Raouia focused on OFID's commitment to the 2030 Development Agenda and working toward the Sustainable Development Goals (SDGs). "OFID's work has focused on addressing essential development needs—in particular food, water and energy resources—all of which are fundamental to economic growth, the provision of social services and improving the lives of developing societies," Raouia said. "OFID, along with its other partners in development, has a key role to play in ensuring that the [SDG] goals will be achieved in 2030." He added that OFID's advocacy had helped ensure the importance of energy was recognized as a standalone goal through SDG 7: 'Ensure access to affordable, reliable, sustainable and modern energy for all.'
The highlight of the Council's public session was the presentation of the OFID Annual Award for Development to the aQ´on Jay Program of the Foundation for Integral Development (FUDI) in Guatemala. The program will receive US$100,000 from OFID in support of its efforts to improve maternal and child health and nutrition (see press release E19/2017).
The Council also announced the winners of the 2017 OFID Scholarship Award Program. This year, more than 20,000 students from OFID partner countries applied for a chance to complete their higher-level university studies with OFID's support. Ten young and remarkable individuals were selected from Colombia, Egypt, Guyana, Mongolia, Rwanda (two students), Sudan, Vietnam, Yemen and Zimbabwe. Since 2006, OFID has supported 40 outstanding young people to attend top ranking universities including Oxford, Harvard and Cambridge.
In the Council's working session, Governing Board Chairman and Director-General of the Kuwait Fund, Abdulwahab A Al-Bader, reported on the work of the Board since the last meeting of the Council. He disclosed that during 2016, OFID approved US$1,338.6m in fresh financing for development; an increase of around US$200m over 2015. Operations continued to be led by the energy–water–food nexus, supported by the transportation sector. Together, these four areas accounted for some 73 percent of aggregate approvals for the year.
In his statement to ministers, OFID Director-General Suleiman J Al-Herbish said: "OFID has evolved over four decades. Today we are both a trusted global lending institution and a major player in the international development arena."
Al-Herbish continued: "By the end of 2016, through the expert management of paid-in resources of just over US$2.4bn, we had committed more than US$20bn in support of over 3,600 development operations across 134 countries. This is a remarkable achievement considering our modest size.
"The journey has been extraordinary. We have embraced new financing instruments and models, built a more diverse partnership network and, occasionally, as our Annual Report shows, we have even ventured into uncharted territory. This is shown by the subordinated debt facilities provided to banks in Honduras and Nicaragua; the first of their kind under the Private Sector facility." Al-Herbish concluded his statement by thanking OFID's ministers and Member Countries: "For all that we have achieved in 2016—and indeed over the past 40 years—we are mindful that nothing would have been possible without the trust of our Member Countries. Thank you all for your unwavering support. For this we are truly grateful. It has allowed OFID to mature into an organization that sets agendas and drives the sustainable development debate, month after month, year after year." Other matters during the session included: consideration and approval of OFID's financial statements and Annual Report for 2016; and reports on the 20th Lending Program and grant operations. The Ministerial Council comprises the finance ministers and other high-level representatives of OFID Member Countries. It meets once a year.