OFID's Governing Board approves over US$320m of new funding
OFID's Governing Board approves over US$320m of new funding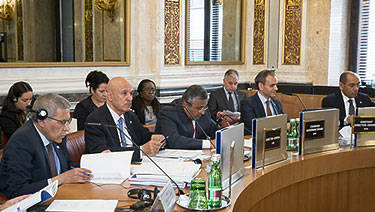 (from left) From left: Fuad Albassam, Assistant Director-General, Public Sector Operations; OFID Director-General Suleiman J Al-Herbish; HE Abdulwahab A Al-Bader, Governing Board Chairman; Tarek Sherlala, Assistant Director-General, Financial Operations; and, Tareq Alnasser, Head, Private Sector Operations and Trade Finance Operations. .
Vienna, Austria, July 7, 2017. The 159th Session of the Governing Board of the OPEC Fund for International Development (OFID) has approved over US$320m of new development funding to benefit developing countries across the globe.
OFID Director-General Suleiman J Al-Herbish noted that the loans underlined OFID's commitment to the energy-water-food nexus, as well as the transportation sector. "OFID has made clear its readiness to mobilize all available means to support these sectors across the globe," Al-Herbish said. "This latest round of development funding was approved in line with our Corporate Plan 2016–2025, which has the energy-water-food nexus at its heart."
The public sector loans, which total US$111m, will support the following projects:
Bangladesh: US$30m. Paira Bridge
To build a 1.5km bridge over the Paira River to connect the districts of Barisal and Pataukhali in the south-central region, and construct access roads to the national highway. A riverbank protection component will help prevent flooding and enable year-round access. In addition to providing the population with more efficient and safer travel, access to income-generating opportunities, marketplaces and social services will be improved boosting development.
Belize: US$12m. Haulover Bridge Replacement
To construct a 147m bridge west of Belize City in the Belize District, an economically-important region due to major tourism, and industrial and agricultural-related activities. The bridge will link two highways to the airport, accommodate rising traffic levels and withstand inclement weather. Around 70,000 people are expected to benefit from the project.
Lesotho: US$14m. Greater Maseru Water Supply
To build new water transmission lines and other infrastructure in the peri-urban areas of the capital Maseru to help serve the city's growing population. Clean drinking water will be provided to an estimated 120,000 people. This will help reduce the spread of waterborne diseases, improve living conditions and save households the considerable cost of purchasing water.
Mauritania: US$18m. Boulanouar Wind Farm
To enhance economic development by providing an efficient and cheaper means of producing energy. A 102MW 39-turbine wind farm will be built in the Boulanouar region. The project will help Mauritania meet its growing domestic demands and produce a surplus that can be exported.
Nicaragua: US$10.5m. Caribbean Coast Rural Electrification Phase II
To provide modern energy services to off-grid, remote communities in high-poverty areas. This will boost Nicaragua's development, enhance quality of life and promote income–generating activities for over 33,000 people. OFID also co-financed the first phase of the project.
Tajikistan: US$10m. Kulyab-Kalaikhumb Road (Sections A and F)
To upgrade two sections of road linking the western and eastern regions of Tajikistan. Other works will include the repair and construction of bridges, and a 1.2km tunnel. The project will provide a direct connection between western Tajikistan, including the capital Dushanbe, and the eastern region of Gorny-Badakhshan, one of the poorest in the country. It will also open up trade opportunities with neighboring countries.
Uzbekistan: US$16.25m. Rehabilitation and Construction of Water Network in the Kasan, Mubarak and Rural Affiliates
To boost access to safe drinking water and improve health conditions of people in the Kashkardaya region. Works will include construction and repair of water structures and distribution channels and other infrastructure. On completion, water supply coverage is expected to benefit circa 110,000 people.

Other approvals included five grants totaling US$3.1m to the following organizations:
Global LPG Partnership
US$200,000. To support a "Clean Cooking for Africa" project comprising two main components aimed at promoting liquid petroleum gas (LPG) rather than traditional biomass and kerosene. This will include a "Bottled Gas for a Better Life" pilot scheme in Cameroon that will provide micro-financing loans and awareness campaigns. Another component will formulate policy to assist 15 ECOWAS states in refining their approach to scaling-up and promoting clean cooking solutions.
International Fund for Agricultural Development (IFAD)
US$1m. To improve dryland livelihoods of pastoralist and agro-pastoralist in Djibouti and Somalia via technology packages related to rainfed agriculture, small scale irrigation and small ruminant farming. Also planned is the provision of efficient, affordable watershed management techniques and capacity building. The program is expected to benefit about 45,000 people.
ICRC MoveAbility Foundation
US$1m. To promote the socio-economic inclusion of people with disabilities, focusing on building the capacities of national service providers in the physical rehabilitation sector to create a sustainable response. The program will target nearly 67,000 individuals in Benin, Madagascar, Tanzania, Togo, Somalia, Zambia, El Salvador, Haiti and Nicaragua.
ITF Enhancing Human Security
US$500,000. To address the acute shortage in specialized rehabilitation services and orthopaedic devices for disabled people in Palestine. This will be done by establishing and equipping a special rehabilitation center within the Palestine Hospital in Bethlehem. OFID's grant will cover the equipping and furnishing of five rooms on the hospital's premises.
Participatory Microfinance Group for Africa (PAMIGA)
US$400,000. To facilitate access to solar energy for rural households and micro-, small- and medium-sized enterprises in Benin, Cameroon and Kenya through the establishment of microfinance services. At least 30,000 rural households presently unconnected to the electricity grid are expected to benefit.
Under OFID's private sector facility, three financing facilities totaling over US$67m were approved. One will help strengthen the energy sector in El Salvador, while two others aim to support the healthcare sector in Turkey. Also approved was an equity participation in a fund providing financing to companies in Africa, Asia, Latin America and Eastern Europe.
Under OFID's trade finance operations, the Board approved four financing facilities totaling US$140m. Two are revolving trade finance facilities for the purchase, storage and sale of agricultural commodities in various countries in Asia and Africa, while another will be used to fund international trade finance activities in El Salvador. Another facility will support on-lending to corporate and government institutions primarily in the Eastern and Southern African region.