OFID's Governing Board approves nearly US$250m of new funding
OFID's Governing Board approves nearly US$250m of new funding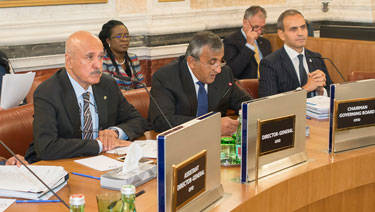 (from left) OFID Director-General Mr Suleiman J Al-Herbish; HE Abdulwahab A Al-Bader, Governing Board Chairman; and Tarek Sherlala, Assistant Director-General, Dept of Financial Operations.
Vienna, Austria, September 19, 2017. The 160th Session of the Governing Board of the OPEC Fund for International Development (OFID) has approved nearly US$250 million of new development funding to benefit developing countries across the globe.
OFID Director-General Suleiman J Al-Herbish explained that much of the funding is directed toward improving the water and sanitation, and energy sectors, of the organization's partner countries. "Water and energy form part of OFID's strategically critical nexus, along with food," said Al-Herbish. "This nexus is about recognizing that these three sectors are intrinsically linked and that issues in one sector cannot be addressed in isolation.
"OFID has made clear its readiness to fund projects on the ground in support of energy, water and food projects in developing countries across the world. We are fully committed, more generally, to supporting all 17 of the United Nations' Sustainable Development Goals. This new funding demonstrates our determination and will support improvements to the living standards of some of the most vulnerable people on our planet."
OFID's newly-approved public sector loans, which total nearly US$160 million, will support the following projects:
Argentina: US$50m. Gran Tulum Water Supply
To promote the socio-economic development and living standards of around 520,000 people in San Juan province by building a new water supply system to meet current and future demands. In addition to improving health indictors, the project will help boost the agriculture sector by providing a reliable source of water for crop irrigation and livestock.
Côte d'Ivoire: US$11m. Rehabilitation of Cocody Bay (Lot 3)
To carry out various environmental works at Cocody Bay and the Ebrie Lagoon to improve health and living standards of around 1.9 million inhabitants in and around the capital Abidjan. The project is expected to reduce infant mortality and incidence of vector-borne diseases, particularly malaria. Better environmental conditions will also attract commercial activities such as fishing and tourism, creating jobs and boosting development. 1.0
Cuba: US$45m. Solar Energy Development
To help Cuba diversify its energy mix by increasing the generation of electricity from renewable energy sources. This will be done by developing solar water heaters and domestic photovoltaic systems to benefit the population across the country and by constructing two solar photovoltaic power plants in Las Tunas Province. The project will benefit around 250,000 people.
Egypt: US$53.2m. Rehabilitation of Irrigation & Drainage Pumping Stations, Phase II
To replace and repair pumping stations for a reliable delivery of water for irrigation and to reduce losses, thus raising agricultural production. This will, in turn, help increase incomes and food security for more than 380,000 people.
Other approvals include eight grants totaling US$4.32 million. The grants support the following organizations:
Access to Water
US$800,000. To expand the scope of an earlier OFID-supported initiative that provides water kiosks and filtration systems to impoverished, rural communities in Senegal. The scheme will install equipment for inhabitants along the Senegal river region in Mali, Mauritania and Senegal. Approximately 250,000 people will be provided with safe drinking water, resulting in a reduced risk of waterborne diseases and enhancing living conditions.
Franco-Afghan Friendship (AFRANE)
US$400,000. To build on the successes of an earlier OFID-sponsored project that enhances access to quality education in Afghanistan, particularly for girls and those living in isolated, rural areas. Activities will include, among others: construction / rehabilitation of schools and dormitories; provision of vocational training and pre-admission training courses for girls; and teacher and school staff training schemes. An estimated 1,600 teachers and 95,000 pupils in five provinces will benefit from improved learning environments / quality of teaching, and better employment prospects / livelihoods.
Care Austria
US$300,000. To support the program "Udaan: Catching the missed opportunity" aimed at improving prospects for girls from poor and marginalized families in Nepal. "Udaan" is based on an accelerated learning model to empower girls. The program will provide education and vocational training in 10 villages in the Kapilvastu district in the western region and involve around 500 girls.
Group for Environment, Renewable Energy and Solidarity (GERES)
US$420,000. To support the development of sustainable biomass fuel supply chains in Cambodia to reduce the use of fuelwood and low-quality charcoal. Activities will include building the capacity of two organizations that produce and distribute improved cookstoves, and supporting charcoal producers to manufacture a "greener" product. Awareness-raising schemes will teach around 100,000 villagers the benefits of using more sustainable cooking devices, fuels and practices.
International AIDS Society (IAS)
US$300,000. To support the attendance of participants from developing countries at the 22nd International AIDS Conference (AIDS 2018) in Amsterdam, Netherlands. The grant will also help fund a workshop in Beirut, Lebanon, that will gather experts from OFID Member Countries and others to discuss "HIV in Conservative Social Settings," the findings of which will be presented at an AIDS 2018 symposium.
Patient's Friends Society
US$1 million. To provide nuclear imaging equipment for the Al-Ahli Hospital in Hebron, benefitting around 2,800 patients per year who will be able to access local high-quality and affordable diagnostic services.
United Nations Development Program (UNDP)
US$800,000. To enhance access to reliable, affordable and sustainable energy products and services for rural populations in Tajikistan and Kyrgyz Republic through the promotion of scalable, private sector-led business models, with a focus on solar-based applications.
Varkey Foundation
US$300,000. To help finance the second phase of a teacher training program in Uganda, the first of which OFID co-funded. Phase II will establish technological infrastructure in Kampala to deliver training remotely. The project will create six training hubs in selected teachers' colleges, schools and coordinating centers in the West Nile region and is expected to train over 960 teachers (reaching a further 9,600 teachers through "cascaded" training). The project will benefit around 480,000 students.
Under OFID's private sector facility, three financing facilities totaling US$60 million were approved. One will help increase the generation of electricity in Bangladesh; while another will support a financial institution in Lebanon in expanding its lending to small- and medium-sized enterprises (SMEs). Also approved was an equity participation in a regional bank to help it meet the trade and infrastructure finance needs of its member countries in the Africa region. Under OFID's trade finance operations, US$25 million was approved to help finance international trade activities in Georgia.