OFID Director-General Al-Herbish: "The needs of developing countries are in trillions, rather than billions of dollars…Business as usual is no long...
OFID Director-General Al-Herbish: "The needs of developing countries are in trillions, rather than billions of dollars…Business as usual is no longer appropriate."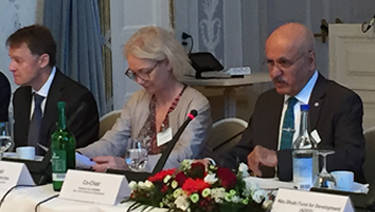 (from right): OFID Director-General Al-Herbish; Charlotte Petri Gornitzka, Chair of the OECD Development Assistance Committee and OECD Director General; and Manuel Sager, Director-General, Swiss Agency for Development Cooperation, Ambassador.
Vienna, Austria, March 31, 2017. OFID Director-General Suleiman J Al-Herbish delivered these and other remarks at the 2017 Arab-DAC Dialogue on Development meeting in Bern, Switzerland, which took place on March 27. This high-level meeting is organised annually and gathers the OECD/DAC (Development Assistance Committee) with the Arab Coordination Group (ACG), composed of eight Arab multilateral and bilateral financial institutions, in addition to the Islamic Development Bank and OFID. The meeting focused this year on the means of achieving the Sustainable Development Goals (SDGs) through strengthening development cooperation, sharing best practices on implementing effective development cooperation and, promoting joint action on education in fragile settings.
In his role as co-chair and on behalf of the ACG, Al-Herbish delivered a welcome address and highlighted the assistance provided by ACG members to developing countries, particularly in alleviating poverty in low-income countries.
In his remarks at a session titled "Adjusting development co-operation tools to ensure sustainable development," he underlined the importance of mobilizing all available means and resources to meet the challenges of the SDGs and the necessity of strong partnerships and policy cohesion among all stakeholders: "For OFID, partnership has been—and will continue to be—a key pillar in our strategy for alleviating energy poverty and achieving sustainable development in all sectors."
Al-Herbish also highlighted the need for financial inclusion to provide equitable opportunities for all, citing that around two billion people in developing countries were still without formal financial services. OFID promoted such inclusion, he explained, through all of its lending windows. This funding helps partner countries to launch microfinance programs in support of SMEs and provides loans and lines of credit to commercial and microfinance institutions, as well as revolving capital pools, among other schemes.
Al-Herbish described OFID as an "early pioneer and champion" of energy poverty eradication in developing countries. This has been the central theme of its operations since 2007 when OFID and its sister institutions of the ACG received a mandate from the Riyadh Declaration of the 3rd OPEC Summit.
"Our efforts and advocacy, together with other likeminded institutions and organizations, have been central in bringing the eradication of energy poverty to the fore of the sustainable development agenda as SDG7," Al-Herbish said.
Achieving this goal would require a significant investment of around US$1.3 trillion per year, Al-Herbish said.
Al-Herbish has frequently stressed that SDG7 should focus on making modern energy services universally available to the poor. Such services should include renewables and energy efficient technology. However, climate change discussions are more appropriate in relation to SDG13 and its associated institutions. To satisfy the energy needs of a growing global population, all energy sources—including traditional fuels—will need to be used. The global energy supply mix should be diverse.
At the event Al-Herbish also stated that OFID and the ACG would remain committed, to supporting the plans of partner countries: "The group stands ready, as always, to join all initiatives that promote the SDGs."
In his concluding remarks, Al-Herbish called for a joint effort to deal with the bottleneck issues preventing donors and beneficiaries from making quicker progress toward achieving the SDGs. He also confirmed OFID's willingness to host a workshop to help overcome these obstacles.