OFID Director-General Al-Herbish receives Lifetime Achievement Award
OFID Director-General Al-Herbish receives Lifetime Achievement Award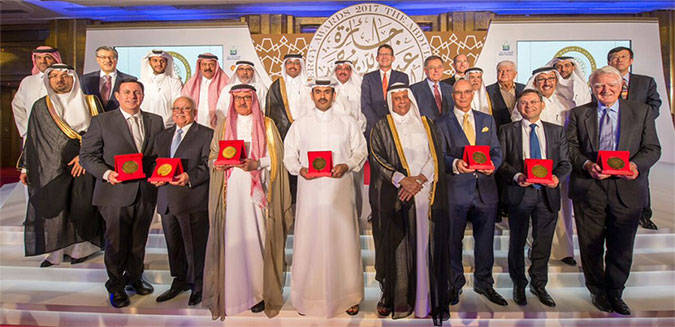 Front, third from left: OFID Director-General Al-Herbish, Qatar Petroleum CEO & President Saad al-Kaabi and HE Abdullah Bin Hamad Al-Attiyah, Chairman of Abdullah Bin Hamad Al-Attiyah International Foundation for Energy and Sustainable Development and Former Deputy Prime Minister & Minister of Energy & Industry of Qatar.
Vienna, Austria, May 9, 2017. Suleiman J. Al-Herbish, Director-General of the OPEC Fund for International Development (OFID), has been was today awarded the 2017 Abdullah Bin Hamad Al-Attiyah International Energy Award for Lifetime Achievement for the Advancement of the Organization of the Petroleum Exporting Countries (OPEC).
Praising Mr. Al-Herbish's efforts toward universal energy poverty alleviation, Abdullah Bin Hamad Al-Attiyah, Chairman of the Al-Attiyah Foundation and former Deputy Prime Minister and Minister of Energy and Industry of Qatar, said: "You have championed tirelessly at the highest level."
Al-Attiyah told Al-Herbish: "Since assuming office, you have led numerous initiatives to make OFlD's work more relevant and efficient, which has led to milestone partnership agreements with a large number of bilateral and multilateral partners." Al-Attiyah said that these efforts had distinguished Al-Herbish.
Accepting the award, Al-Herbish thanked the selection committee, Al-Attiyah and the foundation. He praised the Member Countries of OFID and OPEC, including his own country, the Kingdom of Saudi Arabia: "It is only through their unwavering support that I have been able to dedicate my career to OPEC, spending 13 years as a member of the Board of Governors. I have also been able to commit fully to international development—specifically to our Energy for the Poor advocacy at OFID. I am truly thankful," he said.
Al-Herbish further dedicated the award to the staff of OFID: "These people have supported our noble mission to eradicate energy poverty. They are the ones that have ensured access to energy is recognized the world over as the seventh Sustainable Development Goal after it was ignored under the Millennium Development Goals."
OFID's Director-General was among seven distinguished award winners to receive lifetime achievement awards from the Abdullah Bin Hamad Al-Attiyah International Foundation for Energy and Sustainable Development at a ceremony and gala dinner held at the Sheraton Hotel, Doha.
The Al-Attiyah Foundation established the annual Abdullah Bin Hamad Al-Attiyah International Energy Awards in 2013. The awards recognize outstanding accomplishment in the advancement of the global energy industry. Winners of the award must show distinct personal achievement in their sector over a consistent career spanning at least 30 years.
An independent international selection committee invited by the Foundation selects the award winners. This year's committee included: HE Dr Majid A Al-Moneef, Advisor to the Royal Court of the Kingdom of Saudi Arabia; Adnan Z. Amin, Director-General, International Renewable Energy Agency; Hamad Rashid Al-Mohannadi, Senior Advisor, Qatar Petroleum; Claude Mandil, Former Executive Director, International Energy Agency; Dr. Bassam Fattouh, Director, Oxford Institute for Energy Studies; and Margaret McQuaile, Former Senior Correspondent, SÄP Global Platts.