OFID and UNRWA Sign US$1 Million Grant to Support Quality Education in Jerusalem
OFID and UNRWA Sign US$1 Million Grant to Support Quality Education in Jerusalem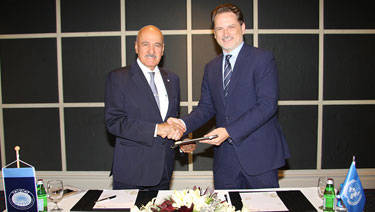 OFID Director-General Suleiman J Al-Herbish and UNRWA Commissioner-General Pierre Krähenbühl. Photo: UNRWA.
Amman, Jordan, September, 13, 2017. The OPEC Fund for International Development (OFID) has made a commitment of US$1 million to the United Nations Relief and Works Agency for Palestine Refugees in the Near East (UNRWA), which will support the UNRWA education program in East Jerusalem. OFID's Director-General Suleiman J. Al-Herbish and UNRWA Commissioner-General Pierre Krähenbühl signed the agreement today in Amman, Jordan.
The contribution will enable UNRWA to rehabilitate and expand its girls school in Beit Inan —a Palestinian village within the Jerusalem Governorate. The work will include the construction of new classrooms, a computer lab, administrative rooms, and a counsellor's office, in addition to a number of other facilities. Equipment and supplies will also be provided, and various rehabilitation and maintenance work will improve the school's premise and landscape. The project will begin on 1 October 2017 and work is expected to be completed by 31 January 2019.
At the signing ceremony, Mr. Al-Herbish underlined OFID's long-term partnership with UNRWA, which spans nearly four decades. "We are confident that this new project will be yet another milestone in our exemplary partnership and cooperation," he stated. Al-Herbish also spoke of the "remarkable effectiveness and high social impact" of projects and programs implemented by UNRWA, and commended its "role in improving the livelihoods and prospects for Palestinian refugees, and in reinforcing social capital and cohesion."
"We are deeply appreciative of this contribution which shows OFID's strong commitment to support UNRWA and the Palestine refugees," said UNRWA Commissioner-General Pierre Krähenbühl. "This project will enhance the quality of education and learning conditions for Palestine refugee children in the Jerusalem area, assisting them towards realising a more dignified standard of living in those villages," said the Commissioner-General.
Beit Inan is one of the 'frontier villages' close to the 1949 Armistice Line (Green Line) and the West Bank Barrier. Such villages suffer from a significant shortage of infrastructure and services, including education facilities.
OFID and UNRWA OFID began cooperation with UNRWA in 1979 and has since provided more than US$36 million in grant support towards 26 UNRWA projects and programmes implemented in the West Bank, Gaza Strip and Lebanon. In addition to its traditional support to education, vocational training, emergency relief and humanitarian aid programs, OFID expanded its collaboration with UNRWA through the establishment of the PalFund in 2004, which aims at extending small loans to productive entrepreneurs and artisans. Through the PalFund, close to 92,000 microenterprise loans, worth over US$128 million, have been extended to citizens in West Bank and Gaza.
ABOUT OFID
OFID is the development finance institution established by the Member States of OPEC in 1976 as a channel of aid to developing countries. OFID works in cooperation with developing country partners and the international donor community to stimulate economic growth and alleviate poverty in all disadvantaged regions of the world. It does this by providing financing to build essential infrastructure, strengthen social services delivery and promote productivity, competitiveness and trade. OFID's work is people-centered, focusing on projects that meet basic needs—such as food, energy, clean water and sanitation, healthcare and education. OFID aims to encourage self-reliance and inspire hope for the future.
ABOUT UNRWA
UNRWA is confronted with an increased demand for services resulting from a growth in the number of registered Palestine refugees, the extent of their vulnerability and their deepening poverty. UNRWA is funded almost entirely by voluntary contributions and financial support has been outpaced by the growth in needs. As a result, the UNRWA Programme Budget, which supports the delivery of core essential services, operates with a large shortfall. UNRWA encourages all Member States to work collectively to exert all possible efforts to fully fund the Agency's Programme Budget. UNRWA emergency programmes and key projects, also operating with large shortfalls, are funded through separate funding portals.
UNRWA is a United Nations agency established by the General Assembly in 1949 and mandated to provide assistance and protection to some 5 million registered Palestine refugees. Its mission is to help Palestine refugees in Jordan, Lebanon, Syria, West Bank and the Gaza Strip achieve their full human development potential, pending a just and lasting solution to their plight. UNRWA services encompass education, health care, relief and social services, camp infrastructure and improvement, protection and microfinance.
For more information, please contact: OFID: Reem Aljarbou Senior Communication Officer E-mail: media@ofid.org Tel.:+431 515 64 291
UNRWA: Christopher Gunness Spokesperson, Director of Advocacy & Strategic Communications Mobile: +972 (0)54 240 2659 Office: +972 (0)2 589 0267 c.gunness@unrwa.org
Sami Mshasha: Chief of Communications, Arabic Language Spokesperson Mobile: +972 (0)54 216 8295 Office: +972 (0)258 90724 s.mshasha@unrwa.org