Funds totaling nearly US$190m approved by OFID's Governing Board at 158th session
Funds totaling nearly US$190m approved by OFID's Governing Board at 158th session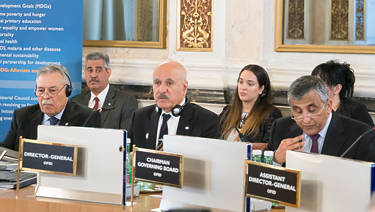 (from left) Saeid Niazi, Advisor to the Director-General; OFID Director-General Suleiman J Al-Herbish; HE Abdulwahab A Al-Bader, Governing Board Chairman.
Vienna, Austria, March 14, 2017. Over 15 partner countries stand to benefit from the latest round of financing, totaling nearly US$190m, which was approved at the 158th Session of the Governing Board of the OPEC Fund for International Development (OFID). The public sector loans, which total US$106m, will support the following projects/programs:
Bolivia: US$61m. Dams Program: More Investments for Irrigation
To increase investments in dams and related infrastructure in seven departments with high-poverty levels, especially among indigenous, rural communities. Activities will focus on improving irrigation and expanding cultivatable land to boost agricultural productivity. Technical assistance and capacity-building components are also planned. Around 20,000 families reliant on subsistence agriculture are expected to benefit from the project.
Burundi: US$15m. Bururi-Gakuba Road Upgrading
To pave a 35km portion of the national RN16 that crosses the Bururi and Gitega provinces and connects the country's south and central regions. This will enable approximately 200,000 inhabitants to transport inputs, agricultural produce and livestock more efficiently and reach important social services, thereby raising living standards and incomes.
Ethiopia. US$30m. Shambu-Agamsa Road Upgrading
To improve a 94km-long stretch situated in the central/western region, thereby providing some 620,000 people with access to social services and reduced travel time and costs. The project will also help increase farmers' revenues by facilitating the delivery of their crops to marketplaces.

Other approvals included three grants totaling US$2.4m to the following organizations:
Carter Center
US$800,000. To support the second phase of an initiative aimed at eliminating blinding trachoma in Mali and Niger. Activities will include the provision of free corrective surgeries to around 36,000 individuals, distribution of antibiotic eye ointment, hygiene campaigns and construction of latrines as flies are an important vector in transmitting the causative bacteria Chlamydia trachomatis. Also planned is capacity building and research in support of the global trachoma program. Additionally, an estimated 9,500 health workers, community leaders, women's groups and school personnel will receive health education training.
International Atomic Energy Agency (IAEA)
US$600,000. To enhance food security, improve nutrition and promote sustainable agriculture in Bangladesh, Cambodia, Lao PDR, Myanmar, Nepal and Vietnam. This will be achieved by implementing two projects. One will focus on the application of nuclear techniques for the diagnosis and control of trans-boundary animal diseases in affected countries. Another will promote sustainable rice production systems with a focus on strengthening soil and water management techniques and capacity building among farmers, scientists and national partners.
United Nations Relief and Works Agency for Refugees in the Near East (UNRWA)
US$1m. To enhance the quality of education and learning conditions for Palestinian refugee children in the village of Beit Inan in Jerusalem. This will include expanding the Beit Inan school by constructing additional floors and classrooms, providing furnishing and equipment and carrying out rehabilitation works.
Under OFID's private sector facility, two financing facilities totaling US$9.5m were approved. One will help expand wind power generation in Honduras, while another will support urban development in Zambia.
Under OFID's trade finance operations, the Board approved a US$50m risk-sharing program to support international trade in primarily African countries, while US$20m was approved to support international trade in Lebanon.