OFID inaugurates the Equal Dreams exhibition to highlight solidarity with the world's refugee children
OFID inaugurates the Equal Dreams exhibition to highlight solidarity with the world's refugee children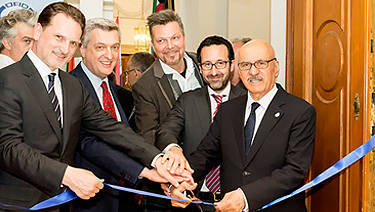 From left: UNRWA Commissioner General Pierre Krähenbühl; UNHCR High Commissioner Filippo Grandi; Child of Play Foundation Lukas M Hüller; ICRC Regional Director for the Middle East Robert Mardini; and OFID Director-General Suleiman J Al-Herbish
Vienna, Austria, April 27, 2016. As part of its 40th anniversary dedication to highlighting the plight of refugees, the OPEC Fund for International Development (OFID) opened the Equal Dreams exhibition at its Vienna headquarters on April 26. Co-hosted by the United Nations High Commissioner for Refugees (UNHCR) and the United Nations Relief and Works Agency for Palestine Refugees in the near East (UNRWA), the exhibition showcases the difficulties faced by refugee children in realizing their dreams. It also promotes the solidarity between OFID and the millions of refugees in dire need of assistance.
The opening ceremony was attended by representatives from various international organizations as well as other development and aid institutions. A number of guests of honor were present at the reception, including—among others—UNHCR High Commissioner Filippo Grandi and UNRWA Commissioner General Pierre Krähenbühl.
Opening the exhibition, OFID Director-General Suleiman J Al-Herbish affirmed OFID's commitment to empowering displaced children and helping them to achieve their dreams. "The world's refugee children are at risk; we must address the challenges they face by providing realistic solutions to help integrate them into their host communities," he stated.
UNHCR High Commissioner Filippo Grandi commended the continuing cooperation between OFID and UNHCR, and OFID's practical and leading approach to the complex issue of refugees. "In a year in which, we, in the UN and in the humanitarian community, are looking closely at how to bridge the gap between humanitarian and development programmes, OFID is leading the way by tackling humanitarian problems with a development eye," he said.
UNRWA Commissioner General Pierre Krähenbühl added: "We are deeply grateful for the robust and consistent support of OFID, which has continuously enabled UNRWA to help improve the living conditions of Palestine refugees over nearly four decades of partnership."
OFID launched its Equal Dreams campaign early this year in partnership with the Child of Play Foundation to highlight the difficulties faced by refugees, especially refugee children. Currently, there are over 30 million refugee children globally who remain displaced as a result of ongoing conflicts. The Child of Play Foundation promotes the idea that refugee children have the same dreams as all other children and should be able to realize their dreams regardless of their situation. Using the UN framework, Equal Dreams has been launched as a "recreation-education-awareness" platform to address the issue through a multi-faceted approach.
The exhibition, on display until mid-June, features artworks from Child of Play including Tree of Hope, and SOS Boat of Hope. The central piece of artwork, Tree of Hope, is a result of collaboration between the Child of Play and approximately 300 children from the UNHCR's Zaatari Refugee camp in Jordan.
Child of Play is an initiative of Austrian artists Lukas Maximilian Hüller and Hannes Seebacher to promote awareness about children's rights, as prescribed under the United Nations Conventions on Rights of the Child.
In cooperation with international artists, Child of Play travels to crisis regions to work with children to help them rediscover the concept of play and develop artwork together in the form of photographs.
During the opening ceremony, OFID signed four grant agreements totaling over US$2m with its partner organizations to provide assistance to refugees and internally displaced persons. The grants include: emergency aid in support of the ongoing humanitarian operations of the ICRC in Yemen, a supplementary grant to UNRWA to improve water and sanitation facilities in the Shu'fat Camp in East Jerusalem; support to a UNHCR initiative to provide shelter for internally displaced persons in Syria; and a grant to the Child of Play Foundation.
Since its inception, OFID has provided regular support to refugees through its grants facility. OFID has longstanding cooperation with organizations that provide assistance to refugees, including UNRWA, and UNHCR. Many of these grants have been delivered in emergency assistance, including during conflicts in Rwanda, Sudan and Afghanistan.