OFID extends grant to UNDP in support of the Palestinian people
OFID extends grant to UNDP in support of the Palestinian people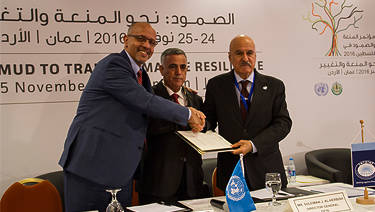 From left: Roberto Valent, Special Representative of the UNDP Administrator in Palestine; HE Hussein Al Araj, Palestinian Minister of Local Government; and, OFID Director-General Suleiman J Al-Herbish. Photo:UNDP
Amman, Jordan, November 25, 2016. The OPEC Fund for International Development (OFID) has signed a US$1m grant agreement with the United Nations Development Program/Program of Assistance to the Palestinian People (UNDP/PAPP). The grant will support Phase II of an initiative aimed at improving the living conditions of low-income Palestinian families in East Jerusalem by providing them with safe and affordable housing.
The agreement was signed by Suleiman J Al-Herbish, OFID Director-General, and Roberto Valent, UNDP Special Representative of the Administrator, and witnessed by HE Hussein Al Araj, Palestinian Minister of Local Government, on the sidelines of the Palestinian Resilience Conference taking place on 24-25 November 2016.
At the signature ceremony, Al-Herbish said the new agreement underlined OFID's long-term partnership with UNDP, which spanned nearly 40 years. He spoke of the "remarkable effectiveness and high social impact" of the first phase of the UNDP/PAPP initiative—also supported by OFID—that renovated 40 homes in marginalized areas.
It was this success that had encouraged OFID to lend its support to Phase II, which would ultimately "safeguard beneficiary communities' existence and reinforce their social capital and cohesion." Al-Herbish also gave Special Representative Valent his assurance of OFID's continued commitment to UNDP/PAPP in working toward their common goal of "improving the livelihoods and prospects of the Palestinian People."
Thanking Al-Herbish for OFID's support, Roberto Valent, UNDP Special Representative of the Administrator, highlighted that UNDP and OFID have a longstanding partnership with the Palestinian people. "UNDP is implementing OFID funded projects worth over US$9m in the West Bank, including East Jerusalem, and Gaza Strip. These projects are critical to improving the livelihoods of the Palestinian people and supporting their resilience. With the new contribution, an additional 60 vulnerable families in East Jerusalem will benefit from enhanced living conditions."
Phase II will rehabilitate houses in the areas of Al-Bustan, Al-Musrara, Al-Thouri, Silwan and Wadi Hilwe. Activities will focus on lower cost but high impact interventions in order to broaden the project's scope and benefit additional households. OFID's previous grant support to UNDP/PAPP has helped:
About OFID
OFID is the development finance institution established by the Member States of OPEC in 1976 as a collective channel of aid to the developing countries. OFID works in cooperation with developing country partners and the international donor community to stimulate economic growth and alleviate poverty in all disadvantaged regions of the world. It does this by providing financing to build essential infrastructure, strengthen social services delivery and promote productivity, competitiveness and trade. OFID's work is people-centered, focusing on projects that meet basic needs - such as food, energy, clean water and sanitation, healthcare and education – with the aim of encouraging self-reliance and inspiring hope for the future.
About UNDP
UNDP partners with people at all levels of society to help build nations that can withstand crisis, and drive and sustain the kind of growth that improves the quality of life for everyone. On the ground in more than 170 countries and territories, we offer global perspective and local insight to help empower lives and build resilient nations. For more information on UNDP's work in the West Bank, including East Jerusalem, and Gaza Strip, visit www.ps.undp.org.