OFID concludes high-level mission to Washington, DC: DG Al-Herbish signs loan agreements with partner countries
OFID concludes high-level mission to Washington, DC: DG Al-Herbish signs loan agreements with partner countries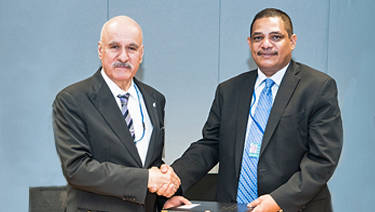 OFID Director-General Al-Herbish concludes the signature of a loan agreement with HE Iván Acosta Montalván, Minister of Finance and Public Credit of Nicaragua.
Vienna, Austria, April 18, 2016. A delegation from the OPEC Fund for International Development (OFID) headed by Director-General Suleiman J Al-Herbish, has concluded a high-level mission to Washington, DC, to attend the 2016 Spring Meetings of the World Bank and the International Monetary Fund (IMF), as well as a number of other important meetings.
Highlights of the mission included the signing of public sector loan agreements, totaling US$41m, with four partner countries.
Nicaragua. US$10m. Caribbean Coast Rural Electrification
Bangladesh. US$6m. Construction of Flyover Bridges in Dhaka (Additional Loan)
Madagascar. US$10m. Soanierana Ivongo – North Mananara Road Rehabilitation
Senegal. US$15m. Ourossogui Hamady Ounare Road
For more information about the projects, please refer to the country data on OFID's website.
OFID management attended an international conference that raised the issue of the financial requirements for addressing the refugee situation in the MENA region and the reconstruction of infrastructure, as well as the recovery of economies upon cessation of hostilities in conflict areas.
The conference took note of countries that were prepared to provide financing to two financial facilities, a grant facility and a guarantee facility. Ten potential beneficiary countries welcomed the initiative and highlighted their particular needs. OFID and nine international institutions, including other members of the Arab Coordination Group, indicated their support of the initiative and fifteen countries pledged resources for the two facilities.
The Director-General attended, upon invitation of the EU Commissioner Dr Johannes Hahn, a discussion on the needs of the MENA region and the importance of cooperation between all parties involved in the area. All agreed that the demands of the MENA region surpassed the possibilities of each institution working alone and agreed to develop cooperation agreements to enhance the effectiveness of their interventions.
The OFID delegation also attended meetings of the G-24 Ministers and the Development Committee. Several bilateral meetings were also held to review the status of OFID's cooperation with other international finance institutions and partner countries, and to identify potential private sector and trade finance transactions.