Fresh funds totaling over US$230m approved by OFID's Governing Board at 155th session
Fresh funds totaling over US$230m approved by OFID's Governing Board at 155th session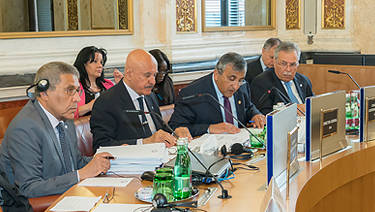 (from left) Fuad Albassam, Assistant Director-General, Public Sector Operations; OFID Director-General Suleiman J Al-Herbish; HE Abdulwahab A Al-Bader, Governing Board Chairman; and Saeid Niazi, Assistant Director-General, Dept of Financial Operations.
Vienna, Austria, June 3, 2016. Seventeen partner countries stand to benefit from the latest round of financing, totaling over US$233m, that was approved at the 155th Session of the Governing Board of the OPEC Fund for International Development (OFID). Commenting on the sectoral distribution of the fresh approvals, OFID Director-General Suleiman J Al-Herbish said: "Our strategic focus continues to highlight the interdependency of the energy-water-food nexus, supported by the transportation sector. This is our priority moving forward."
The public sector loans, which total around US$118m, will support the following projects/programs:
Burundi: US$6m. Agriculture Value Chains Development Program, Phase II
To develop and improve crop and livestock production activities and strengthen community-based initiatives, and in turn enhance food security and incomes for over 200,000 people.
Ethiopia: US$32m. Hamusit-Estie Road Upgrading
To improve connections along a 77km-long stretch in the South Gondor Zone, a key agricultural production area. This will enhance farmers' access to markets, reduce travel costs and time and enable the 500,000-strong population to reach social services more efficiently.
Paraguay: US$32m. Metropolitan Area Electricity Transmission and Distribution System Improvement
To help meet present and future energy needs and expand coverage in the Asuncion metropolitan area, populated by around two million people. In addition to replacing and installing new infrastructure, the project will carry out institutional strengthening.
Saint Lucia: US$16.16m. Millennium Highway Upgrade, Phase II
To facilitate the movement of agricultural and industrial goods, reduce transport costs and help boost living conditions of low-income communities in the capital Castries and the northwest. Around 19,000 households are expected to benefit from the project.
Swaziland: US$14m. National Referral Hospital
To enhance the efficiency and quality of healthcare services by constructing and equipping a 250-bed hospital as well as an out-patient clinic and staff housing. The new facility will serve around 1.3 million people and reduce the need to send patients abroad for treatment.
Vietnam: US$21.8m. Dam Vac Bridge
To build a bridge over the Dam Vac lake to improve connectivity between the northern urban and southern rural regions of Vinh Yen City. This will help increase income-generating opportunities and access to social services for over 100,000 people living in the project area.
Zimbabwe: US$7.6m. Poverty Alleviation
The project will carry out activities in three provinces populated by around 3.8 million people. These include: awareness campaigns to sensitize communities and stakeholders; community support initiatives to identify demand-driven sub-projects and farm demonstration exercises to improve livestock productivity; and support to savings and credit cooperatives.
Four grants totaling US$2.3m were also approved to the following organizations:
International Center for Biosaline Agriculture (ICBA)
US$500,000. To improve small-scale irrigation technologies and introduce on-farm water management practices with a view to increasing agricultural productivity and enhancing food security in Burkina Faso, Niger, Mali and Senegal. The project will also introduce solar-driven systems for operating irrigation pumps and for household use. In all, the project will benefit about 20,000 resource-poor smallholder farmers.
Hilfswerk Austria
US$400,000. To reduce maternal-child mortality in rural areas in 12 districts in Sofala province, Mozambique. This will be done by improving/installing water and sanitation systems and providing renewable energy systems to health posts; expanding coverage and outreach of public health campaigns; and, capacity building, among other activities. The project is expected to directly benefit around 265,000 women and 130,000 children under the age of five.
United Nations Development Program (UNDP)
US$800,000. This grant aims at strengthening host communities' resilience in Jordan and Lebanon by constructing additional infrastructure and providing necessary equipment, as well as improving waste management facilities in areas where Syrian refugees reside. Around 50,000 Syrian refugees and over 26,000 local residents in the host countries are expected to benefit from the scheme.
Austrian Development Agency (ADA)
US$600,000. This grant will support the third phase of the "Southern Africa Solar Training and Demonstration Initiative" which aims at reducing energy poverty by improving access to renewable energy; specifically solar thermal solutions. Activities will include policy workshops, development of national solar thermal roadmaps and installation of solar thermal demonstration systems. OFID's grant will cover activities in Lesotho, Mozambique, and Zimbabwe. The initiative will help reduce energy costs and improve living standards for approximately 7,000 people.
Under OFID's private sector facility, six financing facilities totaling over US$98m were approved to co-finance sustainability energy schemes in Egypt. Under OFID's trade finance facility, US$15m was approved to help support SMEs and finance international trade activities in Armenia.