Fresh funds totaling nearly US$385m approved by OFID's Governing Board at 157th session
Fresh funds totaling nearly US$385m approved by OFID's Governing Board at 157th session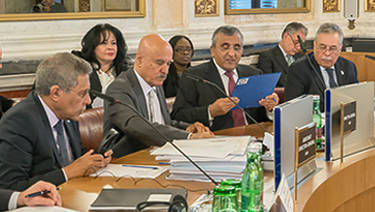 From left: Fuad Albassam, Assistant Director-General, Public Sector Operations; OFID Director-General Suleiman J Al-Herbish; HE Abdulwahab A Al-Bader, Governing Board Chairman; and, Saeid Niazi, Assistant Director-General, Financial Operations.
Vienna, Austria, December 13, 2016. Fifteen partner countries stand to benefit from the latest round of financing, totaling nearly US$385m, which was approved at the 157th Session of the Governing Board of the OPEC Fund for International Development (OFID).
The public sector loans, which total US$254m, will support the following projects/programs:
Bosnia & Herzegovina: US$53m. Corridor Vc Motorway Project Section Nemila-Donja Gracanica (Zenica North)
To improve travel connections for some 150,000 people in the metropolitan area of Zenica, the country's most important center for mining and the metallurgy industry, as well as major education and cultural institutions.
Cameroon: US$13m. Rural Electrification
To provide energy access to around 60,000 people residing in the regions of Adamaoua, Littoral, Nord and Sud, where agriculture and livestock represent key income-generating activities.
China: US$30m. Xingyi University
To alleviate the shortage of higher education facilities and improve overall access to quality education in Guizhou Province by constructing additional infrastructure at the university. The project is expected to accommodate an additional 3,800 students.
Guinea: US$20m. Integrated Rural Development
To help alleviate poverty and enhance food security by upgrading roads, irrigation and water supply systems, as well as infrastructure related to agricultural production and storage. An institutional strengthening component is also planned. In all, around 800,000 people are expected to benefit from the project.
Pakistan: US$19.6m. Golan Gol Hydropower (additional loan)
To construct a hydropower plant with the capacity to generate 106MW of electricity. This will encourage the development of local industries, thus enhancing socioeconomic development in the region and provide consumers with more a more reliability supply of energy.
Sierra Leone: US$13.15m. Three Towns Water Supply & Sanitation (additional loan)
To broaden the scope of an ongoing project that is improving water supply infrastructure in the towns of Bo, Kenema and Makeni, where coverage is low. The provision of safe, piped-in water supplies will improve health and living conditions for around 500,000 people.
Sri Lanka: US$18m. Kalu Ganga Development (additional loan)
To construct a reservoir to expand available water supplies for household consumption and irrigation, which will in turn boost agricultural yields and improve health indicators. The reservoir will also be used for inland fisheries, thereby enhancing socioeconomic development and helping reduce poverty in the region.
Tajikistan: US$12m. CAREC Corridors 2, 5 and 6 (Dushanbe–Kurgonteppa) Road
To upgrade a 33km stretch and construct/rebuild bridges to enable around 54,000 people in 19 villages to gain better access to jobs, marketplaces and public services.
Tanzania: US$18m. Uvinza–Malagarasi Road
To pave a 51 km long earth road that serves around two million people in the Kigoma region, where agriculture is the mainstay of the economy. The upgraded road will enable year-round transport of produce and inputs and boost access to social services and popular tourist attractions.
Vietnam: US$45m. Da Nang City Transport
To complete construction of the Ring Road around the city to boost socioeconomic development, directly benefiting over one million inhabitants. This will also improve connectivity of the southeast and western rural regions to the city center, thus opening up access to employment opportunities and social amenities.
Zambia: US$12.4m. Cancer Treatment Centers
To build two cancer treatment centers at provincial hospitals in the cities of Livingstone and Ndola. The projects will also expand the existing Cancer Diseases Hospital in Lusaka and provide new medical equipment. The new/expanded facilities will be able to handle around 9,000 additional patients.
Also approved was a US$800,000 grant to Care Austria for the project: Rehabilitating and Strengthening Farmers' Livelihoods and Food Security in Gaza. Activities will include repairing damaged farming-related infrastructure such as irrigation systems, greenhouses and farmland, as well as providing inputs. Another component will focus on strengthening the capacity of agriculture and agribusiness community-based organizations and cooperatives through awareness building sessions, training on business planning and provision of technical assistance. The project is expected to directly benefit around 7,500 people.
Under OFID's private sector facility, five financing facilities totaling US$130m were approved. One will help strengthen the energy sector in Côte d'Ivoire, while others will help enhance the provision of healthcare in Turkey and boost the transportation sector in Madagascar. Funds will also support financial institutions in Vietnam and Sri Lanka in expanding their lending activities to micro-, small- and medium-sized enterprises.