Doaa Al Zamel receives OFID 2016 Annual Award for Development
Doaa Al Zamel receives OFID 2016 Annual Award for Development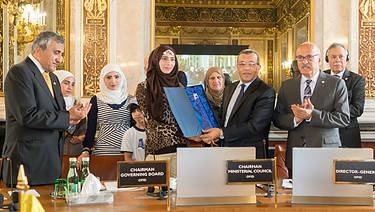 From left: Governing Board Chairman, Abdul Wahab Al-Bader of Kuwait; Annual Award winner Doaa Al Zamel; Council Chairman, Abderrahmane Benkhalfa, Algerian Minister of Finance; and, Director-General, Suleiman J Al-Herbish.
Vienna, Austria, June 3, 2016. The OPEC Fund for International Development (OFID) is honored to announce the winner of its 2016 Annual Award for Development: 20 year-old Syrian refugee Doaa Al Zamel, a survivor of the September 2014 Mediterranean shipwreck tragedy that claimed almost 500 lives. Doaa's selection as winner of the 2016 Award forms part of OFID's 40th Anniversary dedication to highlighting the plight of refugees.
The Award honors Doaa's bravery and her determination to draw greater attention to the refugee crisis by sharing her story. In 2015 alone, more than 3,770 people, many of them children, drowned or went missing making the journey across the Mediterranean.
The Award, which comes with a US$100,000 prize, was announced on the sidelines of the 37th session of OFID's Ministerial Council, meeting in Vienna, Austria. It was presented jointly by Council Chairman, Abderrahmane Benkhalfa, Algerian Minister of Finance; Governing Board Chairman, Abdul Wahab Al-Bader of Kuwait; and Director-General, Suleiman J Al-Herbish.
In a citation, Al-Herbish paid tribute to Doaa: "As we go through this tough period in history, one regains hope on witnessing someone with your youth, aspirations and insistence strive for a better future."
The prize money will be used to establish a fund on behalf of Doaa to assist similar victims and raise further awareness. The award will also allow Doaa to complete her studies.
During her four-day ordeal at sea, Doaa managed to stay afloat on a child's water ring. She saw her fiancé perish along with 500 others and was entrusted to care for two infant girls by their drowning relatives. She and the babies were on the edge of death when a merchant vessel rescued them. Thanks to Doaa's courage and determination, 18 month-old Masa survived.
Thanking OFID for the award, Doaa said that she would never get over the shock and the loss of what happened but that she was happy to have saved a small girl. She added: "I am grateful to Sweden for offering me and my family safety and a new start. The OFID Award will help me and other refugee shipwreck survivors to study and heal. I dedicate it to all the men, women and children who have lost their lives on the Mediterranean Sea."
Doaa and her family originally fled the war in Syria in 2012 and found refuge in Egypt. They have since been reunited in Sweden thanks to the resettlement program of United Nations High Commissioner for Refugees (UNHCR). She and her fiancée, like so many other refugees, entrusted their lives to people smugglers to seek a better life in Europe.
The OFID Annual Award for Development was instituted in 2006. Past winners include: the Children's Cancer Hospital Egypt, Kenya's Kakenya Center for Excellence; Malala Yousafzai of Pakistan; Dr Mazen Al-Hajri, renowned ENT surgeon and philanthropist, Professor Muhammad Yunus; and, Bartolina Sisa National Confederation of Peasant Indigenous Native Women of Bolivia, among other distinguished personalities and institutions.