OFID extends two new grants to UNDP/PAPP in support of the Palestinian people
OFID extends two new grants to UNDP/PAPP in support of the Palestinian people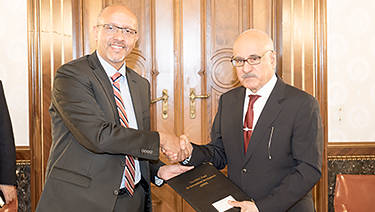 OFID Director-General Suleiman J Al-Herbish (right) and Roberto Valent, Special Representative of the UNDP Administrator in Palestine.
December 17, 2015, Vienna, Austria. The OPEC Fund for International Development (OFID) has extended two grant agreements to the United Nations Development Program/Program of Assistance to the Palestinian People (UNDP/PAPP). The grants, totaling US$1m, will support initiatives aimed at enhancing cancer care facilities in Jerusalem and creating youth employment opportunities in Gaza.
The agreements were co-signed by OFID Director-General Suleiman J Al-Herbish and Roberto Valent, Special Representative of the UNDP Administrator in Palestine.
A US$600,000 grant will help fund the expansion, upgrading and equipping of the chemotherapy department at the Augusta Victoria Hospital in East Jerusalem. The expansion will address the rising demand for cancer treatment services in the occupied Palestinian territories, including Jerusalem.
Another grant of US$400,000 will support early recovery efforts in Gaza by creating short- and medium-term employment opportunities for young professionals, targeting skilled workers, new graduates, persons with disabilities and women. Direct beneficiaries amount to over 300 people.
During the signing ceremony, Al-Herbish commended UNDP/PAPP for their "excellent work" in the Palestinian territories and spoke of OFID's "unwavering support and solidarity" with the Palestinian people, which spanned nearly four decades. Al-Herbish also said he looked forward to strengthening OFID's cooperation with UNDP/PAPP, especially in areas that fell within the framework of the SDGs, such as boosting energy access.
Mr Valent thanked Al-Herbish for OFID's "longstanding partnership" and noted that the recently-signed agreements "were critical to the health sector and improving the livelihoods of the Palestinian people, especially youth." He also expressed UNDP's willingness to explore new partnership opportunities with OFID.
Before the signatures took place, Mr Valent and delegation paid a courtesy visit to Al-Herbish to extend an open invitation to the inauguration of three OFID co-financed programs in Palestine. Al-Herbish welcomed the invitation and conveyed his thanks.
OFID's support to UNDP/PAPP
Including the newly-signed agreements, OFID has extended over US$7.5m in grant support to UNDP/PAPP. Earlier grants have helped:
construct solar energy facilities for social infrastructure in Gaza
establish a neurology department at Al-Makassed Hospital in East Jerusalem
upgrade maternity centers in Gaza
provide renewable energy systems for St Joseph's Hospital in East Jerusalem
develop irrigation systems and water resources in West Bank
renovate and rehabilitate of housing units in East Jerusalem