Uganda to boost vocational education with new OFID loan
Uganda to boost vocational education with new OFID loan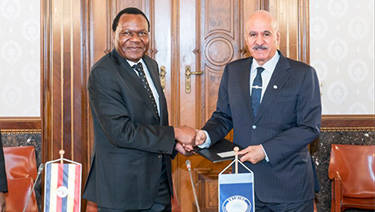 HE Marcel Robert Tibaleka and OFID Director-General Al-Herbish.
Vienna, Austria, March 23, 2017. The OPEC Fund for International Development (OFID) has signed a US$14.3m public sector loan agreement with Uganda for the Vocational Education Project, Phase II. The provision of high-quality vocational education will enable graduates to obtain higher-paying jobs, benefiting both local communities and the country as a whole from the increase in the size of a skilled workforce.
OFID Director-General Suleiman J Al-Herbish and HE Marcel Robert Tibaleka, Ambassador of Uganda to Germany signed the agreement. During the signature ceremony, Al-Herbish spoke of how the project would help enhance socioeconomic development in the beneficiary districts and provide a favorable environment for both pupils and teachers. He assured the Ambassador of OFID's continuing interest in helping Uganda achieve its national development goals and said the institution looked forward to strengthening its cooperation with the country.
Ambassador Tibaleka thanked Al-Herbish and extended greetings from Ugandan President HE Yoweri Museveni and Finance Minister HE Kasaija Matia. The Ambassador said that his country was thankful for OFID's support and that the vocational training project would provide young people with the skills needed for gainful employment. He added that OFID's support would help Uganda achieve its goal of becoming a middle-income country by 2020.
Phase II will complete the implementation of the ongoing Vocational Education Project, which was also co-financed by OFID and involved the construction and equipping of technical institutes in nine districts. However, some project activities could not be completed owing to shortfalls in funding. The newly-signed loan will fill this gap and cover the construction of classrooms and girls' dormitories, among other infrastructure. This is expected to boost annual enrolments by over 800 pupils and provide accommodations for over 1,000 girls, thus enhancing gender equality. Additionally, a new component will train instructors and provide additional workshops, tools and equipment to the nine new facilities.
OFID and Uganda have been partners in development since 1976. Public sector approvals (including the present loan) total over US$151m, the majority of which went toward the education, energy, financial and health sectors. Under OFID's private sector and trade finance facility, lines of credit were extended to the DFCU Bank to provide long-term financing to SMEs. Uganda has also benefited from regional and national grants that covered areas such as agricultural research, HIV/AIDS initiatives, energy access and education schemes, among others.