Tireless in facing preventable diseases
Tireless in facing preventable diseases
OFID-sponsored OYW delegate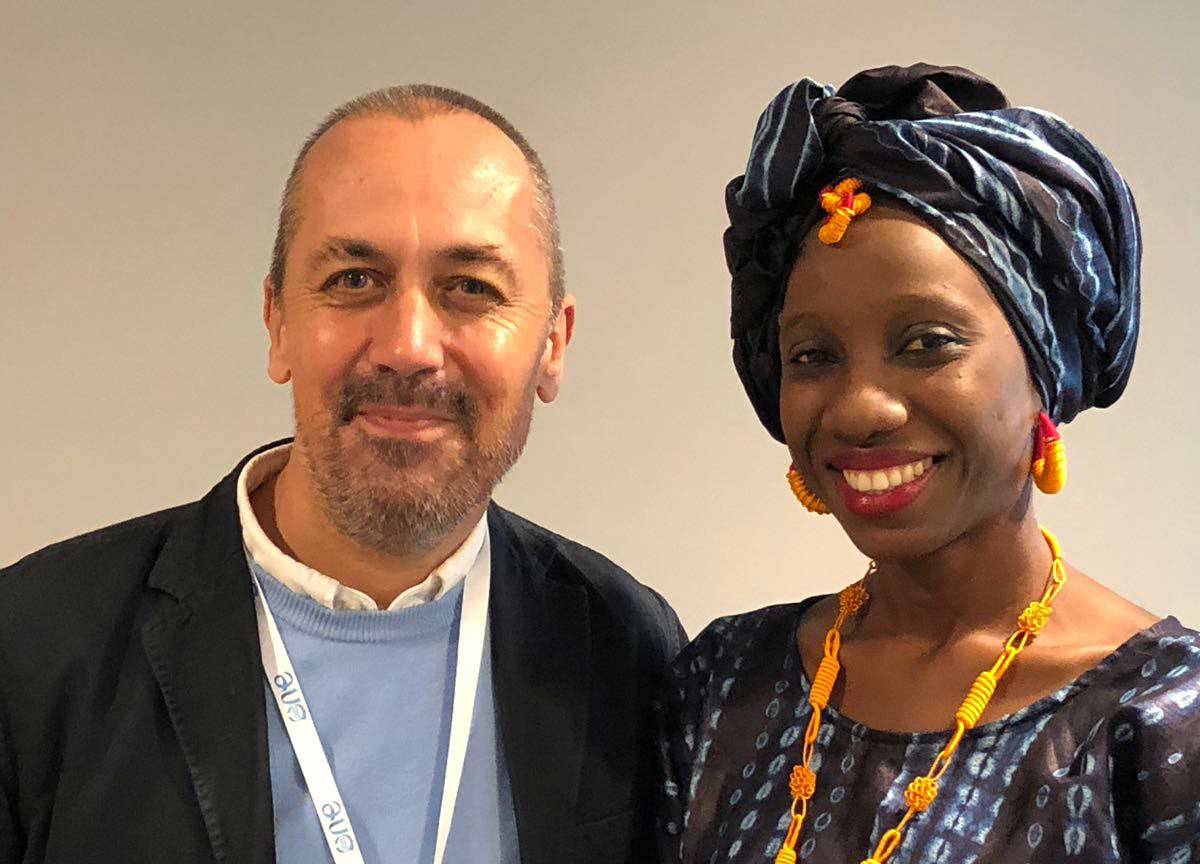 OFID-sponsored OYW delegate FatoumattaKassama (right) and columnist Ian Burrell.
"Glaucoma is the leading cause of irreversible blindness in the world, and many Gambians suffer from this condition. I am passionate about working to improve health issues like glaucoma and other non-communicable diseases such as diabetes, hypertension and cancer.
I started my organization Eye Care for All in 2016, aiming to help eradicate preventable and avoidable blindness. Eye Care for All is a community-based organization that provides free home-based and community eye care services for those who struggle to afford good eye care, and for the elderly, disabled, refugees, orphans and prisoners.
I work with 35 volunteers and together we have improved the lives of more than 17,000 people. We use community radio, drama productions, cultural songs and traditional forms of communication to raise awareness at grassroots levels. To provide inclusive education, we translate our health education messages into sign language and Braille.
During our nationwide glaucoma campaign, we travelled 360 km (12 hours) on a bus and then for 15 km on motorbikes over bad roads to offer eye care services to rural communities. We examined the eyes of around 1,000 people for glaucoma, cataracts and other issues in all seven regions of the country. We recorded 100 cataract cases and operated on 40 people. One young man named Muhammed faced permanent blindness without $4,000 for emergency surgery overseas. My team raised the money in three weeks and the surgery was a success.
I also co-founded a not-for-profit organization called Prospect For Girls in 2018. We provide vocational skills training for women and girls, including courses on tailoring, driving, food services, photography, hairdressing, make-up and graphic design. We also offer health education classes. These initiatives improve job prospects for women and girls and enable them to live a healthier life."
Fatoumatta Kassama is one of the OFID-sponsored delegates to attend the 2018 One Young World Summit in The Hague, Netherlands. Among her other roles, she is an Ophthalmic Medical Assistant working at Sheikh Zayed Regional Eye Care Center.