Standing tall against all odds
Standing tall against all odds
Abed from Gaza
Courtesy of UNRWA
Living in the Gaza Strip, where running a business is next to impossible, Abed El-Naser Badrasawi has never given up. In 2004, the 49-year-old microentrepreneur started up a waste recycling workshop. Abed collected discarded copper and aluminum and scavenged for plastic. The income he earned from selling these materials enabled him to provide for his wife and nine children.
Abed's business grew bigger after 2007, when he invested US$7,000 in machines to grind plastic for supply to manufacturers. This partially processed material fetched a much better price than the raw waste produce. He was earning a good income until the Israeli attack on Gaza in December 2008, which destroyed his grinding machines, workshop and materials worth US$12,000.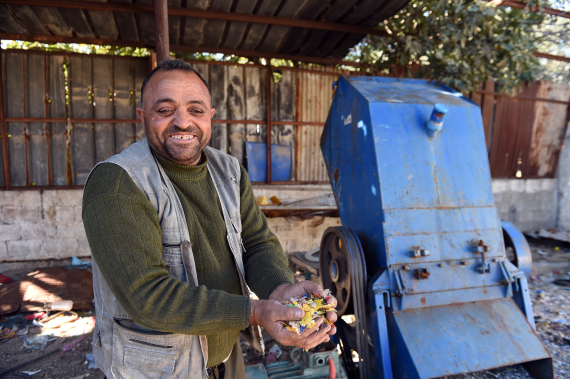 But Abed was determined to stand tall against all odds. When the war ended, he resumed his business. "I borrowed money from friends and sold my wife's jewelry to purchase two replacement grinding machines and a new press," he recalls. With these new assets worth US$15,000, his business picked up again, and he was able to pay back his friends during 2012.
In 2013, Abed became a PalFund client and borrowed US$2,000 to expand his business. On completing payments in May 2014, he received a second loan of US$12,000. With these funds, he added another grinding machine and bought an extraction machine to manufacture plastic hoses.
But another attack on Gaza in July–August 2014 affected his business once again. Fortunately, he moved the machines and equipment from his workshop to his house. When the war ended, he returned his business operations to his premises in Juhr El-Deek in eastern Gaza.
However, in late November 2015, a fire in his workshop caused damage worth US$8,000. But even under these repeated adversities, Abed never asked for any loan payment to be deferred, and still showed his utmost optimism: "I am determined to proceed in my business and, as usual, I will be able to recover soon."
Case study courtesy of UNRWA
Grant assistance has long formed an integral part of OFID's development operations. Since its launch 2002, the PalFund has grown to become one of OFID's most successful operations and the largest microfinance program in the Palestinian territories. So far, 84,532 loans worth a total of over US$118m have been provided to thousands of small and microentrepreneurs in West Bank and Gaza, many of them women and young people.