OFID signs loan agreements with five partner countries
OFID signs loan agreements with five partner countries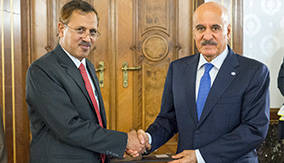 Mr Kazi Shofiqul Azam, Additional Secretary,Economic Relations Division, Ministry of Finance, Bangladesh
Mr Kazi Shofiqul Azam, Additional Secretary, Economic Relations Division, Ministry of Finance, Bangladeshand OFID Director-General Suleiman J. Al-Herbish.
Vienna, Austria. On August 13, OFID Director-General, Mr Suleiman J. Al-Herbish, signed three public sector loan agreements with partner countries Burundi, Bangladesh and Guinea, totalling US$47 million. Signing on behalf of Burundi, HE Edouard Bizimana, Ambassador of the Republic of Burundi to Germany, noted that OFID's support of the Bubanza-Ntamba Road Project was crucial for strengthening important infrastructure in the country.
Both Mr Kazi Shofiqul Azam, Ministry of Finance Secretary, signing on behalf of Bangladesh and HE El Hadj Ibrahima Sory Sow, Ambassador Extraordinary and Plenipotentiary of Guinea to Germany, signing on behalf of his country, thanked the DG for OFID's support and reiterated their dedication to continuing a positive relationship with the organization. The loans will co-finance the SASEC Road Connectivity Project and the Bridges Construction Project, respectively.
The Director-General also signed private sector loan agreements with two financial institutions in Rwanda and Ghana, totalling US$30 million. Signing on behalf of the Bank of Kigali, Rwanda, Mr James Gatera, CEO, thanked the DG for his cooperation and stressed the importance of the loan, which will support small- and medium- enterprises (SME) in the country. The loan to the Bank of Kigali is OFID's first transaction under the Private Sector Facility in Rwanda.
The two US$10 million loan agreements, signed with Ghana's CAL Bank under the Trade Finance and Private Sector windows, represent the first opportunity for cooperation between the Bank and OFID and will serve to strengthen OFID's relationship with the country by supporting the banking sector and strengthening the capital position of one of the major players in Ghana, enabling CAL Bank to increase its financing to its corporate and SME clients.