OFID in Durban for AIDS 2016
OFID in Durban for AIDS 2016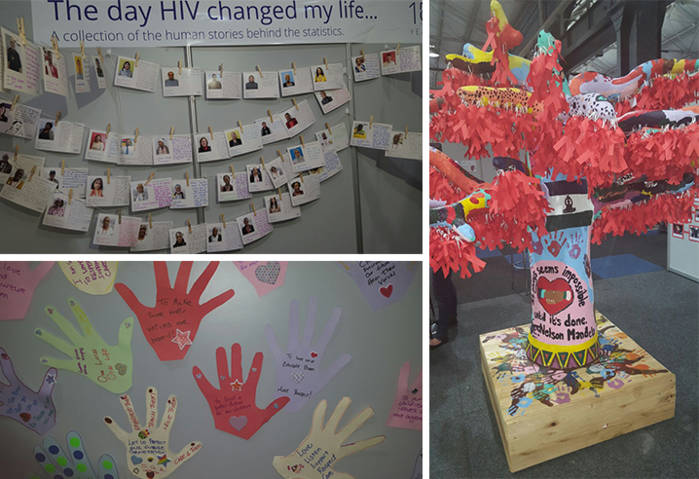 July 18, 2016, Durban, South Africa. This week the International AIDS conference returns to Durban, South Africa, 16 years after the watershed congress in 2000 that shattered denialism about the origins of HIV and sparked treatment scale-up across Africa.
The intervening years have seen a sea-change in the fight against the pandemic, largely through the development of antiretroviral drugs along with efforts to tackle stigma and discrimination and protect the rights of people living with HIV.
Challenges, nevertheless, persist. New infections continue to rise in many countries and among key population groups, while HIV-related deaths among adolescents have tripled since 2000. More than 60 percent of people living with HIV are still without access to antiretroviral therapy.
The theme of AIDS 2016—"Access Equity Rights Now"—is a call to action to work together and reach the people who still lack access to comprehensive treatment, prevention, care and support services. The conference will bring together leading scientists, public health experts, policy makers and the HIV-affected community to define a way forward in a post-2015 framework.
OFID's support to the conference includes the sponsorship of 79 young delegates from lower income countries and the organization of the following three side events:
OFID has stressed the importance of linking HIV interventions with a broader health and development agenda in order to optimize existing resources and mobilize united engagement from all stakeholders.
The remarks were made at a special satellite session on "HIV in Conservative Social Settings" at AIDS 2016 in Durban.
Representing OFID, Shirin Hashemzadeh said: "As a development organization, we have a responsibility to consider new trends and challenges. This is why we are pursuing new pathways that consider utilizing available HIV/AIDS infrastructure as a gateway to effective case finding and management of non-communicable diseases and Hepatitis B and C."
Ms Hashemzadeh pointed to studies by the World Health Organziation that have demonstrated the efficacy of new combination treatments that tackle HIV/AIDS in association with other types of disease.
"We must take into consideration that some seven to eight million people living with HIV are co-infected with either Hepatitis B or C. This has become a major cause of disability and mortality among those taking antiretroviral therapy," she stated.
Ms Hashemzadeh also flagged the positive impact an integrated approach could have on stigma and discrimination, which continue to impede access to prevention, testing and treatment of HIV in certain cultural settings.
"People in conservative social settings will more readily seek out the advice and care they need if healthcare services are integrated and there is less likelihood of them being judged, " she told delegates.
In the bid to overcome the stigma and discrimination associated with HIV, informing people of their rights and giving them the means to access these rights is a genuine game changer.
"The law has a huge role to play in the response to HIV," said David Patterson, Senior Legal Expert at the International Development Law Organization, on the sidelines of AIDS 2016 in Durban.
"Today, everyone knows that the biggest obstacle to scaling up prevention and treatment of HIV is stigma and discrimination," he explained. "When people are afraid to get tested, they cannot find out if they are HIV-positive and cannot take steps to protect themselves and others from transmitting the infection."
IDLO, a long-time partner of OFID, works to build capacity in affected countries by training lawyers to provide better legal services to people living with HIV as well as populations at risk of contracting HIV.
In a recent OFID-supported project, IDLO expanded HIV-related legal services in Benin, El Salvador and Guatemala, breaking new ground in reaching out to inform people of their rights and how to access them.
Among the advocacy tools IDLO has developed are TV and social media, online legal services, telephone hotlines, peer educators, and printed guides for low literacy populations.
"The partners we engage with have been key," said Patterson. "For example, in El Salvador we reached out to the ombudsman's office, through our local partner, to equip it with the capacity to take on these issues and to ensure that the capacity will stay in the county after we leave".
While negotiation is often the preferred path to a satisfactory conclusion to a specific case, IDLO will also practice what it calls "strategic litigation," where a positive court ruling can have wide reaching impact, not just in a given country but across a region.
"In Egypt, for example, through strategic litigation, we saw the first court decision against HIV workplace discrimination," Patterson said.
While the serious business of AIDS 2016 goes on in the lofty halls of the Durban International Convention Center, in an adjacent building equally important work is taking place. The Global Village is a diverse and vibrant space, where communities from all over the world have gathered to share experiences, give voice to their concerns and learn from each other. More than that, though, the Global Village is also an opportunity for conference delegates to see first-hand how science translates into community action and intervention.
Alongside booths belonging to civil society groups advocating for one aspect or another of the fight against HIV/AIDS, there are stalls displaying colorful, hand-made African jewelry, carved wooden masks and traditional clothing. Sales proceeds are used to fund the work of the groups concerned.
One booth displays dozens of postcards telling individual stories of "How HIV changed my life." The cards are written by passing visitors, who have their photo taken and mounted alongside their story. It's easy to spend thirty minutes or longer reading these powerful testaments, and impossible not to be moved by them.
Another stall, for a South African NGO offering support to children and adolescents affected by HIV, is decorated with colorful, cut-out hands of all sizes, each one holding a poignant message from its owner.
Yet another booth invites passers-by to have their say in what women want from the future HIV response. Gender equality is the resounding response. "Our lives! Our time! Powered by our solutions!" is the message emblazoned across the walls. It is one of the busiest booths in the giant hall.
But the Global Village is much more than just an exhibition space. It also features talks, discussions and performances, film screenings and art exhibits. This is the sharp end of HIV/AIDS, and an experience not to be missed by anyone who genuinely wants to understand the community impact and civil society movement.
In her impassioned plea at the opening session of AIDS 2016, South African actress and AIDS activist, Charlize Theron, called on today's young people to be the generation that ends the epidemic -- #genendit. OFID is proud that through its sponsorship of young delegates from low-income countries, it is championing that same, important cause. Today and tomorrow, OFID shares the inspiring stories of some of its young delegates.Shakirah Namwanje is a 22 year-old youth worker from Kampala, Uganda, where she works with the People in Need Agency to offer support, counseling and inspiration to other HIV-positive youth."Our message to these young people is that having HIV is not the end of the world. By showing that we have fully accepted who we are, that we are happy and living normal lives, we try to be examples to those who are still suffering from stigma and discrimination," she says."We also try to create awareness to impress upon young people in schools that HIV is real, that they have to protect themselves; that they have to be cautious about their lives."Our motto is 'creating hope and happiness' so we try to deliver our message through music, song and dance. We want young HIV-positive people to understand that they can still be somebody despite their status."When people look at me and hear my story and see my vigor, I see them thinking to themselves 'Oh, maybe I can be that person too.' That inspires me to continue my work."The message I will take back home to Kampala is that out in the world there is a huge force fighting HIV/AIDS. People are working around the clock to make sure we are safe. We are far from being alone. There is hope."
Check back here each day for news and updates.
Sitraka Ratsimba from Madagascar is an AIDS 2016 Youth Ambassador attending her first international conference. She is currently pursuing her Master's in Economic Development with a focus on education. This is her story."I first came across HIV/AIDS and gender issues last year, when my friend tested HIV-positive. Her experience showed me how little I knew about the subject and inspired me to go deeper and to get personally involved in the HIV response."I am involved in two associations; one focusing on advocacy and the other on research and development with the aim of helping young rural girls and adolescents in Madagascar get HIV testing and treatment."So many of these young women are the victims of abuse by their families and face difficulties with regard to culture and gender issues. "This conference has really inspired me to do better for the situation of rural girls in my country. I want to work even harder to help educate them about their rights and enable them to make informed decisions about their sexual and reproductive health. I am inspired to become an agent of change in my community."