OFID hosts co-financiers meeting
OFID hosts co-financiers meeting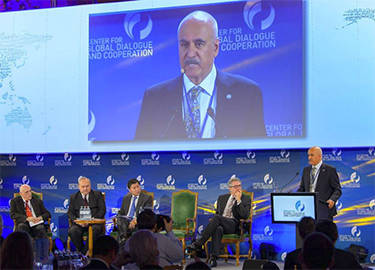 December 4, 2013. OFID Director-General, Mr Suleiman J Al-Herbish (pictured above), participated in the 3rd Annual Meeting & Award Ceremony of the Center for Global Dialogue and Cooperation (CGDC) in Vienna. A select group of high-level government officials, company chief executives and global leaders attended this event, which discussed some of the most pressing issues facing our society today.
This year's theme focused on the challenges and possible solutions to Eurasia's future on the global stage. Hundreds of participants convened for three panel sessions and a keynote speech by the President of the Republic of Macedonia, HE Dr Gjorge Ivanov.
Mr Al-Herbish was a panellist in the session "Sustainable Energy for All", where he highlighted issues related to energy poverty. He stressed that energy poverty had three main components: "It's about accessibility and reliability as well as affordability." Read highlights of the Director-General's speech.
The Director-General pointed out that OFID considered energy to be a fundamental prerequisite of poverty eradication and sustainable development. "This is why we have prioritized energy in our strategic framework through our Energy for the Poor Initiative," he explained.
He also referred to his participation in the recent meeting of the Advisory Board of the Sustainable Energy for All (SE4ALL) initiative in New York, where a finance committee was established to lead efforts to seek investor financing for energy projects within the framework of this initiative.
In his intervention at the CGDC Annual Meeting, Mr Al-Herbish highlighted OFID's Energy for the Poor Initiative (EPI), which he revealed had committed close to US$1bn through 2012-2013 for 32 energy access projects. Ten of these involved renewable energy-based electricity generation and distribution.
As every year, the CGDC meeting concluded with an awards ceremony that honored exceptional individuals for their inspirational personality and outstanding commitment to promoting peace and cooperation amongst diverse people through their vision and leadership. Among the recipients of the award was HE Mr José Manuel Durão Barroso, President of the European Commission and HE Mr Nursultan Nazarbayev, President of the Republic of Kazakhstan.