OFID extends emergency aid to support relief efforts for Syrian refugees
OFID extends emergency aid to support relief efforts for Syrian refugees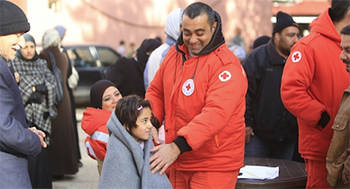 An Lebanese Red Cross aid worker gives a blanket to a young Syrian refugee.ARCO is working together with the Lebanese Red Cross to provide food andbasic necessities to Syrian refugees in Lebanon.
May 30, 2014, Vienna, Austria. The OPEC Fund for International Development (OFID) has approved a US$600,000 grant in humanitarian aid to support ongoing relief efforts for Syrian refugees in Jordan and Lebanon, as well as internally displaced persons in Syria. The grant will be channeled through Islamic Relief Switzerland, CARE Austria and the Arab Red Cross and Red Crescent Organization.
The ongoing civil unrest in Syria has resulted in hundreds of thousands of people fleeing their homes to seek refuge in neighbouring countries. According to the latest estimates of the UN Refugee Agency, there are about 600,000 registered Syrian refugees throughout Jordan, and over one million in Lebanon. More than four million Syrians are internally displaced.
Refugees are presently living under extremely deprived circumstances in the camps and in the host communities, themselves with limited resources and insufficient facilities for accommodating the vast influx of people.
In order to support the ongoing relief efforts and as a gesture of solidarity towards the Syrian people, OFID's grant will by equally divided among the following humanitarian organizations: