Burkina Faso to strengthen higher education sector with OFID loan
Burkina Faso to strengthen higher education sector with OFID loan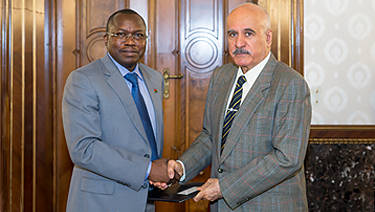 OFID Director-General Suleiman J Al-Herbish (right) and HE Lassané Kabore, Director-General of Cooperation Department, Ministry of Economy and Finance of Burkina Faso
Vienna, Austria, November 5, 2014. Suleiman J Al-Herbish, the Director-General of the OPEC Fund for International Development (OFID), has signed a US$14m public sector loan agreement with Burkina Faso for the Ouagadougou University Expansion Project. The agreement was also was signed by HE Lassané Kabore, Director-General of Cooperation Department, Ministry of Economy and Finance.
During the signing ceremony Al-Herbish spoke of his mission to Ouagadougou in 2011 and the "warm hospitality" of the Burkinabe people. The Director-General also talked about the honor and pride he had felt when the President of Burkina Faso, HE Blaise Compaore, conferred him with the Chevalier de l'Ordre National (Knight of the National Order). Al-Herbish also commented on OFID's longstanding cooperation between OFID and Burkina Faso, which dated back to 1976, and said the agreement signed was a core activity of OFID's operations; namely, promoting capacity building.
HE Kabore expressed, on behalf of his people, his gratitude for OFID's steadfast support to Burkina Faso's socio-economic development, which had been reflected in the institution's funding of projects across a wide range of sector, such as water and sanitation, health, agriculture and transportation.
The project will respond to the country's growing need of a higher qualified workforce through the construction of a new training and academic research unit at the University of Ouagadougou. Also planned is a new university program offering various science and technology courses for graduate students. Additionally, dormitories able to house 1,500 students will be built. Nearly 4,000 graduate and post-graduate students/year are expected to benefit from the project.
OFID also co-financed an earlier project completed last year that built on-campus housing at the university. Read more about OFID's public sector lending in Burkina Faso